Russians will "go to heaven" as martyrs in the event of nuclear war, President Vladimir Putin said Thursday (October 18).
Putin, speaking at a forum of international experts in the southern city of Sochi, painted Russia as a supposed victim in a theoretical nuclear exchange.
"In such a situation, we expect to be struck by nuclear weapons, but we will not use them" first, he said.
"The aggressor will have to understand that retaliation is inevitable, that it will be destroyed and that we, as victims of aggression, as martyrs, will go to heaven," he said.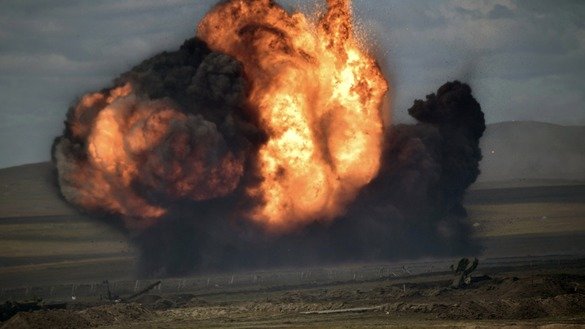 "They will simply die because they won't even have time to repent," he said to some laughter from the audience.
Putin's quote received widespread coverage in both Kremlin-controlled and opposition media. Russians following the news responded to Putin's comments with equal parts scorn and sarcasm.
Some bloggers noted that this is the first time Putin has mentioned religious sentiments such as "heaven" and "martyrs", while others said he "makes no sense" and that he talks like an "Islamic extremist".
"Welcome to the Islamic State of Russia," said Russian journalist Karina Orlova in her blog "Allahu Akbar, Russians" on the Echo Moskvi website. "Russian citizens now are little parts of their commander in chief's-suicide bomber's [Putin] improvised explosive device."
"He sounds like Hitler with nuclear bomb," said another reader astlire.
"With this life we [Russians] have [under this government], it is better to be in heaven, sooner is better," par9 said on yaplakal.com.
In March, Putin unveiled "invincible" new weapons that he said would render Western missile defence systems obsolete, a claim dismissed by defence analysts and observers as far-fetched and politically motivated.
In 2016, he called for Russia to reinforce its military nuclear potential.
Russia has long used the former Soviet republics for the unscrupulous disposal of uranium tailings and weapons testing, as well as environmentally damaging military exercises.
Putin last month said Russia is a peaceful and non-aggressive country while attending the country's largest ever military drills, a claim that contrasts with the Kremlin's actions around the world.