ASTANA -- Business leaders, government officials and specialists from Kazakhstan and Germany gathered October 26 in Astana for a conference on developing sustainable agriculture in Kazakhstan.
The event, titled "Kazakhstan and Germany: Partners in Building Sustainable Agriculture", focused on increasing the competitiveness of Kazakh agriculture in world markets.
"The purpose of the conference is to contribute to building sustainable agriculture in Kazakhstan through expert exchange of experience between Germany and Kazakhstan," the German embassy said in a statement.
Representatives of Kazakhstan's Ministry of Agriculture, Saken Seifullin Kazakh Agrotechnical University in Astana and the country's National Agrarian Scientific and Educational Centre, as well as scholars from German universities, attended the conference.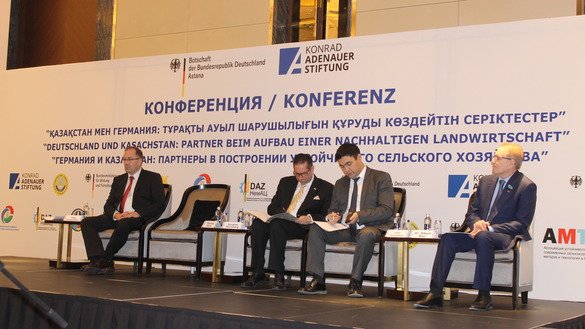 'Colossal opportunities'
Besides agricultural competitiveness, topics included "co-operation between our countries in the agrarian sector and ... precision farming, computerisation and livestock raising", Astana-based Ulan Tajibayev, chairman of the board of the National Agrarian Scientific and Educational Centre, told Caravanserai.
A separate discussion took place on the logistics of transporting agricultural produce to various markets, scholarly research and ways to teach use of modern techologies in the agrarian sector, according to Tajibayev.
One of every five Kazakhs works in agriculture, Marat Birimzhan, the deputy chair of Kazakh Invest, said at the conference, the Astana Times reported Tuesday (October 30).
"Kazakhstan has nearly 210 million hectares of agricultural land, second in the world, and 180 million hectares are pastures that open colossal opportunities for boosting ... agricultural production," he said.
Birimzhan praised Germany for investing almost $4.2 billion (1.6 trillion KZT) in Kazakhstan since 2005.
Developing agricultural expertise
In addition to investments, German agriculture specialists are continuing to train their Kazakh counterparts at the German Agricultural Centre in Kazakhstan, Michael Stübgen, parliamentary state secretary at the German Federal Ministry of Food and Agriculture and a member of the Bundestag, told the conference.
The centre is situated in Chaglinka village, Akmola Province, and has been operating since 2011.
Germany will end its financing of the centre in 2019, but the centre is already able to pay its own way and will continue operating, he said.