ALMATY -- Central Asian migrants, having found widespread injustice, racism and violence in Russia, are now choosing instead to go to Kazakhstan's big cities in search of work, research shows.
Kazakhstan has the largest concentration of migrants in Central Asia, who make up 22% of the total population, according to a World Health Organisation (WHO) study presented at the WHO Healthy Cities Summit of Mayors in Almaty on October 23-24.
Some 250 mayors and city political leaders from 24 countries, as well as representatives of the WHO, the World Bank, UNICEF and other international organisations attended the event.
Kazakhstan is opening its economic borders more and becoming more integrated into the global economy, Charlotte Marchandise, president of the WHO French Healthy Cities Network, said at the summit.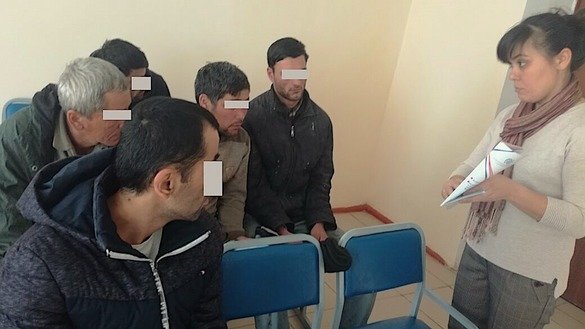 "This means that Kazakhstan must determine how it can guarantee the integration of migrants into society and what resources it will be able to provide for them," she said. "Kazakhstan must also determine, on the level of national laws, what obligations migrants will take on in exchange."
Illegal migrants are harshly exploited in many countries and are often victims of human trafficking, she said.
Terrorism is another global-scale problem, Marchandise said, adding that migrants who have suffered from lawlessness become easy prey for recruitment by radical groups.
"Because Kazakhstan is the country with the largest number of migrants [in Central Asia], it needs to be vigilant," she said.
Choosing Kazakhstan
Central Asians are increasingly finding it easier to earn a living in Kazakhstan than in Russia, which has continued to impose hardships on migrant labourers and whose law enforcement bodies have been accused of systematically violating the rights of migrants.
Many Central Asian migrants have also complained of the failure of Russian employers to pay wages.
Alisher Oripov, a native of Chirchik, Uzbekistan, said he was planning to migrate to Russia to find work but changed his mind after hearing horror stories from friends there.
Instead, about a year ago, he moved to Almaty, where he works as a stocker in one of the city's supermarkets. His parents, wife and four children remained in Chirchik.
Kazakhstan has easier registration procedures for migrants than Russia, and most important, Uzbek migrants receive better treatment in in Kazakhstan than in Russia, Oripov told Caravanserai.
This is probably because the countries share similar customs and close ties, he said.
"Uzbek citizens may stay in Kazakhstan for 30 days without registering [with local authorities], so every 25-27 days I go home for the weekend and then return to Almaty," he said. "I have a good job because I don't need to stand in the snow, and in the summer I don't bake in the sun. And I get paid on time."
Working in Russia is becoming more dangerous, Oripov said.
Gangs there often beat money out of Uzbeks, Tajiks and Kyrgyz who are working in Russia to support their families, he said.
"These gangs seek out migrant workers and then regularly extort them for working on their territory," he said.
Defending migrants' rights
In January 2015, Russia started requiring all potential migrant workers to take tests on Russian language and history, making it more difficult for them to get hired, according to Liliya Khaliulina of Shymkent, an attorney for the Sana Sezim Legal Centre for Women's Initiatives.
In addition, vigilante roundups of migrants have occurred there, she said.
"After that, a large wave of migrant workers headed to Kazakhstan," she told Caravanserai. "You can see that in the number of people turning to our organisation. We have a hotline that gets five or six calls a day."
The main complaint among migrants in Russia is worker exploitation, according to Khaliulina.
Though migrants in Kazakhstan sometimes face the same issues, Kazakh police at least support migrants' rights, unlike Russian law enforcement, she said.
"Unscrupulous employers are held administratively liable for the unlawful use of foreign labour," she said. "According to Kazakh law, if someone wants to hire someone as a domestic, he [or she] is required to pay the corresponding taxes."
"After helping exploited workers, we contact the embassy of the workers' country and make out a certificate for them to go home if their documents have been lost or destroyed by the employer," she said.
Lawyers from Sana Sezim help whoever comes to them, Khaliulina said.
First and foremost, they hand over information they receive to migration police and to the organised crime department, she said. Lawyers also travel with police to crime scenes to help victimised migrant workers on the spot.
Last year, Sana Sezim also began to focus on helping migrants who want to remain permanently in Kazakhstan and start small businesses, assisting them in buying inventory or providing training, she said.
More migrant workers will flow into southern Kazakhstan in 2019, Khaliulina predicted, saying that plans to develop Turkistan Province next year will require additional labour.