ASTANA -- Astana recently hosted an international conference on the role of modern technology in the electoral process, bringing together about 120 participants from 15 countries.
The Central Election Commission (CEC) of Kazakhstan, with support from the Organisation for Security and Co-operation in Europe (OSCE), held the conference November 1-2 to mark the 25th anniversary of the CEC.
Conference participants included international specialists and representatives of the CEC, parliament, government agencies, political parties, NGOs, diplomatic missions and international organisations.
"The conference provided a platform to discuss the use of modern technologies during elections, building public trust in political processes and improvements to the administration of elections," the OSCE said in a statement November 2.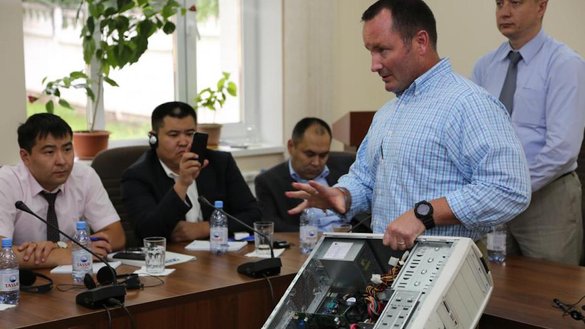 Electoral authorities from 15 countries -- Azerbaijan, Belarus, Bulgaria, Estonia, Georgia, India, Jordan, Korea, Kyrgyzstan, Latvia, Lithuania, Moldova, Russia, Tajikistan and Turkey -- shared their experiences and best practices in holding elections.
Harnessing technology, ensuring transparency
"Kazakhstan demonstrates a strong commitment to high international standards in electoral law and in the organisation of elections," President Nursultan Nazarbayev said in a statement read by Kazakh Secretary of State Gulshara Abdykhalikova.
"Today, in the electoral process, a special place is given to the introduction of new technologies that contribute to increasing the transparency and accountability of government agencies, increasing their professional abilities and public confidence in them," he said.
CEC Chairman Berik Imashev spoke about the potential challenges and risks associated with the use of modern technologies in the electoral process.
The international community must develop standards for protecting the electoral process from cyberthreats, he said, stressing the special role of the OSCE in this matter.
New technologies are widely used in almost all stages of the electoral process, said György Szabó, head of the OSCE Programme Office in Astana.
"In order to build public trust in new technologies used during elections, it is important that the principles of universality, equality, transparency, vote secrecy, accountability and fairness of elections are guaranteed and applied regardless of the type of deployed modern technologies," he said in the OSCE statement.
Kazakhs open to electoral development
Kazakh citizens say they support the use of digital technology in elections and the development of the electoral process.
"If it makes the voting process easier and more convenient -- why not?" asked Olga Nakhodtseva, an office manager from Astana.
"I, for instance, would like an option to vote for someone without leaving the house, online," she told Caravanserai. "Voter 'turnout' would be much higher then."
The government needs to change the substance of the electoral process -- not just the form, said Andrei Grishin, an Almaty-based specialist with the Kazakhstan International Bureau for Human Rights and Rule of Law who has taken part in OSCE election observation missions.
"No new technology can help when the system [of the government] itself is not inclined to allow independent candidates to participate in elections," he told Caravanserai.