ALMATY -- The war on poverty in Kazakhstan has reduced the number of impoverished citizens by one-third, and thereby limited the effectiveness of extremist recruiters who prey on the vulnerable, analysts say.
"The poverty rate in Kazakhstan dropped from 34.6% in 1996 to 4.7% at the end of the second quarter of 2018," Minister of Labour and Social Protection of Population Madina Abylkasymova told the cabinet November 5, according to Kapital.kz.
"The population's per capita [monthly] income was 10.8 times higher in 2017 than in 2001, reaching 83,000 KZT ($255)," she said.
Kazakhstan's programme to reduce poverty was unveiled in 1995, Gulmira Ileuova of Almaty, director of the Strategy Centre for Social and Political Research, told Caravanserai.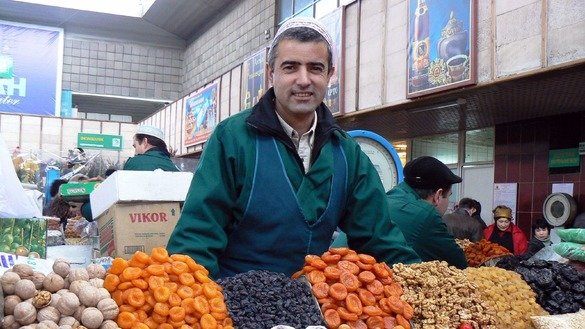 Sociologists from the organisation agree with the Ministry of Labour that the government has made enormous strides since 1995. Just 1.2% of Kazakhs do not have enough money for food, Ileuova said, citing studies conducted by the foundation in 2018.
Such a drop is "thanks to an improvement in the economy. The GDP has risen in recent years, and the country has overcome hyperinflation. The Kazakh economy has opened up, so investors are coming," she said.
In 1995, before the launch of the anti-poverty programme, Kazakhstan's GDP was just more than 1 trillion KZT ($2.7 billion). In 2017, it was 51.5 trillion KZT ($139 billion), according to the government's Committee on Statistics.
Meanwhile, the annual inflation rate was more than 60% in 1995. By 2017 it had dropped to 7.2%.
Helping the vulnerable
Economic growth and the decrease in poverty drastically reduced citizens' vulnerability to extremists, according to Lesya Karataeva, a Almaty-based terrorism and security analyst.
"There are ways to support socially vulnerable segments of the population," she said. "They include welfare benefits and discount stores for low-income citizens."
"In addition, Kazakhstan has free health care and free prescription drugs [for the needy]," said Karataeva.
An overall improvement in the financial well-being of citizens is a positive development because "professional recruiters for terrorist organisations use public discontent for the organisations' purposes," she said.
Extremists trying to woo their desperate recruits might start helping them financially, even paying off the debts they owe to various creditors, and then use that "generosity" as leverage, said Karataeva.
The recruiters use other cards besides the economic one, she added.
"Everyone is different," she said. "So recruiters use different ways to draw potential followers in -- that is, when they start to work with someone, they begin to change their values, and it might not be only a matter of social dissatisfaction but also personal circumstances."
A multitude of factors can play in every individual case of recruitment, she added.
Sinister recruitment techniques
It is common for extremists to use psychological pressure, said Gulnaz Razdykova, director of the Pavlodar Centre for Analysis and Development of Interfaith Relations.
A recruiter often starts a conversation on social injustice and on the perceived lack of social mobility, she told Caravanserai.
The recruiter "turns on negative emotions" by needling the recruit about the supposed inability "of young people to earn money honestly" or about widespread corruption, she said.
Then the recruiter posits a "solution" that will "improve life drastically" -- extremism, she said.
Recruits hear promises of economic blessings (barakat) if they live by the extremists' pseudo-Muslim rules, said Razdykova, adding that the recruiters thoroughly brainwash individuals who came to them out of economic desperation.
After the brainwashing is complete, all talk of payment for extremist acts ceases, she said, adding, "The person has fallen into a trap that is very hard to escape."