TASHKENT -- A private military contractor linked to Uzbekistan that is working with extremists in Syria is raising concerns in Central Asia, as the group seeks to expand and raise funds for its training camps.
Malhama Tactical has reportedly operated in Syria since 2013, where it has trained members of extremist groups in weapons use, military tactics, and emergency medical care.
The group combines the worst of two worlds: mercenary combat and extremism.
Malhama Tactical's "customers" have included terrorist organisations such as Jabhat Fatah al-Sham (formerly known as al-Nusra Front), al-Qaeda's affiliate in Syria, Ajnad al-Kavkaz, a Chechen-led Islamist Syrian rebel group, Jaish al-Muhajireen wal-Ansar, another Syrian group linked to al-Nusra Front, and the Turkestan Islamic Movement, a Uighur militant group from Xinjiang Province, China, formerly known as the East Turkestan Islamic Movement (ETIM).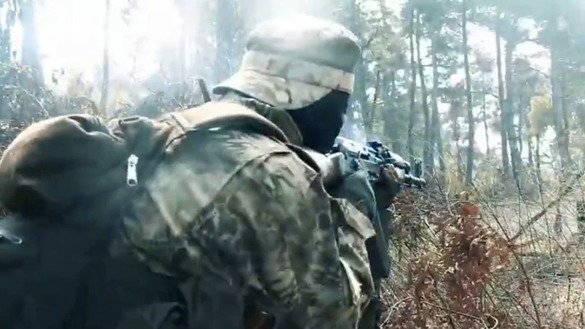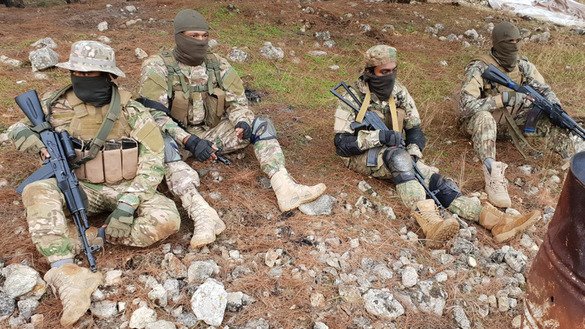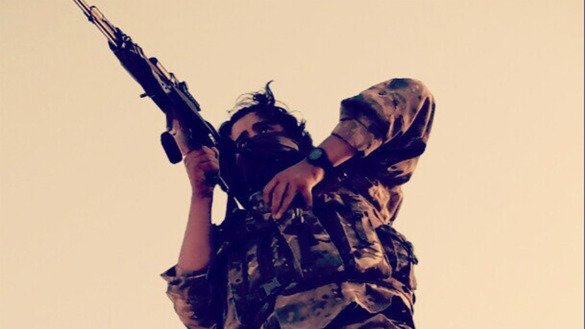 Malhama Tactical is now closely connected with Hayat Tahrir al-Sham, the latest iteration of al-Nusra Front, Malhama Tactical's current leader Abu Salman Belarus told the website European Eye on Radicalisation in an interview in August.
"We were almost always with [them], and we will help them and fight together with them," he said.
Ties to Central Asia, Russia
Malhama Tactical's links to Central Asia have especially raised concerns among regional observers.
The group was founded by an Uzbek who went by the pseudonym Abu Rofiq before his death in February 2017. His real identity is unknown.
Just before his death in February 2017, Rofiq told US magazine Foreign Policy that his "company" consisted of 10 fighters from Uzbekistan and the North Caucasus.
There are no current estimates on the group's size.
Rofiq said he had emigrated from Uzbekistan to Russia, where he joined the Russian Airborne Troops (VDV). He then relocated to Syria in 2013.
Meanwhile, Abu Salman Belarus, his successor, is believed to be a native of Belarus.
"Abu Salman Belarus, who is allegedly a 'noble jihadist', says on social networks and in interviews that his group is not waging war against civilians, women or children, just against unspecified 'war criminals' and military facilities," said Tashkent-based political analyst Umid Asatullayev, who studied Abu Salman Belarus's Twitter account at the request of Caravanserai.
"This is lying hypocrisy," he said. "His convictions do not prevent him from working with the most genuine terrorist groups or from training fighters who will commit terrorist acts against peaceful civilians."
"It is especially alarming that Malhama Tactical has a clearly defined post-Soviet background that includes Uzbek elements," Asatullayev said.
Expansion, threats to Central Asia
Malhama Tactical appears to be planning to expand its activities.
The most recent Twitter posts of Malhama Tactical show the training of extremists described as "brothers from the Maldives".
Belarus wrote on Twitter that more than 800 "brothers" want to train at Malhama Tactical's camp and that he plans to learn French in order to better communicate with potential customers.
"They write very well in Russian on their social networks, and they use Soviet manuals to master weapons," Asatullayev said. "I'm concerned that once the terrorists in Syria are completely destroyed, Malhama Tactical could turn its attention to Central Asia."
One recent video posted by Belarus on Twitter showed a purported group of Uighur members of Turkestan Islamic Movement being trained at the camp. Other photos on Twitter also showed unidentified individuals cooking laghman, a Uighur dish.
"The East Turkestan brothers and sisters worked hard and completed the training with flying colours," wrote Belarus. "We have now started three more trainings and are continuing to work."
Fighters connected with ETIM have already committed terrorist acts in Central Asia.
On May 30, 2016, two members blew up a car outside the Chinese embassy in Bishkek. One of the perpetrators received training in Syria, according to the Kyrgyz State Committee for National Security.
Donations to Malhama Tactical illegal
Malhama Tactical on October 17 announced that it had finished building a new training camp in Hama Province, Syria. Belarus had previously announced on his Twitter account a fund-raising campaign to build the camp.
On November 12, he continued to appeal for donations on Twitter, writing in Turkish that the new camp needed tents, mattresses, blankets, generators and other equipment. The group welcomes donations through modern methods, such as Bitcoin, he said.
Muslima Khakimova, a lawyer in Tashkent, strongly advised Uzbek citizens not to have any dealings with Malhama Tactical and not to send it money, not even crypto-currency.
"Liability for participating in terrorist financing became Uzbek law in 2016," she told Caravanserai.
"Any direct or indirect terrorist financing or fund-raising carries a prison sentence of 8 to 10 years," she said. "If fund-raising occurs in an organised group, the sentence is 10 to 15 years."