ALMATY -- Kazakh authorities are preparing to take aim at anonymous online money transfers as part of new legislation to counter drug trafficking.
The lower chamber of parliament November 14 approved the first reading of the relevant bill. Two more readings are needed for the bill to become law.
On that day, addressing the lawmakers, Interior Minister Kalmukhanbet Kassymov expressed concern that online money transfers enable the distribution of narcotics across the country.
"Last year we shut down 520 websites, and this year we've shut down 3,200 websites that were distributing [narcotics]," he said.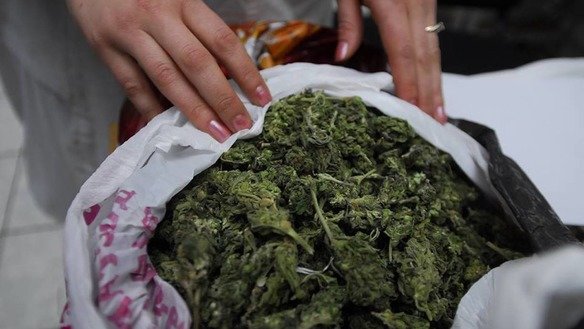 "In addition, a month ago we brought a proposal to the National Bank of Kazakhstan and the Ministry of Finance about how the law on payments allows anonymous payments ... of up to 240,000 KZT ($648)," he told the lawmakers.
"We proposed eliminating these anonymous payments so that money transfers are visible," he said.
The problem lies in the ability of customers to import synthetic drugs via the post office and to pay via QIWI Wallet -- an online payment system, Kassymov explained. In both situations, the sender finds it easy to preserve anonymity.
"This means that we catch only the buyers," he said.
Another problem is the struggle to keep up with technology, as traffickers keep reformulating drugs to keep their products off Kazakhstan's list of banned substances, he said.
"This year we had 125 criminal cases" on charges of importing synthetic drugs, Kassymov told the lawmakers, adding that the number of prosecutable cases shrank to 89 once authorities had to throw out the ones involving substances not on the Kazakh blacklist.
"These amendments will allow the government to immediately ban new types of synthetic drugs that quickly appear on the market and that previously were not on our national list of banned narcotics," he said. "This will surely increase efficiency."
Monitoring money transfers
It is vital to "see the movement of money" in order to prosecute both drug recipients and dealers, Kassymov said.
Money transfer services such as QIWI Wallet, Yandex.Money and WebMoney allow senders and recipients of currency never to reveal their identities to each other, said Arman Beisembayev of Almaty, an analyst at the FXPRIMUS brokerage firm.
To transfer money through these services, users just need to link their virtual wallet to a mobile phone number and not attach any documents, he told Caravanserai.
"When you go to the bank to make a transfer, you need to provide a document that proves your identity and you need to open an account in your own name," Beisembayev said. "Any transfer you make this way can be checked -- how much money you sent and where. There is no anonymity, like with QIWI Wallet and Yandex.Money."
Drug dealers use anonymous payments because such payments facilitate business and because they broaden the potential geographic market for the sellers' goods, he said.
In addition, the Telegram messaging app is popular with those who want to buy or sell drugs because it has strong encryption, he said.
'Faceless transfers' threaten security
Anonymous money transfers can become a breeding ground for criminal and even terrorist activities, agree analysts.
"The volume of money that circulates anonymously is rather large, but no one will name a specific sum," Beisembayev said. "But we need to try our hardest to reduce these sums and expose them. Otherwise, an excellent field of activity for criminals is being created."
All financial payments need to be transparent and understandable, Alikhan Kanapiya, an Almaty-based financial specialist and CEO of UNKOPPA LLP, told Caravanserai.
"Drugs threaten all of society. Faceless transfers over the internet mean not only the growth of drug trafficking but also the growth of terrorism," he said.
"All of this negatively affects a country's development," he said. "If someone has legal purposes, nothing is stopping him from openly transferring money under his own name."