TASHKENT -- A wave of violent attacks on Uzbek and Tajik migrants living in Russia is raising concerns about rising xenophobia and targeted aggression against those who look "non-Slavic".
In one recent incident, an angry passenger stabbed Uzbek taxi driver Sherzod Astanayev, 34, in February, Novaya Gazeta reported November 10.
According to Astanayev, the passenger berated him about his ethnicity throughout the trip and yelled a slur when he suddenly stabbed Astanayev in the forehead.
Astanayev recovered and the case went to trial, but "the traditional Russian game began", Novaya Gazeta reported.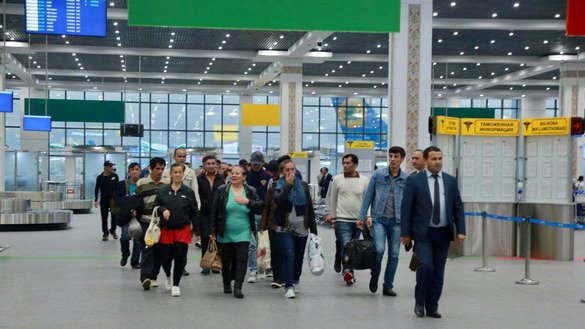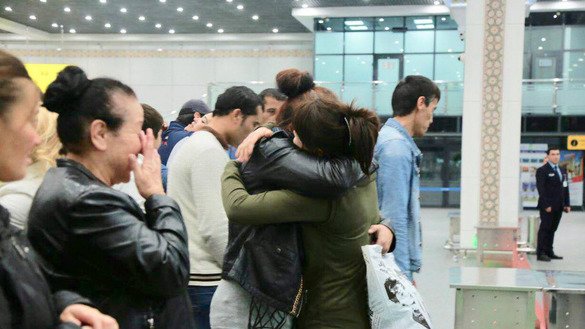 "The investigators lost all the recordings from the surveillance cameras, except for one (which, of course, could not see anything), and the prosecutor's office stated that there was no attempt to kill anyone, let alone from ethnic hatred," wrote Novaya Gazeta, including the text within parentheses.
The attacker walked free.
"A new wave of aggression against people with non-Slavic looks" is sweeping Russia, according to the newspaper, adding that sociologists have recorded "a sharp increase in xenophobia among Russians over the past year".
Making matters worse, the Russian media report such incidents with exaggerated neutrality, calling them "everyday disputes", it said.
Violence grows
In another incident, a 20-year-old Uzbek man was killed November 22 on Prospekt Mira in Moscow, Fergana News reported, citing Russian news agency Interfax.
A group of young men with knives stabbed him to death.
In yet another case, a 38-year-old Tajik man, Ilkhomuddin Shoyev, died at a police station in Moscow on November 21 under suspicious circumstances.
Shoyev had been working in Moscow while his wife and children remained at home in Tajikistan, Radio Free Europe/Radio Liberty (RFE/RL) reported November 28.
Shoyev was buried November 27 in his native village of Bakhoriston.
Shoyev supposedly died of heart failure, according to Moscow police. But his body bore traces of a severe beating, his father told RFE/RL.
Tajik Interior Minister Ramazon Rakhimzoda urged his Russian counterpart, Vladimir Kolokoltsev, to personally oversee the investigation into Shoyev's death, in a message posted on the ministry's website November 28.
Rising xenophobia
For Uzbeks and Tajiks residing in Russia, discrimination is commonplace and the violent attacks are not surprising.
"Of course I have faced xenophobia in Russia," Abdumalik Fattakhov, an Uzbek cook in a St. Petersburg restaurant, told Caravanserai. "You don't have to go far. You can open any newspaper with tenant-wanted ads, and they'll say, 'Only for Slavs.'"
"It is very difficult to find housing, so we often rent from ... the diaspora or from other migrants," he said. "But we try not to pay attention to such things."
A poll this year by the independent Russian think-tank Levada Centre showed an increase in negative views towards Central Asians.
In July 2017, 19% of polled Russians said the number of Central Asians permitted to live in Russia should be limited. This year, 25% agreed.
To a question that omitted nationalities, "Should the flow of labour migrants be limited?", 67% responded positively this year, compared to 58% last year.
Helping migrants return home
The Uzbek government is working to assist labour migrants who find themselves in a difficult situation -- financial, legal or otherwise -- in Russia.
On October 12, Minister of Employment and Labour Relations Sherzod Kudbiyev met a group of 71 such migrants at the airport in Tashkent as they returned from Moscow.
The migrants had run into financial difficulties, which regularly beset foreign-born workers in Russia when dishonest employers refuse to pay them.
An Uzbek government agency formed in July, the Foundation for the Support and Defence of the Rights and Interests of Citizens Working Abroad, brought back the 71 Uzbeks.
Uzbekistan and Russia in September reached an agreement to repatriate 1,500 Uzbek labour migrants now being held by the Russian Interior Ministry for various reasons.
But Russia's policy towards labour migrants remains contradictory, according to Valerii Khan, an Uzbek political scientist based in Tashkent.
"On the one hand, under pressure from society, Russian politicians want to limit the flow of migrants into the country," he told Caravanserai.
"But on the other hand, they use the need of residents of Central Asian countries for extra pay abroad to justify their imperial ambitions," he said, referring to Russia's goal of keeping Central Asian countries economically dependent and to satisfy Russians' preference to have other nationalities do low-status work.
Creating new opportunities
The Uzbek government is also working to create opportunities for returning labour migrants amid the waning economic attractiveness of Russia and the unstable exchange rate of the ruble.
Uzbek President Shavkat Mirziyoyev October 17 signed the law "On Private Employment Agencies", which abolished the state's monopoly on the employment of citizens abroad. Now, private companies may send employees to work abroad.
The law aims to streamline the market for employment services, including labour migration, thereby creating new opportunities for the private sector, according to the Ministry of Employment and Labour Relations.
It also enhances protection of the rights and freedoms of citizens working in Uzbekistan and abroad.
In another step expected to help protect the rights of migrants more effectively, Uzbekistan on November 27 joined the International Organisation for Migration.