WASHINGTON, DC -- The United States and Britain have accused Russia of fabricating a story about chemical weapon use by Syrian rebels and warned Moscow against undermining a shaky truce.
Russia's Defence Ministry said rebels fired weapons containing chlorine on November 24 on the regime-held city of Aleppo, with Syrian state media reporting that about 100 Syrians were hospitalised for breathing difficulties.
Russia, ostensibly retaliating, launched air raids on Idlib, the last major stronghold of rebels battling Syrian President Bashar al-Assad, throwing into question a truce reached in mid-September.
A 'staged' attack
The United States said it had "credible information" that the chlorine story was false and that Russian and Syrian forces instead had fired tear gas.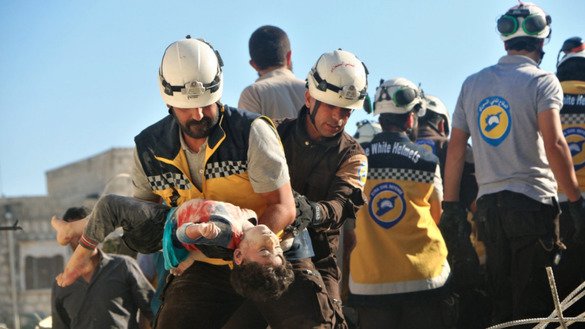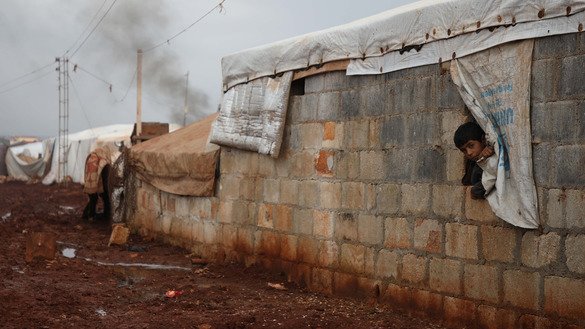 "The United States is deeply concerned that pro-regime officials have maintained control of the attack site in its immediate aftermath, allowing them to potentially fabricate samples and contaminate the site before a proper investigation of it by the Organisation for the Prohibition of Chemical Weapons [OPCW]," US State Department spokesman Robert Palladino said in a statement Friday (December 7).
"We caution Russia and the regime against tampering with the suspected attack site and urge them to secure the safety of impartial, independent inspectors so that those responsible can be held accountable," he said.
Russia and Syria are "using it as an opportunity to undermine confidence in the ceasefire in Idlib", he said.
A US official said that suspicions were raised in the latest incident as Russia and Syria immediately put out similar official media accounts and quickly carried out strikes.
The official, speaking on condition of anonymity, said that witnesses did not report the odour of chlorine that is characteristic of such attacks.
"Technical analysis of videos and images of munition remnants indicate the mortars portrayed in Russian media are not suitable for delivering chlorine," the official said.
In a similar assessment, Britain said it was "highly unlikely" that chlorine or the opposition were involved in the incident.
"It is likely that this was either a staged incident intended to frame the opposition, or an operation which went wrong and from which Russia and the regime sought to take advantage," a Foreign Office spokesperson said in a statement, also backing an investigation by the OPCW.
History of chemical attacks
Western powers, the United Nations and human rights groups have repeatedly pointed to chemical attacks by Assad's forces.
A sarin gas attack in April 2017 in the town of Khan Sheikhun killed 83 people, according to the UN. The United States replied by striking a Syrian air base with 59 cruise missiles.
Russia, the top international backer of Assad, and the Syrian government both denied the occurrence of the sarin atrocity, saying footage of suffering victims including children was staged.
Moscow has impeded investigations of such attacks.
In November, Russia failed in its bid to stall the OPCW's new power to apportion blame for attacks like those in Syria by calling for a vote on the organisation's 2019 budget.
After a bitter war of words, member states approved the budget for the global chemical warfare watchdog, which includes funding for the new role.
US Ambassador to the OPCW Kenneth Ward at the time accused Russia of "pungent hypocrisy" and warned against allowing a "new era of chemical weapons use to take hold".
Moscow's disinformation campaign
Moscow's allegations of rebel chemical weapon use are the latest in a long line of attempts to shift blame and spread disinformation.
In response to the latest accusations of Russia's role in Aleppo, the Russian Defence Ministry said the allegations were "aimed at distracting the public", according to the Russian embassy in Washington, DC.
In an elaborate attempt to spin the truth, Russia September 11 claimed that Syrian opposition fighters and White Helmets, a volunteer humanitarian organisation also known as Syria Civil Defence, were preparing footage that they would misrepresent as the aftermath of an alleged chemical attack by the Syrian army.
The Russian Defence Ministry, citing Idlib residents, said film crews from several Middle Eastern TV channels -- as well as "a regional branch of a leading US news channel" -- had arrived for the shoot.
"By the end of the day", all the footage would be handed over to TV channels that would release it through social media, the ministry claimed.
According to the "scenario", White Helmets volunteers would help local residents after the alleged use of barrel bombs by the Syrian army, it said, adding that real chemicals would be used to make the footage appear more authentic and also to facilitate samples of allegedly contaminated soil from the scene.
The same claim appeared in a doctored video published by the Kremlin-controlled website Russkaya Vesna (Russian Spring) on September 6 in an attempt to dupe Russian speakers.
Mistranslations of a forced confession claimed that the United States trained "Islamic State" (IS) terrorists and that members had been "sent toward Idlib to shoot a provocative video of chemical attacks so that the Syrian Arab Army would be blamed".