BISHKEK -- The United States and Kyrgyzstan are working to boost relations and develop a new partnership, potentially opening the door for more assistance.
"We are now co-operating and working in this direction. Our relationship will be renewed. Naturally, we will co-operate only in the interests of the republic," Kyrgyz President Sooronbay Jeenbekov announced Wednesday (December 19).
Jeenbekov made his remarks five days after a meeting on December 14 in Bishkek between Kyrgyz Deputy Foreign Minister Nurlan Abdrakhmanov and a US delegation.
Attendees included US Ambassador to Kyrgyzstan Donald Lu, Javier Piedra, the US Agency for International Development (USAID) deputy assistant administrator for Asia, and Eric Rudenshiold, US National Security Council director for Central Asia.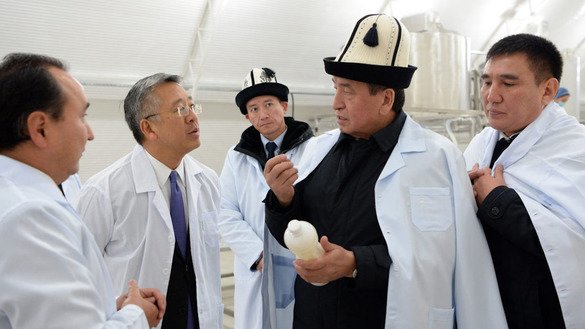 The two sides plan to facilitate close co-operation and discussed a draft agreement on economic and technical co-operation, humanitarian assistance and potential USAID projects in Kyrgyzstan, said the ministry.
Representatives of both sides pointed out the need to strengthen and expand mutually beneficial co-operation, both bilaterally and in larger international bodies.
A history of co-operation
The United States was one of the first countries to recognise the independence of Kyrgyzstan and for many years supported the Central Asian country as it sought to implement democratic reforms.
As part of that co-operation, Washington since 1991 has provided Bishkek with financial support of almost $2 billion (139.7 billion KGS) to support the transition to democracy, according to a statement from the US embassy in Kyrgyzstan in 2015.
"The Kyrgyz Republic receives the highest level of development assistance in Central Asia precisely because it shares the United States' democratic values, seeking to create economic opportunity for its citizens, and to ensure a healthy and well educated populace," the embassy said.
The aim of US assistance is to ensure the rule of law, create a progressive civil society and develop Kyrgyzstan's aviation, energy, agriculture, education, medicine, infrastructure and security sectors, among others.
Aziz Soltobayev of Bishkek, CEO of Svetofor, the largest online marketplace in Kyrgyzstan, and the former chairman of the board of the state telecom firm Kyrgyztelecom, said he appreciates USAID activities in Kyrgyzstan, in particular the USAID Business Growth Initiative project.
"This project has been very beneficial economically for the republic by supporting local entrepreneurs in developing their production and establishing exports," he told Caravanserai.
Soltobayev also highlighted the USAID Enterprise Competitiveness Project and the "Successful Aimak [District]" community and municipal governance initiative.
"We can feel a new approach," he said, adding that the governance project has generated much positive feedback.
Developing IT technologies, journalism
Kyrgyz observers are hopeful that renewed co-operation could bring more assistance to various sectors.
USAID assistance could be useful in providing internet service in the remote mountain regions of Kyrgyzstan, said Erjigit Imamov, a resident of Novopokrovka village, Chui Province, and an activist with the Kyrgyz branch of the Internet Society (ISOC) international non-profit.
"Ninety percent of our country is mountainous, which is why some villages are located behind high ridges," he told Caravanserai. "People there live in isolation, without the internet, mobile communications or television."
Projects for extending the internet to such remote villages are extremely expensive and require funding by "major international organisations such as USAID", he said.
"The benefits of US financial support for such problems cannot be overestimated," he said.
The United States could further raise the professionalism of local journalists, observers suggest.
American programmes supporting freedom of speech have changed the world-view of Kyrgyz journalists, said the director of the Independent Union of Journalists of Kyrgyzstan, Azamat Kasybekov of Bishkek.
"Such programmes included not only technical support of mass media and assistance in the institutional development of editorial boards," he told Caravanserai. "There were many trainings for journalists, which significantly improved the qualifications of our colleagues."
USAID projects were successful in reversing a trend among Kyrgyz journalists of presenting opinions as fact, according to Kasybekov.
"Today, the journalistic community faces new challenges, and of course, we need continued support from international organisations," said Kasybekov.