ALMATY -- Central Asia saw the start of processes leading towards regional integration and international co-operation in 2018, reversing political barriers and isolationist policies in place for many years, observers say.
A major breakthrough
With Uzbekistan, Central Asia's most populous state, pushing for more openness inside its borders and with its neighbours, fruitful meetings of the region's leaders took place throughout the year.
In March, Astana hosted a consultative meeting for leaders of the countries of Central Asia -- Kazakhstan, Kyrgyzstan, Uzbekistan, Tajikistan and Turkmenistan.
Presidents Nursultan Nazarbayev of Kazakhstan, Sooronbay Jeenbekov of Kyrgyzstan, Emomali Rahmon of Tajikistan and Shavkat Mirziyoyev of Uzbekistan and Turkmen Parliamentary Chairwoman Akja Nurberdiyeva attended the meeting.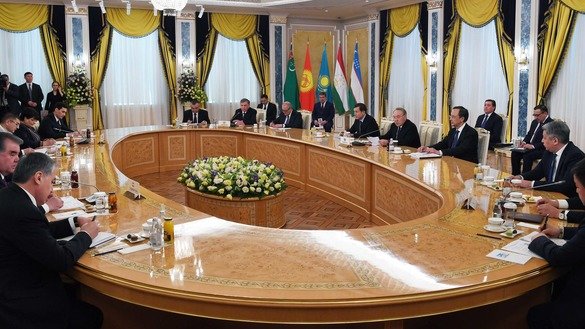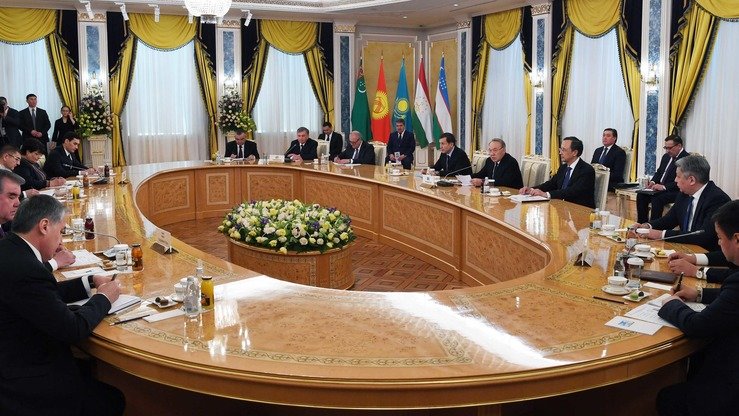 Although the intention behind such a session was not to make official decisions, political analysts say the significance of the event cannot be overstated, given that it was the first meeting of regional leaders in nearly a decade.
"We must solve all problems ourselves and ensure prosperity for the people," Nazarbayev said at the meeting. "That's why we're meeting."
It was the first time the Central Asian leaders met without a Russian counterpart hovering nearby, demonstrating the region's evolving self-sufficiency, said Mars Sariyev, a Bishkek-based political analyst.
"In the past, the Central Asian countries were the pawns of superpowers and met as part of their alliances, like the Eurasian Economic Union or the Shanghai Co-operation Organisation," he told Caravanserai. "Now the co-ordination of the Central Asian nations has emerged at a new level, without a minder."
Participants and observers praised Mirziyoyev for initiating the meeting, a significant departure from precedent and opening doors for future co-operation.
His predecessor, the late Islam Karimov, isolated Uzbekistan from its neighbours and allowed tensions over water and borders to fester.
Deepening regional relationships
Following up on the March 15 meeting, Central Asia's top diplomats met in Kyrgyzstan July 20-22.
The five foreign ministers met in Cholpon-Ata, Issyk-Kul Province, to discuss current events, regional and international issues, and efforts to potentially implement co-operation agreements.
They also met on July 6 in Astana, where they celebrated the 20th anniversary of Astana's designation as capital of Kazakhstan.
The ministers toured new architectural sites in Astana and the grounds of the International Specialised Exhibition EXPO, the location of the newly inaugurated Astana International Financial Centrе.
With each official meeting, Central Asian states are taking another step towards deepening regional co-operation, observers say.
"We see real achievements in relationships among countries," Talgat Ismagambetov, a political scientist from Almaty, told Caravanserai ahead of the July meeting of foreign ministers.
He cited transportation agreements linking Uzbekistan with Kazakhstan and Kyrgyzstan, simplified visa procedures between Uzbekistan and Tajikistan, and increased trade among all Central Asian states as a result of Uzbekistan's open borders.
"The tendency to deepen co-operation is apparent," Ismagambetov said.
Summit of Turkic-speaking states
In early September, the Co-operation Council of Turkic-Speaking States held its sixth summit in Cholpon-Ata, Kyrgyzstan.
The presidents of the council's member states -- Kyrgyzstan's Jeenbekov, Kazakhstan's Nazarbayev, Azerbaijan's Ilham Aliyev and Turkey's Recep Tayyip Erdoğan -- discussed their countries' ties at the summit.
Mirziyoyev and Hungarian Prime Minister Viktor Orban attended as guests of honour at the September 3 event. Uzbekistan under Karimov never joined the bloc.
The summit brought hope of greater integration, co-operation and a strong union of countries with similar cultures and outlooks, analysts say.
The countries are laying a solid foundation because they are taking genuine steps towards consolidation, not just holding meetings, said Almaty-based political analyst Islam Kurayev.
They are upgrading bilateral relationships and sharing valuable experience, he said.
The main driver for the meeting was Turkey, while Uzbekistan's interest as a future member of the union is vital, Kurayev told Caravanserai, adding that harnessing the potential of Turkic-speaking countries could lead to a true breakthrough in bringing together the Turkic world.
"Even if the process takes a decade or two ... a new generation with new ideas, which will solve problems of government-to-government relations differently, will grow up," Kurayev said.
The summit coincided with the 3rd World Nomad Games, held in Cholpon-Ata September 2-8. The foreign presidents arrived a day before the summit to enjoy the event.
Uzbekistan and Tajikistan: friendship and co-operation
Some of the biggest rapprochements in 2018 included that between Uzbekistan and Tajikistan.
After 20 years of what the media described as a "cold war", the two neighbours thawed relations dramatically.
First, Mirziyoyev made an official visit to Dushanbe in March. Then in August, Rahmon made a working trip to Tashkent, where the two heads of state signed a strategic partnership pact.
For years the two countries had the worst bilateral relationship among the Central Asian states, complicated by the Rogun Dam, which Tajikistan built in pursuit of energy independence.
Downstream Uzbekistan expressed concerns of a potentially catastrophic dam failure but also feared upstream Tajikistan's ability to cut off its water -- vital to its entire economy, including agriculture.
In 2018 the countries finally ended the long-running dispute with an agreement for the joint construction of two hydro-electric plants in Tajikistan.
Mirziyoyev's friendlier foreign policy is the main factor in the thaw, said Komron Rakhimov, a graduate student in international law at the Peoples' Friendship University of Russia in Moscow.
Relations between Tajikistan and Uzbekistan are important first and foremost in light of regional security since both countries play a key role in addressing the Afghan conflict and the threats that stem from it," Rakhimov, a native of Tajikistan, told Caravanserai.
Strategic partnerships with the United States
Over the past year, Central Asian countries have openly demonstrated their foreign policy priorities, in which the United States plays a key supporting role.
Last January, at the end of a meeting in Washington between Kazakh President Nazarbayev and US President Donald Trump, the two countries announced that they would be expanding their strategic partnership.
Co-operation grew in key areas such as the economy, defence and security.
Nazarbayev went home with 24 contracts worth about $7 billion, including more than $4 billion in US investment in Kazakhstan's economy, according to the Kazakh Foreign Ministry.
In March, as part of the partnership in security, Astana granted Washington permission to use its ports in the Caspian Sea to deliver non-lethal supplies to Afghanistan.
Uzbekistan and the United States also agreed to reinforce economic co-operation during Mirziyoyev's "historic" official visit to the United States in May.
During the May 15-17 visit, Uzbekistan signed long-term contracts with American companies worth more than $4.8 billion, according to a statement by the US Embassy in Uzbekistan.
Large American corporations, including General Motors, Boeing, ExxonMobil, Coca-Cola and John Deere, have already been operating in Uzbekistan for many years.
Uzbekistan's Central Bank expects American investments to "show even greater growth" soon, said Tashkent-based economist Rustam Faiziyev.
The United States and Uzbekistan are meanwhile co-operating closely on security, with an emphasis on protecting the border with Afghanistan and cutting off drug smuggling.
At the May meeting, the two sides discussed implementing a five-year military co-operation agreement that they had signed in 2017, according to the US embassy statement.
The US Air Force and Uzbek armed forces have a long history of working together productively, said Tashkent-based political analyst Umid Asatullayev.
"From 2001 to 2005, the US Air Force used Khanabad airport in Uzbekistan as ... a base to support the counter-terrorism coalition in Afghanistan," he told Caravanserai.