BISHKEK -- New, stiffer fines and other penalties for bad behaviour are arousing debate in Kyrgyzstan.
Since January 1, the authorities have significantly increased fines for traffic violations, as well as for spitting on the street. Burning garbage illegally could also mean a hefty fine.
Keeping Bishkek safe, clean
The scale of the impact can be seen in the increased fine for an unfastened seat belt. It was 300 KGS ($4) last year but now is more than three times higher: 1,000 KGS ($14).
On the open road, out of town, the fine is 3,000 KGS ($42).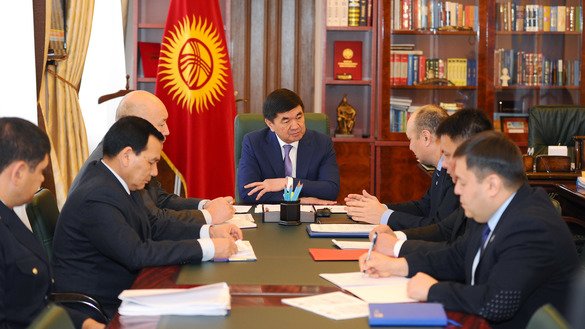 The fines represent a real burden -- and are making an impact -- in a country that in 2017 had an average monthly salary of 15,670 KGS ($225), according to the government.
Authorities enacted a fine of 5,500 KGS ($80) for spitting on the street and for littering with small items, such as a fruit rind, in public places. For burning industrial waste and leaves in unauthorised places, an offender will have to pay 7,500 KGS ($107).
The penalty for illegal trash burning resulted from this winter's environmental degradation in Bishkek. Air pollution levels in the metropolis significantly exceeded allowable limits for reasons such as saunas' indiscriminate burning of trash to avoid paying for fuel. Some saunas even resorted to burning car tires.
It is necessary to "pay special attention to the formation of civic spirit and of one's experience of how to behave in society," Kyrgyz Prime Minister Muhammedkaly Abylgaziyev said recently concerning the fines and penalties.
Public attitudes vary
The reforms have divided public opinion.
Kyrgyz society must learn rules of proper behaviour, even if the process requires stiffer penalties, said Shirin Dubanayeva, a Bishkek-based communication specialist.
"Unfortunately, the behaviour of many of our citizens leaves much to be desired," she told Caravanserai. "No one cares about the city or respects others. For example, it was always unpleasant to me to see someone spit on the street near me. It's disgusting."
Ruslan Valitov, a cartoonist from Bishkek, is concerned more than anything else about the capital's environment and therefore supports the reforms.
"In the winter, sauna owners and owners of private homes are heating their rooms with whatever they can get their hands on," he told Caravanserai. "That's why we're choking on smog. But no appeals to think of the environment are helping, so all we have left is to hit them [offenders] in the wallet; that's the only way to make our people more responsible."
The new laws, however, particularly those increasing fines for traffic violations, could increase corruption among traffic police, said Bishkek taxi driver Oleg Demyanenko.
"The government's coffers receive only a small fraction of the fines that traffic police collect from offenders," he told Caravanserai. "After all, drivers usually make a pay-off on the spot. With the increase in fines, officers' appetites will only grow."
Keeping authorities accountable
Kyrgyz oversight bodies will monitor traffic police to thwart bribery, a Bishkek-based commentator told Radio Free Europe/Radio Liberty (RFE/RL)'s Kyrgyz service in comments published January 8.
The oversight bodies include the ministry's anti-corruption branch, the General Prosecutor's Office and the State Committee for National Security, said Maj. Gen. (ret.) Sadyrbek Dubanayev, a former deputy interior minister.
"If they really take action and strengthen oversight, and if each unit commander keeps an eye on [his or her] subordinates, I think there will be order," Dubanayev told RFE/RL.