BISHKEK -- Kyrgyz authorities are raising awareness of bride kidnapping following the brutal murder of 20-year-old medical student Burulai Turdaaly Kyzy last year.
Mars Bodoshev, 30, stabbed Turdaaly Kyzy inside a police station in Jayyl District, Chui Province, last May following a botched bride kidnapping. A court convicted Bodoshev and sentenced him to 20 years in prison in December.
Several police officers were also punished for negligence after the incident.
The case, named by Kyrgyz media as one of the most significant events of 2018, brought attention to the issues of bride kidnapping traditions and domestic violence against women in Kyrgyzstan.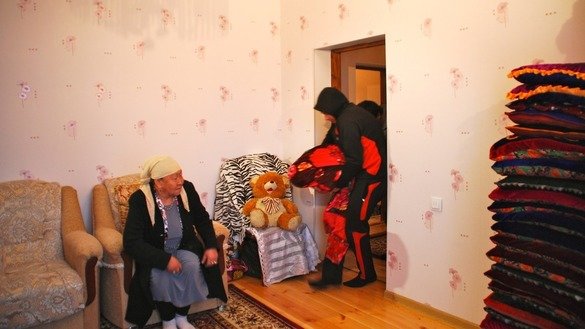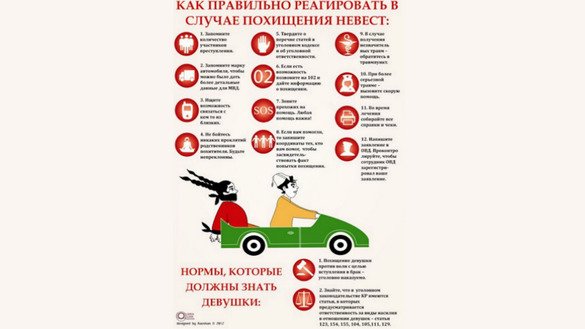 The attack horrified the nation, prompting several thousand demonstrators to hold multiple demonstrations and drawing condemnation from the United Nations (UN) and rights groups.
Raising awareness
Victims of such crimes are often not aware that they are a criminal offence, Stalbek Usubakunov, a spokesman for the Issyk-Kul provincial police department, told Caravanserai.
"In addition, because of the fear of disgrace... the abducted girls are in no hurry to call the police," he said.
Prosecutions of bride kidnapping in the past have been rare in Kyrgyzstan, even though the practice is outlawed.
Over the past five years, only 78 complaints of bride kidnappings were filed with the provincial police department, according to Usubakunov.
"Most of them were recalled at the investigation stage because of reconciliation of the parties or for other reasons," he said. "Many of the investigations did not turn up evidence of a crime, and only 12 criminal cases were initiated -- eight people were punished, and four were able to reconcile with their victims and avoid accountability."
The Issyk-Kul police department has been working to raise public awareness at rural meetings as well as in educational institutions, Usubakunov said.
"We are trying to convey to the public that the abduction of a bride against her will is not a tradition but a crime," he said.
Illegal abductions
Even though few women complain, one out of every five marriages in Kyrgyzstan is the result of bride kidnapping, according to a UN survey conducted in 2016.
In such incidents, a man accompanied by his friends abducts a girl off the street and brings her to the house of the "groom", where relatives are waiting to carry out a traditional wedding ceremony.
Traditionally, Kyrgyz men often resorted to this gambit when they did not have enough money to pay "kalym" (bride price or a gift to the bride's parents), or when her parents did not let her marry her sweetheart.
However, many men have since abused the tradition in order to kidnap women they covet against their will, and villages continue to observe the "custom" despite kidnapping being a crime punishable by imprisonment.
Asel Chotonova, a resident of Barskoon village, Issyk-Kul Province, said one of her classmates kidnapped her friend last year and forced her to marry him even though she had a boyfriend.
"His [kidnapper's] relatives kept her at home and did not let her out," she told Caravanserai. "She screamed, cried and begged them to let her go, but no one listened to her."
Protecting victims' rights
Many victims of bride kidnapping are isolated and do not know how to protect their rights, said Munara Beknazarova, director of a Bishkek-based women's rights NGO, Open Line.
Open Line has introduced "Security Map", a mobile app that allows users to upload information about street incidents in real time and warn each other.
"Everyone has the right to feel safe and confident, not to be assaulted, insulted, harassed, robbed, kidnapped, etc.," the app website says.
The app could allow police to react in a timely manner to prevent kidnappings, though such attempts to call the police are not always successful, as law enforcement agencies rarely get involved in investigating such incidents, Beknazarova told Caravanserai.
"According to our research, sometimes the police have refused to accept a statement from the abducted girls -- residents of Naryn, Talas and Issyk-Kul provinces told us about such cases," she said.
"One woman told us that when she went to the police, they psychologically pressured her not to file an application," she added.
Finding a qualified lawyer on bride kidnappings is difficult as well, even in the city, Beknazarova said.
"This situation is absurd, given that the constitution of Kyrgyzstan guarantees equal rights for women and men, as well as equal opportunities," she said. "Also, Kyrgyzstan is a party to many international human rights treaties, including the Convention on the Elimination of All Forms of Discrimination against Women."