HASAKEH, Syria -- A captured "Islamic State" (IS) suspect with deep roots to Uzbekistan described the hunger and fear that he felt as missiles pounded down on the last shreds of the group's territorial control.
Alexandr Bekmirzaev, 45, is a native of Belarus who became a naturalised Irish citizen in 2010, according to The Irish Times.
He was born to a Belarusian mother and Uzbek father and he converted to Islam in his early 20s in Uzbekistan after a troubled period of "drinking a lot, taking drugs" following a brother killing himself, AFP reported.
In September 2013, Bekmirzaev left Ireland for Syria to "help" Muslims. His Belarusian wife and Irish-born son followed four months later, he told AFP while in custody in Hasakeh, Syria.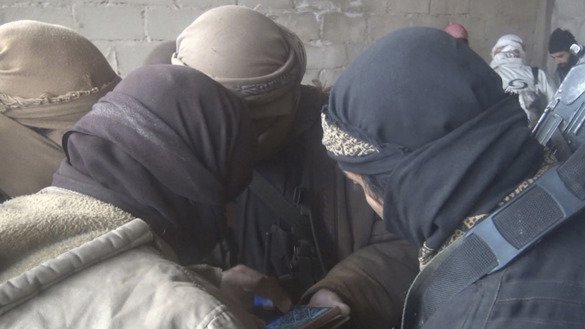 Starvation
Brought in for an interview by the Kurdish People's Protection Units (YPG), who are still interrogating him, the detainee described watching the IS stronghold collapse around him.
"I thought we were going to die from the starvation," he told AFP.
Backed by air strikes of the US-led coalition, the Syrian Democratic Forces (SDF) have since September been whittling down the last IS holdout near the Iraqi border.
Since summer, there had been "bombing, bombing, bombing" on a near-daily basis, Bekmirzaev said.
With the so-called Hajin pocket encircled by the SDF, there was no flour in the market, and meat was prohibitively expensive, he said.
Bekmirzaev said he, his wife and five-year-old son were forced to eat bread made with wheat husks, what little the neighbours gave them and sometimes grass.
"Vegetables? You wish. There is nothing, absolutely nothing. This is grass we eat," he said.
Foreign fighters captured
In December, SDF forces detained Bekmirzaev on suspicion of being an IS fighter trying to blend in with fleeing civilians, with the aim of escaping and then setting up IS sleeper cells to carry out further attacks.
Bekmirzaev claims he never intended to fight for IS and worked as an ambulance worker for around a year in 2014-2015, but it is not clear what he did after that.
He insisted he had never carried a weapon for IS -- but his claim could not be verified by AFP.
He also says an IS commander confiscated his passport, and he had already been thinking of escaping with his family from as early as 2015.
As US-backed fighters advanced, taking village after village, Bekmirzaev said he and his family were forced to flee deeper into IS-held territory.
Bekmirzaev said he fled into territory held by Kurdish-led forces, who detained him along with four other alleged foreign fighters late last month.
"I left my home because the SDF approached probably around 800 metres from my house" in the village of Kishmeh, Bekmirzaev said.
He and his family fled south along the eastern banks of the Euphrates River to the village of al-Shaafa, he said, where they slept in a mosque.
From there, they again escaped in a large group including women and children, guided by a young man who helped them avoid land mines.
Bekmirzaev said he thought, "If we go as a big group, it will be less dangerous, because they will see so many people, specially with the kids, kids crying."
Disillusioned and hearing 'demons'
Of his five-and-a-half years in Syria, Bekmirzaev describes increasing isolation, fear and desperation in a series of WhatsApp messages to a friend in Ireland who requested to use the alias "Smit".
"We hope that Allah change [the] situation but more [likely] we will all die here," he said in a December 3 message seen by The Irish Times.
Smit, himself a former IS sympathiser, urged his friend to turn himself in.
"I don't know what's your situation on the ground or even where are you, but surely better go to Europeans or even Americans [than] to Shias [Iranians] or Russians," Smit said. "The former will hassle you but keep you alive. The latter not."
"Akhi [my brother] I can't go. I am afraid [of] Allah, to lose his mercy. And many people ends in prison," Bekmirzaev responded.
Bekmirzaev also began to lose trust in IS leaders.
"Here they don't give you nothing," he said on December 16th. "I realise who these people are too late but better late than never."
"I think soon they go back home and betray us as they did in Mosul and all the other places where we lost," he said.
Bekmirzaev told his friend he has a "disease" and that he was hearing a lot of whispering in his head. "I have jinn [demons]," he said.
Smit said Bekmirzaev's mental condition "made him more vulnerable to becoming radicalised", adding that he was a "victim of radical... brainwashing".
Bekmirzaev now describes his decision to come to Syria as a "mistake".
Disillusioned, he asked where the group's elusive leader was.
"Where is this guy called Abu Bakr al-Baghdadi? Where is he? This is my question," he told AFP.