ALMATY -- Kazakh citizens whom their own country rescued from "Islamic State" (IS) in Syria last month could be instrumental in helping to deradicalise others by speaking of their experiences, according to analysts.
Kazakh law enforcement agencies, with assistance from the Foreign Ministry, carried out Operation Jusan (Bitter Wormwood) January 5-6 to extract 47 Kazakh nationals from Syria.
The 47 include 30 children and 10 women. The remaining seven Kazakhs are men, who all face charges of involvement in terrorist activities.
Zhanna, one of the women repatriated, told Kazakh TV channel KTK on January 21 that she followed her husband to the conflict zone.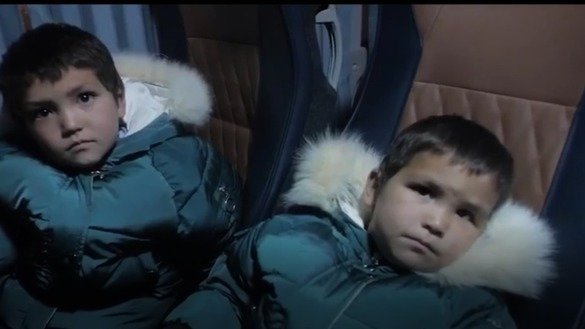 She left her daughter with her parents in Kazakhstan and bore a son in Syria. When her husband was killed, she wanted to return to Kazakhstan, but could not escape from the terrorists, she said.
Zhanna said she was grateful the Kazakh government helped her to return home and that she has rejected the extremist ideology of IS.
"It's all lies, all these convictions that they poured into us, into our brains," Zhanna said.
"It's all contrived to create hatred," she said. "I understand all this now."
Preventing radicalisation
When newcomers fixated on creating an "Islamic caliphate" arrive in an area of terrorist activity, and then at some point realise that everything that had been promised was a lie, they change their views, said Irina Chernykh, chief research fellow at the Astana-based Kazakhstan Institute for Strategic Studies
"But this is a pretty frightening deradicalisation tool, above all for those who go through it," she told Caravanserai.
IS recruits effectively found themselves with one-way tickets, said Chernykh, commenting that their recruiters paid for them to come to Syria -- but that the disillusioned found out that leaving was almost impossible.
"IS members, as a rule, do not let people go," she said. "They either kill them, or the person has to conform or agree to go to Asia or to Europe to perform a terrorist act."
The few who have "miraculously" escaped and lived to talk about it have attested to such demands by IS, she said.
Those who have been in Syria and Iraq are entirely capable of helping their government deradicalise others, said Anna Gusarova, director of the Almaty-based Central Asia Institute for Strategic Studies.
Such cases already have occurred in Tajikistan and Kyrgyzstan, she told Caravanserai.
Authorities "invited them to explain that in reality there are no Islamic values or Islamic world [in the territory IS held]", she said. "In reality, there is only war there."
Research conducted in the United States and Malaysia has found that if returnees from Syria, Iraq or Afghanistan do not undergo deradicalisation within the first six months of their arrival home, their worldview becomes almost impossible to change, Gusarova said.
Some 70-80% of those who do not undergo the rehabilitation process typically join criminal entities or are convicted of preparing for terrorist acts, she said. "They don't even have to go back overseas. They can take up some kind of subversive activity [in their homelands]."
Protecting, rehabilitating children
The families who left Kazakhstan for Syria between 2012 and 2014 started fleeing the conflict zone in 2015, according to Gusarova.
That exodus is accelerating, and Kazakhs have to understand what the state will do with returnees, she said.
Children and adolescents who have returned from Syria and Iraq will need repeated and long-term rehabilitation, Gusarova said.
They will need psychological support for almost their whole lives, she said, adding it requires not only money but properly trained imams and law enforcement personnel.
Youth brainwashed by IS have suffered psychological trauma, said Talgat Kaliyev, a political analyst from Astana.
Psychologists must work with them to assess their stability and their vulnerability to radicalisation again, he told Caravanserai.
After such evaluation, those youth will be re-integrated into society, but it makes sense that authorities will continue to monitor them, he said.
Even though the risks are considerable, all Kazakh citizens should be permitted to return to their homeland, Kaliyev said.
The country needs to fight for anyone who has a Kazakh passport, he said.
"if we turn away one today and another tomorrow, then what do we do the day after that?"
"Deradicalisation is an expensive process," he said. "The state's readiness to spend money to return its citizens to a normal life is an indicator of the country's maturity."