TASHKENT -- Russian news website Sputnik is continuing to publish articles aimed at misleading readers and inciting hatred between the countries of Central Asia and the United States.
Russian mass media have long been known for their attempts to monger fear regarding the Taliban, "Islamic State" (IS) or in one recent case -- the United States.
One such alarmist article, "CA [Central Asia] will be subject to attacks by American intelligence services", was published on Sputnik Uzbekistan's website on February 7.
The article contains an interview with Franz Klintsevich, head of the Russian Union of Veterans of Afghanistan, in which he asserts that the "problems" that the United States is allegedly creating for Russia will also impact the post-Soviet republics.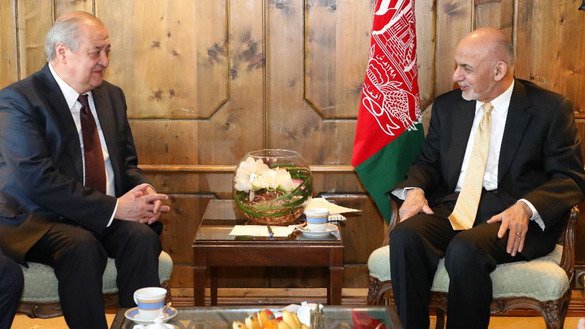 "In the near future, Central Asia and this region will be subject to serious attacks, specific attacks that the intelligence services of the United States are creating for Russia today," he said in a Sputnik Uzbekistan podcast, meaning that US forces are massing Afghan militants for attacks on the Central Asian countries.
"And above all, these republics [of Central Asia] will be subject to these attacks. And the tactics that it [the United States] is forming are ... risk-free," he added.
'Outrageous'
The article came to the attention of Uzbek Foreign Minister Abdulaziz Kamilov, who called it "outrageous" over its purported threats to Central Asia.
Kamilov publicly responded a day after the article was published, speaking to journalists at a briefing in Tashkent on February 8. He made his remarks amid preparations for an international conference on "Central Asian Connectivity: Challenges and New Opportunities" that was held in Tashkent February 19-20.
He told reporters that for 25 years he has been hearing that Central Asia's doom at the hands of militants is always imminent.
The minister cited Sputnik's article and stressed the absence of any evidence of the Taliban's intention to come to Central Asia.
"These arguments that the republics of Central Asia will be exposed to these attacks cause not only disagreement but also outrage," said Kamilov, Gazeta.uz reported February 8.
"This is the first time that an official in Uzbekistan has expressed outrage at Sputnik at such a high level. I think that [Sputnik's] editorial team should think and 'turn down' their propaganda 'faucet'," Tashkent-based Uzbek journalist Bobur Alalov told Caravanserai.
"After all, the Uzbek Foreign Ministry decides on the accreditation of foreign correspondents in the country," Alalov said.
Three Sputnik correspondents are accredited in the country, according to the Foreign Ministry website.
False alarms
This is not the first time that Kremlin-backed media have attempted to mislead readers in Uzbekistan with exaggerated threats, including those about the IS terrorist group.
The Kremlin-controlled Russkaya Vesna (Russian Spring) website published a story last May 16 titled, "A bloodbath looms in Asia: 5,000 IS militants already in Uzbekistan".
The report included a fake letter supposedly sent May 3 in the name of Uzbek Deputy Foreign Minister Abdujabar Abduvakhitov to then-US Ambassador to Uzbekistan Pamela Spratlen.
Uzbek authorities denounced the forgery, adding that their country had not even one IS militant. Uzbek media called on Russian media to not engage in "subversive informational activities against Uzbekistan".
Afghan officials have pointed out that IS forces do not have a serious presence in northern Afghanistan, uzjournal.uz reported February 13.
"The countries of the north [Central Asian countries]... don't need to worry. Reports of the presence of combat-ready IS groups in Badakhshan are inaccurate," said Mohammad Hanif Rezayee, the spokesman for the 209th Shaheen Corps of the Afghan National Army.
"In the provinces of Sar-e-Pul and Jawzjan, they suffered complete defeat," he said.