The Kremlin's fear mongering in Central Asia is a method of asserting military and political control and to avoid dealing with problems at home, according to local analysts.
This was most recently confirmed by Russian Foreign Minister Sergey Lavrov's visits to Kyrgyzstan, Tajikistan and Turkmenistan this month.
Security issues were at the top of the agenda. While Kyrgyz authorities did not disclose the topics of discussion, the potential opening of a second Russian military base in southern Kyrgyzstan was rumored to be one of the key issues, local media reported.
The Russian presence in Kyrgyzstan includes a military airfield that opened in 2003 in Kant, 22km from Bishkek, and a torpedo testing site on Lake Issyk-Kul that began operation in 1943.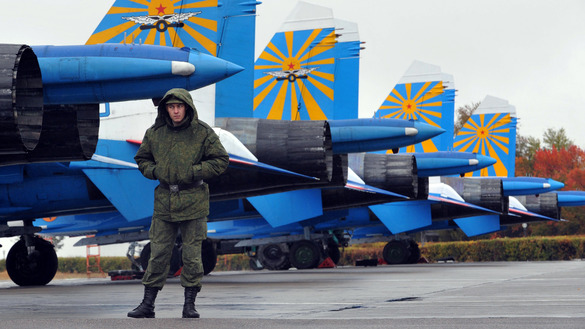 The prospect of a second base had already been brought up.
Lavrov declared Moscow's readiness to discuss the opening of a second military base during a lecture February 4 in Bishkek on relations between Russia and Kyrgyzstan.
Meanwhile, Moscow already began building up its military bases in Tajikistan and Kyrgyzstan starting a year ago.
The bases were being strengthened "in connection with threats emanating from Afghanistan", Alexander Sternik, Russian Foreign Ministry representative to the Commonwealth of Independent States (CIS), told RIA Novosti in February 2018.
Distractions
Russia uses fear of external threats to strengthen its position in Central Asia and avoid dealing with domestic problems, say local analysts.
Russian authorities are appealing to nationalists to defend Russia "from an external enemy", Seitek Kachkynbayev, a Bishkek-based political analyst and chairman of Kyrgyzstan's Democratic Party, told Caravanserai.
The opening of new military bases abroad to purportedly protect the interests of Russia, including the potential base in Kyrgyzstan, is meant to divert public attention from the nation's internal crises, he said.
"A lot of problems have accumulated," said Kachkynbayev. "Public support of the Russian government is decreasing" because of corruption, major capital flight, falling oil prices and a 2018 increase to the retirement age.
Moscow has ways to coerce Kyrgyzstan into serving Russian interests, he said.
About a million, or one sixth of all Kyrgyz citizens, are working in Russia and more than half of them have received Russian citizenship, said Kachkynbayev, citing unofficial data.
"The overwhelming majority of Kyrgyz citizens who have received Russian citizenship come from the south," said Kachkynbayev. "Rumours are circulating that in a critical situation, the Kremlin, by using them, could push for ... a referendum on having [the southern provinces of Kyrgyzstan] join Russia."
Meanwhile, an even broader military Russian presence in Kyrgyzstan is controversial in light of Kyrgyz national security and will also create obstacles for economic development, according to Kachkynbayev.
For example, it would prevent Bishkek from implementing key transport projects, such as a future, strategic railway line between Bishkek and Beijing. The railway could connect Kyrgyzstan economically not only with China but also with other countries, he said.
"Kyrgyz authorities are trying to be pragmatic in order neither to harm national interests nor to offend the Kremlin. However, it is important that Kyrgyz pragmatism in the long term serves the national interests of our country," Kachkynbayev said.
Military bases as a coercion tool
Russian military bases serve as a tool for maintaining Russia's political influence in Central Asia, Nodar Kharshiladze, a Tbilisi-based political scientist and founder of the Georgian Strategic Analysis Centre, told Caravanserai.
"If a threat arises to its interests in Central Asia, Russia can use the military bases to maintain its control over Central Asia," Kharshiladze said.
"In such scenarios, the Kremlin does not resort to open aggression but employs unconventional and mixed tools, such as covert operations, sabotage and incitement of ethnic tension with the help of modern information technologies," added Kharshiladze.
Central Asian countries are becoming even more vulnerable to Russian pressure because Moscow has key information about local militaries, he said.
Since Russia conducts joint military exercises with certain regional countries, it has valuable information about the combat and operational capabilities of local armed forces, which would give Russia an additional advantage in the event of a local war, said Kharshiladze.
"Local political elites are aware of this and are forced to take into account the interests of the Kremlin when making key decisions since they see a serious threat from Russia, especially after the annexation of Crimea," he said.
Creating imaginary threats
To maintain existing bases and to push the case for more, Russia is using the geopolitical situation to frighten Central Asia and to justify its presence on the territory of its allies.
A third world war involving Central Asia is inevitable, Marianna Kochubey, a Russian police colonel and chairwoman of the Scientific Advisory Board at the CIS Anti-Terrorism Centre, claimed last November in Yekaterinburg, Russia, during a conference on extremism.
The conflict will begin in the South China Sea between China and the United States and then spread to Central Asia and the Caspian Sea region, where radical Islamist forces will begin hostilities, predicted Kochubey.
"There are challenges ahead for us [Russians], and even bigger challenges for our brothers -- Uzbeks, Kazakhs and Tajiks," Kochubey claimed.
Central Asian analysts cast serious doubt on these claims, and say that Russia is just trying to preserve military ties.
Recent events show that world powers can "find compromises, make concessions and reach agreements", reducing the likelihood of global war, Islam Kurayev, an Almaty-based political analyst, told the Kazakh newspaper Caravan last November.
Moscow is trying to convince Central Asian countries that the threat of war exists to further strengthen military co-operation with Russia, according to Kurayev.
"Moscow clearly understands that the countries of Central Asia are gradually withdrawing from its influence because society in these countries is ready to build its own foreign policy. In that regard, it is advantageous to create an imaginary danger in the form of terrorists or the threat of a new war," Kurayev said.
"I think they will continue to pump up this theme," he added.