MOSCOW -- Delivered at a time of flagging popularity, Russian President Vladimir Putin's February 20 state of the nation speech took a combative tone with the West.
Equally determined to intimidate the West and to reassure his compatriots, Putin warned Washington against deploying any new missiles in Europe following the collapse of the Intermediate-Range Nuclear Forces (INF) Treaty, saying Moscow would consider it a "serious threat".
After years of formal complaints and attempts at diplomatic resolution, the United States and NATO Allies concluded that Russia "openly violates" the landmark Cold War treaty.
Putin dismissed the claims as "far-fetched".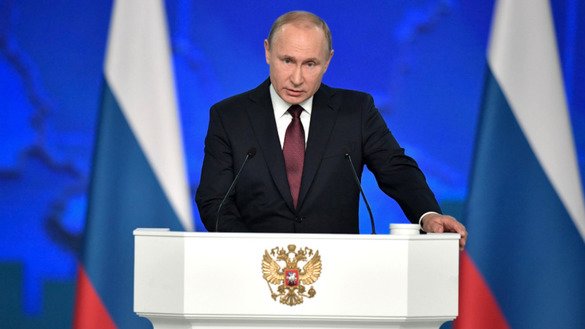 Despite numerous opportunities to prove its compliance or destroy the SSC-8/9M729 cruise missile system, Russian officials have continued to deny it is in violation of the treaty.
Instead, the Kremlin and Russian military officials have issued open threats against the the United States and Europe. Putin has made no secret of his facetious approach towards nuclear security.
Putin's state of the nation speech was no different.
"I will say this clearly and openly today... Russia will be forced to deploy weapons that can be used... against the decision-making centres that are behind the missile systems that threaten us," Putin said in remarks lasting 87 minutes.
Putin reeled off a list of weapons programmes that he said would give Russia a military edge over the United States. None of these, though, have ever been proven.
He cited the Zircon and Sarmat missiles, the Poseidon underwater drone system and Avangard hypersonic glide vehicle.
NATO condemned Putin's threats to deploy new missiles against Western capitals.
"Russian statements threatening to target Allies are unacceptable," NATO deputy spokesman Piers Cazalet said in a statement February 20. "We call on Russia to focus on returning to compliance with the Intermediate-Range Nuclear Forces Treaty."
Making up threats
Putin's speech mirrored the Kremlin's long-standing ploy of using an external threat to avoid dealing with domestic issues.
His tough military talk also seemed aimed at stirring up patriotic support at a time when the president's popularity is waning.
A survey by Russia's independent Levada Centre released in January found his approval rating at 64% -- Putin's lowest in five years.
The next day, however, Putin's tone differed outwardly, as he appeared to walk back some of the bellicosity of his state of the nation address.
The United States and Russia "have decent contacts militarily", he told reporters in Moscow February 21, according to TASS. "Sure, there are problems ... but we have mechanisms and instruments to work on these problems together."
No reason exists to generate "new crises like the Cuban missile crisis", he said.
Within its sphere of influence, however, Moscow has already begun building up its military bases in Tajikistan and Kyrgyzstan starting a year ago "in connection with threats emanating from Afghanistan", Alexander Sternik, Russian Foreign Ministry representative to the Commonwealth of Independent States (CIS), told RIA Novosti in February 2018.
Russian authorities are appealing to nationalists to defend Russia "from an external enemy", Seitek Kachkynbayev, a Bishkek-based political analyst and chairman of Kyrgyzstan's Democratic Party, told Caravanserai.
The opening of new military bases abroad to purportedly protect the interests of Russia, including a potential base in Kyrgyzstan, is meant to divert public attention from the nation's internal crises, he said.
The usual fear mongering
Russian mass media have long been supporting the Kremlin's attempts to spread fear.
One such alarmist article, "CA [Central Asia] will be subject to attacks by American intelligence services", was published on Sputnik Uzbekistan's website on February 7.
The article contains an interview with Franz Klintsevich, head of the Russian Union of Veterans of Afghanistan, in which he asserts that the "problems" that the United States is allegedly creating for Russia will also impact the post-Soviet republics.
"In the near future, Central Asia and this region will be subject to serious attacks, specific attacks that the intelligence services of the United States are creating for Russia today," he said in a Sputnik Uzbekistan podcast, meaning that US forces are massing Afghan militants for attacks on the Central Asian countries
Meanwhile, Kremlin insiders and some veterans of the war are attempting to spin history and turn the focus on the US military's involvement in Afghanistan.
Putin in 2015 appeared to back the Soviet intervention in Afghanistan, saying that the leadership at the time was trying to confront "real threats" even though he acknowledged "there were many mistakes".
In late January, Russia's parliamentary defence committee backed a draft resolution saying that Soviet troops helped the Afghan authorities fight "terrorist and extremist groups".
Amid heightened tensions with Western powers in recent years, "Russia is reviving its Soviet past to justify its new opposition to the West," said Irina Shcherbakova, a founding member of Memorial, a Russian human rights organisation.