ASTANA -- Recent arrests and convictions of terrorist suspects in Kazakhstan show that some citizens continue to be influenced by extremist propaganda and aim to launch attacks, say analysts.
A specialised inter-district criminal court in Uralsk, West Kazakhstan Province, sentenced eight Kazakh nationals to prison on March 1 for creating and operating a terrorist group, Kazinform reported, citing a court statement.
Those convicted were "planning an armed jihad -- committing terrorist acts against law enforcement agencies and military units in Uralsk", the statement said, adding that the suspects had purchased weapons and ammunition for their planned attack.
Preparations for the assault began early last year, but law enforcement personnel arrested all of the members of the group on June 25.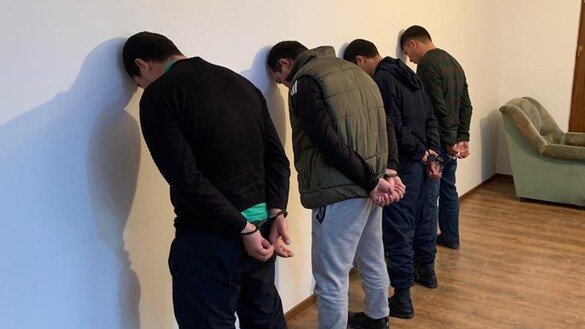 The seven adult defendants received prison sentences ranging from five to 13 years, the court statement said, adding that "the only juvenile member of the group was sentenced to two years."
Terrorism propaganda
While high-profile cases receive significant attention in the country, many Kazakhs would be surprised by the total number of terrorism arrests and court cases, said Yernar Beysaliyev, a political scientist from Astana.
"The media and public learn only about the most notorious arrests and trials," he told Caravanserai. "As a rule, the National Security Committee [KNB], the Interior Ministry or the press offices of the courts announce those cases."
Kazakh security officials have long been concerned about the role of propaganda in terrorist recruitment.
KNB personnel detained four residents of Turkistan Province February 14 because they were "suspected of promoting terrorism and inciting religious hatred", the organisation said on its website.
Authorities confiscated religious literature of "destructive inclination" -- both electronic and in print -- from their residences, it said, adding the investigation is continuing.
Meanwhile, in Aktobe city on February 28, a court sentenced two construction site security guards to seven and eight years of imprisonment for sharing terrorism propaganda, Caravan.kz reported March 1.
The convicts watched extremist videos online in their free time at work and shared them with friends, according to the report.
Role of internet, social networks
Many suspects who are detained for distributing extremist propaganda "do not understand that they are breaking the law and what consequences will follow", said Beysaliyev, the political scientist.
"You watch a video online with 'Islamic State' [IS] militants in it, 'like' it, share it with friends and verbally support terrorism -- this already is enough for a lengthy sentence," he said.
Terrorist groups have obvious leaders, as well as sympathisers who end up under those leaders' thumb, he said.
"There are downright terrorists who, using the influence of propaganda on the internet and their wrong pronouncements on religion, build groups around themselves," he said. "Sometimes these leaders have a charisma and a gift of persuasion."
The main source of propaganda is still the internet, especially social networks, Beysaliyev added.
Returnees from Syria
Security officials are concerned that some Kazakhs who went to Syria and have been repatriated could spread propaganda at home.
Kazakh security agencies, with assistance from the Foreign Ministry, carried out a special operation, dubbed "Jusan" (Bitter Wormwood), on January 5-6 that rescued 47 Kazakh nationals, most of whom were the wives and children of men who travelled to Syria to fight there.
"After the special operation to return our compatriots from Syria, the opinions of Kazakhs were divided," Rashid Alkenov, co-ordinator of the Astana-based NGO Public Safety, told Caravanserai. "Some consider them victims of circumstances, but most are certain that they went to fight and kill for money."
"Criminals, of course, must be punished," he added. "But their wives, in some cases, went there against their will. The innocent, especially children, must undergo rehabilitation."