OSH -- The US Agency for International Development (USAID) and Oasis Agro LLC inaugurated a new animal feed mill in Osh city Tuesday (March 12), according to a statement by the US Embassy in Bishkek.
Participants in the ribbon cutting included Osh Vice Mayor Saibjan Turduyev and USAID/Kyrgyzstan Economic Development Office Director Gary Shu.
Oasis Agro is a leading producer of high quality feed for poultry and livestock.
Their new facility is equipped with modern, automated equipment capable of processing of 7,200 metric tonnes per year, making it one of the largest and most advanced facilities of its kind in the Kyrgyzstan.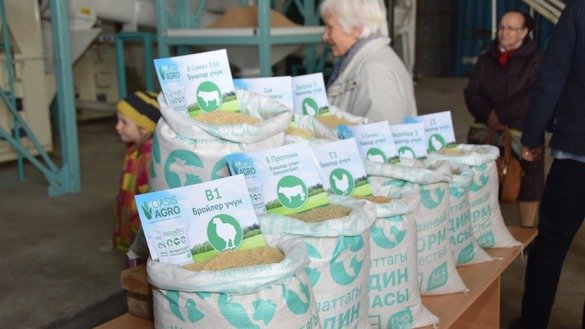 This new facility is the result of a joint investment between Oasis Agro LLC and USAID through its Agro-Horizon Project. The total value of this joint investment is $820,000 (57.2 million KGS). It will result in the creation of 20 direct jobs and benefit an estimated 1,500 households.
During the inauguration event, Shu noted that USAID has long prioritised regional development in Kyrgyzstan.
Supporting local business
"USAID believes that supporting locally owned and operated business is key to expanding opportunities to rural communities throughout the Kyrgyz Republic. For this reason, USAID supports the President's National Policy Initiative that focuses on developing the regions," said Shu.
The increased availability of quality, nutritious animal feed in the country will help Kyrgyz farmers raise healthier animals for better products.
In opening remarks at the ribbon cutting, Turduyev highlighted USAID's role in agricultural development not only in Osh and Osh Province but throughout Kyrgyzstan.
The USAID Agro Horizon Project is a five-year programme to increase smallholder farmers' incomes by improving productivity and expanding to local and international markets.
To date the project has leveraged more than $30 million (2.1 billion KGS) of private capital with more than 50 partners. These investments are designed to transform value chains and increase the incomes of smallholder farmers, as well as provide opportunities for import substitution and increase the export potential of Kyrgyz agricultural products.