ASTANA -- Uzbekistan and Kazakhstan have launched new bus and plane routes between the two countries, bolstering efforts to enhance economic and cultural co-operation.
Buses have begun running between Tashkent, the capital of Uzbekistan, and Kazakhstan's capital, Astana, with one departure per day from each city, Khabar TV reported on March 11. The total distance between the cities is 1,646km, and travel time is about 28 hours.
This new bus route is the seventh to travel between Kazakhstan and Uzbekistan. Buses make trips from Tashkent to the Kazakh cities of Shymkent, Almaty, Kyzylorda and Turkistan, and from Nukus, Uzbekistan, and Chirchik, Uzbekistan, to Almaty Province, Kazakhstan.
The first bus routes between Kazakhstan and Uzbekistan were launched in January 2018 after a 17-year hiatus.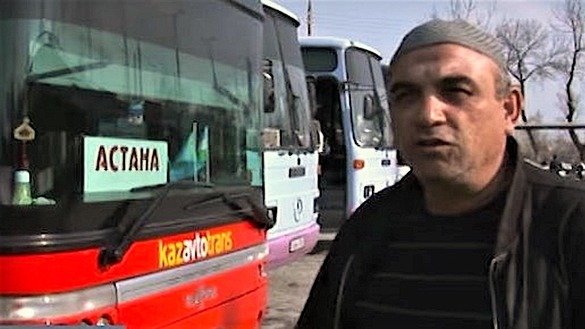 The new cross-border transportation lines will only help improve relations as well as tourism between the two neighbours, Uzbeks and Kazakhs say. Uzbekistan and Kazakhstan have intensified efforts at strengthening economic and diplomatic ties since settling a decades-long border dispute in 2017.
More flights, buses
Kazakh airline Air Astana also announced on February 21 it was adding more nonstop flights from Astana and Almaty to Tashkent, starting April 1. Flight time from Almaty to Tashkent is 1 hour 35 minutes, while it takes 2 hours to fly from Astana to Tashkent.
Air Astana said it would boost the number of flights between Almaty and Tashkent from seven to 10 per week, including three new evening flights on Mondays, Thursdays and Saturdays.
Flights between Astana and Tashkent will also be increased from four to six per week, including two new flights on Mondays and Thursdays.
Air Astana began flying from Almaty to Tashkent in December 2010 and from Astana in May 2012. Since the routes to Tashkent opened, the airline has served more than 500,000 passengers and transported 700 tonnes of cargo, according to the company.
For the new bus route between the capitals, the transport companies running the lines might increase the number of trips to as many as four times a day. Presently, each city has one departure a day.
After leaving Tashkent, the new line makes only one stop in Karaganda, Kazakhstan, before the final destination in Astana.
A one-way ticket costs 14,300 KZT ($38) if bought in Astana and 320,000 UZS (also $38) if bought in Tashkent, an information desk employee at the Astana bus terminal told Caravanserai. Passengers ride buses that belong to KazAvtoTrans, a Kazakh company, and Uzautotrans Service, an Uzbek company.
"It's a convenient service," Akmal Muksimov, a 38-year-old Tashkent native and Astana construction worker, told Caravanserai. "At the end of March, I'm going to Tashkent to visit my family, and I'll be using this scheduled bus."
"The advantage is that it's not expensive, you don't need to transfer, and the company promises that there won't be delays at the border," he said. "I've been working in Astana since 2014, and I'm glad that buses and planes have started to travel between our countries."
"We're neighbours, and we have close family and business ties," Muksimov said.
'Friendly and hospitable'
Residents of both Uzbekistan and Kazakhstan have warm words about the welcome they find when journeying across the border.
Bakhodir Muradov, a photographer from Tashkent, flew to Astana for a seminar recently but took some time during his business trip to visit tourist attractions.
"It's my first time in Kazakhstan," Muradov told Caravanserai. "Astana has magnificent architecture. I've already been to the Baiterek and the Palace of Peace and Reconciliation."
"Despite Astana's harsh winter cold, the residents' hearts have not frozen and they're friendly and hospitable," he added.
Muradov said he planned to visit Almaty next to check out the Medeu skating rink and the Shymbulak ski resort.
Meanwhile, the Dosayevs, a family from Astana, recently returned from a trip to Uzbekistan.
"We went to interesting tourist destinations and visited friends in Uzbekistan," Aibek Dosayev, 46, the father of the family, told Caravanserai.
"We saw the Shakhi Zinda architectural complex in Samarkand and the Mir-i-Arab Madrassa in Bukhara. We visited museums. We just wandered around cities, including Tashkent," he said. "We came away with strong, positive impressions, and the kids enjoyed the trip."