MOSCOW, Russia -- Russian President Vladimir Putin travelled to Crimea on Monday (March 18) to mark the fifth anniversary of Moscow's illegal annexation of the Black Sea peninsula from Ukraine.
The Russian leader took part in opening ceremonies for new power stations, met representatives of civil society, and attended celebrations marking five years since Crimea "rejoined" Russia.
On March 18, 2014, Putin signed a treaty with representatives from Crimea to make it part of Russia, two days after a referendum that the international community refused to recognise.
Kyiv and the West slammed the move as an annexation, leading to sanctions against Moscow.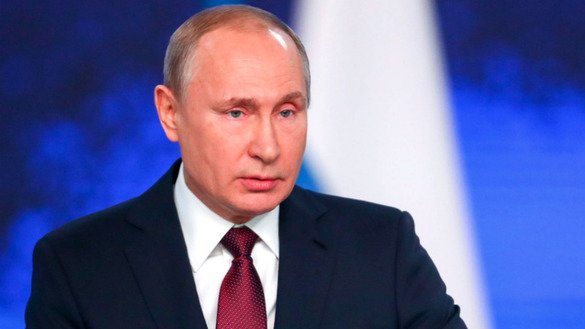 In Russia, March 18 has been officially proclaimed as the "Day of Crimea's Reunification with Russia".
NATO on Monday condemned what it called Russia's "ongoing and wide-ranging military build-up in Crimea", and said there would be no return to "business as usual" with Moscow until there was a "a clear, constructive change in Russia's actions".
The statement said NATO would never recognise Russia's annexation of Crimea and urged Moscow to return the territory to Ukraine.
Concerns grow in Central Asia
Putin's celebration of Russia's illegal actions do not go unnoticed in Central Asia, a potential target of the Kremlin's aggression.
The Kremlin cited the protection of ethnic Russians as a pretext for its invasion of Ukraine, and of ethnic minorities for its war with Georgia in 2008.
Georgia and Russia feuded for years over Tbilisi's bid to join the European Union (EU) and NATO, with the spiralling confrontation culminating in a five-day war in 2008. After the war, Moscow recognised South Ossetia and another separatist enclave, Abkhazia, as independent states, where it then stationed permanent military bases.
In 2008, the West mistakenly believed Russia's war on Georgia "was an isolated move that will not be repeated against other countries", said Georgian President Giorgi Margvelashvili last August in Tbilisi while marking the 10th anniversary of the Russian occupation.
"And then we witnessed what Russia did in Ukraine in 2014," he said, referring to the Kremlin's support for pro-Moscow rebels in eastern Ukraine and its annexation of the Crimean peninsula.
As such, concerns about Russian interference have been steadily growing in Central Asia, especially in Kazakhstan.
Kazakhstan, which has a concentration of ethnic Russians in the north of the country, has undertaken the voluntary resettlement of ethnic Kazakhs from the south to the north.
A climate of fear
Meanwhile, Russia is attempting to stir unfounded fears in other Central Asian countries to justify its military presence on the territory of its allies. Russian forces are still present in Kazakhstan, Kyrgyzstan and Tajikistan.
Russian mass media have long been known for their attempts to peddle fear regarding the Taliban, "Islamic State" (IS) or in one recent case -- the United States.
One such alarmist article, "CA [Central Asia] will be subject to attacks by American intelligence services", was published on Sputnik Uzbekistan's website on February 7.
"In the near future, Central Asia and this region will be subject to serious attacks, specific attacks that the intelligence services of the United States are creating for Russia today," said Franz Klintsevich, head of the Russian Union of Veterans of Afghanistan, in a Sputnik Uzbekistan podcast, claiming that US forces were massing Afghan militants for attacks on the Central Asian countries.
Similarly, the Kremlin-controlled Russkaya Vesna (Russian Spring) website published a story last May 16 titled, "A bloodbath looms in Asia: 5,000 IS militants already in Uzbekistan".
Moscow uses such exaggerations as a reason to build up its military bases, such as in Tajikistan and Kyrgyzstan, and to maintain control.
The bases were being strengthened "in connection with threats emanating from Afghanistan", Alexander Sternik, Russian Foreign Ministry representative to the Commonwealth of Independent States (CIS), told RIA Novosti in February 2018.