TASHKENT -- A growing number of Uzbek students are seeking higher education in the United States, with new education opportunities both at home and abroad expanding alongside closer ties between the two countries.
"Since the historic visit of President [Shavkat] Mirziyoyev to Washington, we have quadrupled the number of American English teachers at Uzbek universities, and created new English language programmes to help young people all around the country improve skills that will be vital to their success in a global economy," said US Principal Deputy Assistant Secretary of State for South and Central Asian Affairs Alice Wells, according to the US Embassy in Tashkent.
She delivered her remarks to students of the University of World Economy and Diplomacy in Tashkent on February 27.
The same day, Wells and Minister of Public Education Sherzod Shermatov signed a memorandum of understanding (MOU) on education.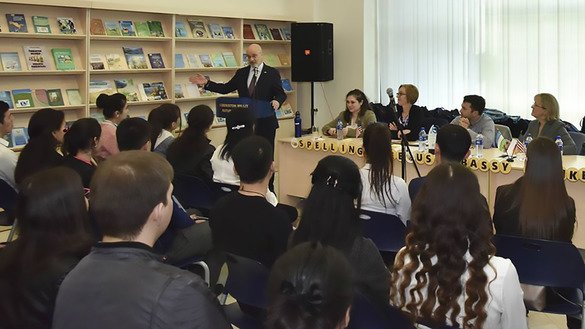 "The MOU provides for substantial US support to help the Ministry of Public Education modernise its curriculum, raise educational standards, support English-language instruction, as well as promote teacher and student exchanges," Wells said.
Wells welcomed the launch of student-exchange programmes, in particular last year's restoration of American Councils for International Education (AC)'s activities in Uzbekistan. AC operated under a different name in Uzbekistan from 1995 to 2006, when the Uzbek government shut down AC's Uzbek operation during a time of tension between Tashkent and Washington.
High-school exchange possible again
"We look forward to re-establishing an exchange programme that sends talented high-school students or recent graduates to the United States to live with an American family and study in an American high school for a year," said Wells.
"Many students return with virtually native English-language skills and a strong understanding of American society," she added.
"Alumni from this programme regularly win prestigious scholarships at foreign universities and are recruited as top candidates for business and governmental positions," she said.
In 2018, 570 university-level students from Uzbekistan were studying in the United States, a 12.9% increase from the previous year, according to the US Embassy in Uzbekistan.
Of those, almost half were seeking a bachelor's degree, while the remainder were attending master's or non-degree programmes, such as language courses.
Overall, the number of foreign students in the United States has increased by 1.5% over the past three years and reached a historical maximum of more than 1 million people, according to the 2018 Open Doors Report on International Educational Exchange released last November by the Institute of International Education and the US Department of State.
Opportunities in the US
"In Uzbekistan, there is a huge shortage of spaces in higher educational institutions," Mansur Abdurakhmanov, a staff member at a Tashkent-based consulting firm that helps send students abroad, told Caravanserai.
In 2017, about 730,000 candidates applied for 66,500 places at the country's universities, meaning only 9.1% of applicants make it in, according to the Ministry of Higher and Secondary Specialised Education.
"Most of those who want to study don't qualify under that quota," said Abdurakhmanov. "At the same time, the quality of education remains very low."
"Therefore, studying abroad is very popular among Uzbek students, and the United States is very active in offering its education market in Uzbekistan," said Abdurakhmanov.
"Because the competition in Uzbekistan is too high, corruption continues to exist," Marina Tsoi, a high-school student in Tashkent, told Caravanserai.
"[But] if you are good at English and goal-oriented, then getting an education in the United States seems to be much easier than finding a place in the [Uzbekistan State] University of World Languages," she said.
"There is no doubt that the United States has the highest quality universities," Mirjalol Saidmukhamedov, a student at the National University of Uzbekistan, told Caravanserai.
"If you have an American diploma, you can get a very prestigious job in Uzbekistan," he said. "I want to get my master's degree in the United States."
The benefits of studying abroad are not just limited to the quality of education.
"High-quality college education for young people is not only the key to the country's economic success but a guarantee of stability," Ravshan Kushlubayev, a Tashkent sociologist, told Caravanserai in 2017. "A well-educated person with broad horizons not only does not risk falling under the influence of extremists but is a vehicle for secular, democratic values in society."
English resources
The US Embassy in Tashkent provides ample opportunities for Uzbek youth to become familiar with the US educational system. A consulting centre called Education USA inside the embassy organises free informational sessions and individual consultations.
For example, the centre regularly hosts a seminar on "Five Steps to Education in the United States".
"I signed up for the Education USA mailing list, but for now my English is not good enough to think about studying in the US. I am trying to improve it," Kamil Zaripov, a 17-year-old Tashkent resident, told Caravanserai.
Zaripov and other Uzbeks have the opportunity to become more familiar with modern American culture and literature at the "Window to America" reading hall, which opened in January 2018 at the National Library of Uzbekistan in Tashkent.
The hall was opened as part of a memorandum on co-operation between the National Library of Uzbekistan and the US Embassy for 2017-2022.
The reading room comes "with technical means, software and educational resources (books, CDs) for English language learners, audio resources, e-books and magazines in braille format in English and Russian languages for National Library users with disabilities", then-US Ambassador Pamela Spratlen said at the opening ceremony in January 2018, according to the National Library's website.
Future students also have the opportunity to attend the American Centre in Tashkent, a library where they can participate in spoken English clubs and read books to gain a better understanding of the policies, values, institutions and culture of the United States.