BAGHOUZ, Syria -- US-led warplanes bombed the north bank of the Euphrates River in eastern Syria on Friday (March 22) to flush out holdout jihadists from the last sliver of their crumbling so-called "caliphate".
Friday's bombardment ended two days of relative calm on the front line in the remote village of Baghouz near the Iraqi border.
The US-backed Kurdish-led Syrian Democratic Forces (SDF), which also includes fighters from local Arab tribes, had paused its advance while it combed a makeshift "Islamic State" (IS) encampment, which it overran on Tuesday (March 19).
The SDF launched what it called its "final assault" against IS in the village of Baghouz on February 9.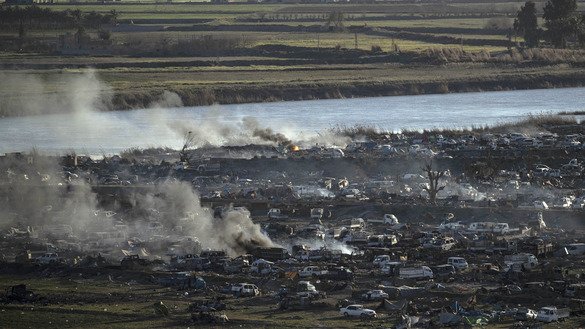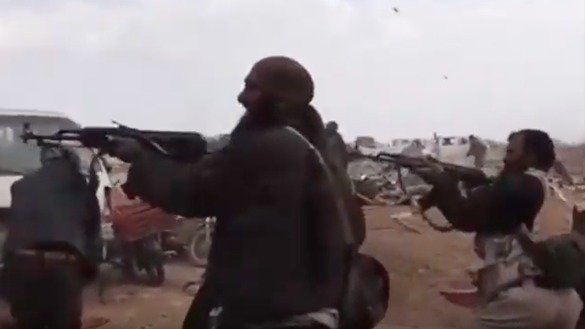 Finally on Tuesday, it cornered diehard fighters into a few acres of farmland along the Euphrates River, after forcing them out of their rag-tag encampment of tents and battered vehicles.
Recent gains brought a months-old operation to wipe out the last vestige of IS's once-sprawling proto-state closer to its inevitable outcome, but SDF stopped short of declaring victory.
Thousands of them -- fighters, their relatives and other civilians -- fled the death trap in recent weeks and turned themselves in after scaling a nearby hill to a position held by the SDF.
Collapse of IS
The so-called "caliphate", which leader Abu Bakr al-Baghdadi proclaimed in mid-2014, once covered territory larger than Britain, straddling Syria and Iraq.
It administered millions of inhabitants, ran its own court system, coined its own currency, printed its own schoolbooks and instilled fear on a global scale.
It has crumbled under years of military operations in which Syrian and Iraqi forces backed by their international allies clawed back the land but left cities in ruins and populations homeless.
Baghdadi's whereabouts are unknown, and the Baghouz holdouts are fighting over land the size of a few football pitches.
Many of its leaders and fighters in Iraq and Syria have long reverted to a guerrilla war, launching hit-and-run attacks from desert, mountain and other hideouts.
The thousands of ghost-like stragglers who streamed out of the last IS stronghold in recent weeks now fill overcrowded camps and prisons run by the Kurds further north.
The 70,000 individuals crammed into the biggest camp -- Al-Hol -- include more than 40,000 children, of dozens of different nationalities.