BISHKEK -- Kyrgyz President Sooronbay Jeenbekov signed into law a measure that ensures that citizens with disabilities will have the same rights as anyone else, ratifying the United Nations (UN) Convention on the Rights of Persons with Disabilities (CPRD).
Parliament passed the bill February 7, and Jeenbekov signed it March 14.
The CPRD was first adopted by the UN General Assembly in December 2006 and signed in September 2011.
The purpose of the CPRD is to "promote, protect and ensure the full and equal enjoyment of all human rights and fundamental freedoms by persons with disabilities, as well as to promote respect for their inherent dignity", according to a statement on the UN's website.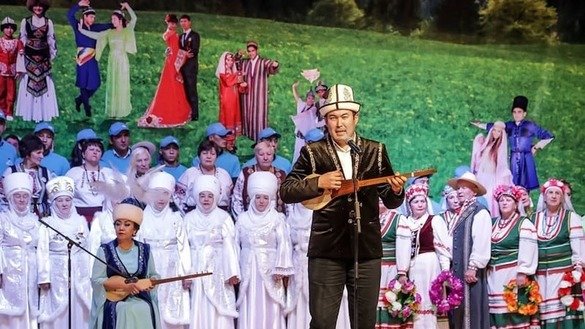 The "main endeavour of the document is to elaborate in detail the rights of persons with disabilities and set out a code of implementation", Don MacKay, chairman of the UN committee that drafted the CPRD, said in a statement on the UN's website.
The CPRD includes respect for dignity and freedom, equality of opportunity, equality between men and women, non-discrimination, inclusion in society and other principles that are designed to make life easier for persons with disabilities and to help them overcome everyday difficulties.
'The sun shines on all of us equally'
The international document will provide Kyrgyz citizens with disabilities with the necessary rights and freedoms provided by countries with democratic values.
Tolekan Ismailova, vice president of the Paris-based International Federation for Human Rights (FIDH) in Bishkek, lent her support to the government's ratification of the CPRD.
"The government has ... demonstrated its intention to rule humanely, as well as a strategy for forming a welfare state governed by the rule of law," she told Caravanserai. "This includes the principle of equal participation and access to resources, and the realisation of the political and civil rights of citizens without discrimination."
The adoption of the law by the government reflects Kyrgyzstan's continuing efforts to move away from the Soviet past, when citizens with disabilities received second-class treatment from the regime.
The move follows other steps to ensure equal rights for all of Kyrgyzstan's citizens, including ethnic minorities.
In 1994, Bishkek joined the International Covenant on Civil and Political Rights, which states that ethnic, religious and linguistic minorities "shall not be denied the right... to enjoy their own culture, to profess and practice their own religion, or to use their own language".
The adoption of the international laws is good news for socially vulnerable citizens, Nodir Yusupov, an ethnic Uzbek in Osh city who is employed as a chef, told Caravanserai.
"The sun shines on all of us equally," he said. "A society with many ethnic groups, with people of different religions, cultures and physical capabilities, has only one path -- to live in peace and mutual respect."