BISHKEK -- Protesters in Kyrgyzstan are making it clear what they think of Russian President Vladimir Putin's heavy-handed policies toward their country.
Demonstrators gathered outside the Russian embassy in Bishkek Wednesday (March 27), a day before Putin arrived on a one-day state visit to Kyrgyzstan, holding posters calling him a "killer" and an "occupier", and called for Russia to leave Kant, the military base it controls in Kyrgyzstan.
Police broke up the protest and arrested two individuals, Nurlan Karymshakov and Gulzana Imayeva, who are husband and wife, AFP reported.
Kyrgyz police confirmed the arrests but did not provide further details.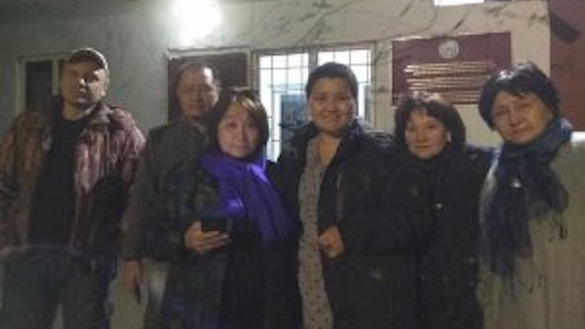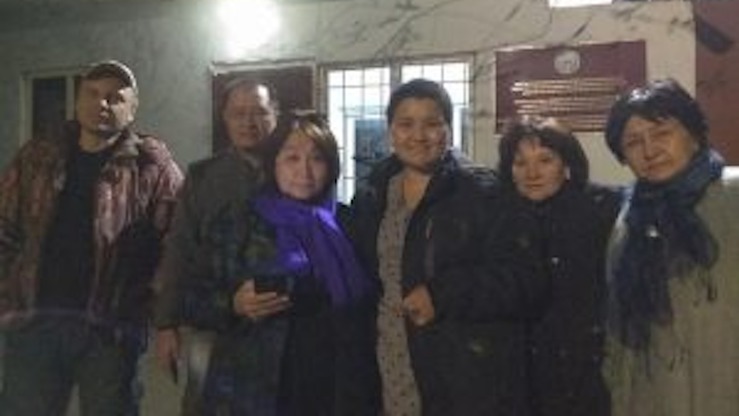 "They have been charged with inciting inter-ethnic hatred," lawyer Zamir Jooshev said, who called the charges "complete nonsense". The pair could receive up to 10 years in prison.
Expanding Russia's footprint in Kyrgyzstan
Russia has operated the Kant air base in Chui Province since 2003, as well as a torpedo testing facility on Lake Issyk-Kul since the 1940s.
With Putin in town, the prospect of yet another Russian military base in Kyrgyzstan is looming.
Russia is "ready to discuss" the opening of a second base in Kyrgyzstan, Russian Foreign Minister Sergey Lavrov said in Kyrgyzstan in February, according to Radio Free Europe/Radio Liberty (RFE).
Rumours of a second base to be built in the south have been circulating for months.
As for Kant, Russia announced it is expanding the territory of the military base by 60 hectares.
Deals over Russian military bases highlight the Kremlin's exploitation of resource-poor Kyrgyzstan's economic hardships. In 2012, for example, Kyrgyzstan extended Moscow's lease of the Kant base by 15 years in exchange for Russia cancelling almost $500 million (34.9 billion KGS) in debt.
Kremlin refuses to leave Central Asia
Even though the Soviet Union broke up in 1991, Russian forces remain present in many former Soviet republics, including Kazakhstan, Kyrgyzstan and Tajikistan. Spreading fear in Central Asia about regional security is a method of asserting military and political control and of avoiding dealing with problems at home, according to local analysts.
In Kyrgyzstan, Russia's lingering presence has aroused criticism before.
Kyrgyz were outraged last year when Russian forces conducted live-fire training around scenic Lake Issyk-Kul, the country's main tourist attraction.
Russian forces pounded "hostile positions" in the mountains around Issyk-Kul with an Iskander-M short-range ballistic missile system.
In Tajikistan, Russia operates the 201st Military Base, its largest military installation abroad. Russia and impoverished Tajikistan signed an agreement in 2012 that keeps the base open till 2042 -- 51 years after the Soviet Union's end.
Ordinary citizens' outrage
Many Kyrgyz are decrying the red carpet rolled out for Putin and the harsh treatment of protesters during his visit.
"Kyrgyzstan is a country that claims to be evolving into a democracy," Kara-Balta businessman Bolot Iskenderov told Caravanserai. "We've always been able to criticise our authorities and the president ... Why can't we criticise Vladimir Putin and his regime?"
"Look at the poster and read the text," Ukrainian human-rights analyst Dmitry Kabak posted to the Russian-language Facebook group "Independent Kyrgyzstan". "Can anybody see any signs of incitement of hatred and discord there?"
"There's no corpus delicti at all," Bishkek resident Aleksandr Tebenkov posted to the same Facebook group. "These people expressed their political opinion and didn't violate public order."
[Kanat Altynbayev contributed to this article.]