WASHINGTON, DC -- France is remaining vigilant for any use of banned chemical weapons in Syria and, alongside coalition partners, is determined to punish any such action by the Syrian regime, say French officials.
The Organisation for the Prohibition of Chemical Weapons (OPCW) on March 1 confirmed that chlorine was used against the rebel-held Syrian town of Douma in 2018, in a long-awaited final report on the deadly attack, AFP reported.
The Hague-based watchdog said two cylinders likely containing chlorine smashed into a housing block in the town, adding there were "reasonable grounds" that reactive chlorine was used as a weapon last April 7.
Much of the international community blamed the regime of Syrian President Bashar al-Assad and its Russian backers for the incident, and France, the United Kingdom and United States unleashed air strikes on military installations in response.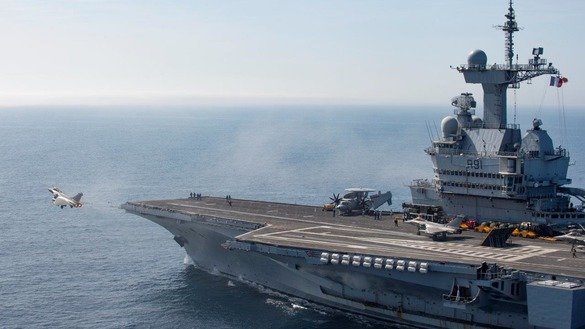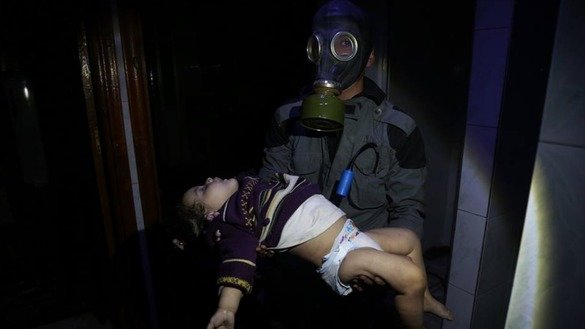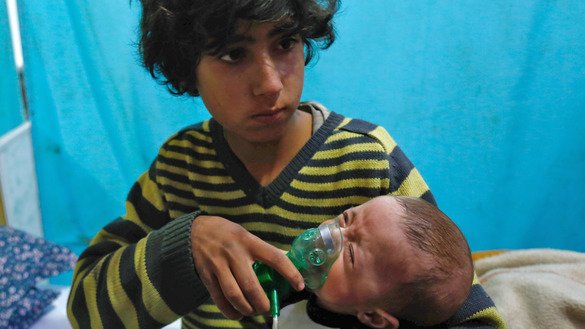 "The Syrian regime has used chemical weapons in military offenses since 2012, not only in Ghouta, but also in Khan Sheikhoun, Al-Lataminah, Saraqeb and Douma, killing and injuring thousands of people," French Foreign Minister Jean-Yves Le Drian said in a statement March 1.
"I reiterate my strongest condemnation of the use of chemical weapons anywhere and in any circumstances, and France's determination to combat impunity," he said.
French Defence Minister Florence Parly echoed her nation's commitment against chemical weapons March 18 during a speech in Washington, DC.
"When Assad used chemical weapons, France and the United Kingdom were there with the United States to deliver precision strikes on the chemical facilities," she said, referring to the punitive strikes against Assad's regime in April 2018 for its use of chemical weapons.
"We will do it again if necessary," Parly said.
Her remarks came as the French Carrier Strike Group, CTF473, arrived off-shore Syria on March 13 to support Combined Joint Task Force Operation Inherent Resolve, according to a statement from US Central Command.
The Carrier Strike Group is composed of the aircraft carrier Charles de Gaulle and her escort and support ships, some of them provided by allied nations, the statement said adding that upon its arrival in the area, the carrier launched Rafale Marine and Hawkeye aircraft to support coalition troops on the ground and gather intelligence.
The Carrier Strike Group is there as a reminder of the coalition's determination to prevent and ability to respond to any use of chemical weapons.
A history of attacks
In its latest report, the OPCW rejected claims by the Syrian regime that the gas came from rebel facilities in the area.
"From the analysis of the information gathered during the on-site visits to the warehouse and facility suspected of producing chemical weapons, there was no indication of either facility being involved in their manufacture," it said.
Russia, which backs Assad, rejected the report and again claimed the atrocity was "staged" by Syrian rescue volunteers known as the White Helmets, a volunteer humanitarian organisation also known as Syria Civil Defence.
Moscow has regularly made such accusations as part of an ongoing disinformation effort to deflect blame from Syria's chemical weapon use.
Amid "persistent allegations" of chemical weapons' use in Syria, the OPCW set up its own independent fact-finding mission in 2014. It has investigated more than 70 cases of alleged toxic gas use in Syria since 2014.
In 2015, the OPCW joined with the United Nations to form a joint investigative panel tasked with identifying those behind the chemical attacks in Syria.
In October 2017, the panel released a damning report that found that the Syrian air force had dropped sarin on the rebel-held village of Khan Sheikhun in April 2017, killing scores of civilians.
Russia, the top international backer of Assad, and the Syrian government both denied the occurrence of the sarin atrocity, saying footage of suffering victims including children was staged.
Another OPCW report concluded that sarin was "very likely" used in March 2017 in the village of Al-Lataminah. The Syrian regime has also been blamed for using chlorine gas on three villages in 2014 and 2015.
Moscow has consistently attempted to impede investigations of chemical weapon use to protect its ally. In November, Russia failed in its bid to stall the OPCW's new power to apportion blame for war crimes by calling for a vote on the organisation's 2019 budget.
Idlib concerns
As the Syrian regime turns its focus on Idlib, Syria's last major rebel bastion, concerns are emerging about the re-use of chemical weapons.
Washington on March 14 accused Russia and the Syrian government of being responsible for "escalating violence" in rebel-controlled Idlib Province after Russian jets carried out air strikes, the first such attacks since a September Turkish-Russian truce, AFP reported.
At least 13 civilians, including six infants, were killed, according to the Syrian Observatory for Human Rights.
"The United States views with grave concern escalating violence in recent days in Idlib and neighboring areas prompted by Russian and Assad regime air strikes and artillery," US State Department spokesman Robert Palladino said.
"Despite Russia's claims to be targeting terrorists, these operations have caused dozens of civilian casualties and have targeted first responders as they attempt to save lives on the ground," he added.
As a party to the September ceasefire agreement with Turkey, "Russia bears full responsibility for these offensive operations," Palladino said.
The truce was meant to stave off a planned offensive by the regime and its Russian backers that aid groups feared could spark the eight-year-old Syrian conflict's worst humanitarian crisis to date.
The government assault has been held off, but nobody has implemented the truce's provisions.
The latest incident is not the first time that Russia and Syria attempted to spark violence in Idlib. In December, Russia launched air raids on Idlib after fabricating a story about chemical weapon use by Syrian rebels in an attempt to undermine the truce.
Russia and Syria used the incident "as an opportunity to undermine confidence in the ceasefire in Idlib", Palladino said at the time.