ALMATY -- Russia has instituted aggressive policies aimed at stifling Central Asian companies from selling products that compete with businesses in its home market, say entrepreneurs from the Eurasian Economic Union (EEU) member states.
Konstantin Fedorets, CEO of Rakhat, a leading Kazakh candy maker, told journalists at a press conference in Almaty in February that Russian enterprises are constantly involving Rakhat in legal battles, while regulatory bodies regularly seize the company's products.
Rakhat's share of the Russian market does not exceed 1%, Fedorets said. Russian companies lean on friends in government to help limit foreign competitors, he added.
Russian candy makers "have a very strong lobby and relationships with local authorities" such as ministers, customs officers and tax officials, Fedorets said. "Russia prefers to act from a position of strength everywhere, including in retail."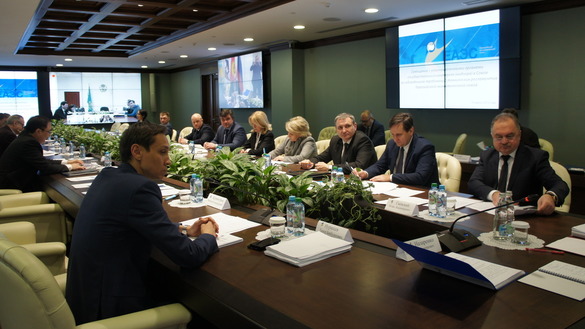 As a result, Rakhat's exports to Russia in 2018 decreased by 2%. Since Russian authorities are constantly confiscating Rakhat merchandise, Russian shops selling the Kazakh candies have told the company they are doubtful about any future co-operation, said Fedorets.
At the same time, some foreign candy makers in the Kazakh market are not complying with requirements concerning the content of their products, he said, referring to Russian companies.
Local authorities should perform "protectionist, ombudsman functions" to shield their market from low-quality goods, Fedorets added.
An unequal environment
The EEU is a regional economic organisation formed in 2015. It consists of several former Soviet countries: Russia, Kazakhstan, Kyrgyzstan, Belarus and Armenia. Russia holds the rotating chairmanship at this time.
The EEU has created conditions favourable to Russian entrepreneurs, investments and goods, while competing businesses from other member states are forced to operate under harsh, unequal conditions, according to Rasul Zhumaly, a political analyst from Almaty and member of the New Kazakhstan political forum.
Russia "is using non-market mechanisms and its regulatory bodies, including Rospotrebnadzor [the Federal Service for the Oversight of Protection of Consumer Rights and Welfare], which supposedly exposes violations of health standards but is actually eliminating competitors," he told Caravanserai.
EEU regulations that call for removal of trade barriers between EEU members prevent Kazakhstan from protecting itself from large, well-financed Russian exporters.
While squeezing out Rakhat and other Kazakh firms from Russian store shelves, the Russian firms have marched into Kazakhstan's markets.
Kazakhstan became the leading importer of Russian chocolates in 2018, purchasing 17.4% of its neighbour's candies. Belarus was second with 14.1%, while China imported 11.1%, according to data published on the Moscow mayor's website.
"All these facts indicate that the Eurasian Economic Union does not actually have an economic mission but is Russia's political project to restore the status quo, or its influence in the post-Soviet space," Zhumaly said.
Russia created the EEU to further its interests and put other member states at a disadvantage, independent analysts have said.
"These conditions infringe on the interests of our entrepreneurs," Zhumaly said. "That's why they express displeasure with Russia."
Economic co-operation among the countries of Central Asia is an alternative to the EEU, according to Zhumaly.
The hope "of the citizens of our republics" is with Uzbek President Shavkat Mirziyoyev, "who is unveiling fresh initiatives in this area," he added. These initiatives include "the creation of the Association of Leaders of Regions and of Business Communities of Central Asian Countries, which should solve acute regional problems with the economy, water and agriculture."
'Hopes have not been justified'
Entrepreneurs in other countries states cite the negative impact the EEU has had on their businesses as well.
For example, the economy of Kyrgyzstan has suffered from an influx of low-cost Russian goods, local business owners warned.
"After Kyrgyzstan's accession to the EEU, hard times began for our country's clothing industry," Nazira Urmanayeva, who used to own a small garment factory in Bishkek, told Caravanserai.
Urmanayeva said she was forced to close her business after Kyrgyzstan joined the EEU. The move resulted in higher customs duties on fabric imported from non-EEU members because the EEU members all had to adopt Russia's high tariffs. Her business became unprofitable.
The EEU initially sounded attractive because ostensibly it would enable small countries with weak economies to export their products to the large Russian market, Iskender Sharsheyev, an economist and the director of Global Technology Solutions Co. in Bishkek, told Caravanserai.
"But these hopes have not been justified," he said.
In December, Belarus threatened to leave the Russian market because Moscow was said to be creating obstacles for Belarusian foods under the pretext of quality standard violations.
"There is unfair competition," President Alyaksandr Lukashenka said at the time. "It's not about the quality" of Belarusian foods, he added, stressing that they have always been distinguished by their natural qualities, while Russian foods contain a high level of additives.