TASHKENT -- Afghanistan's textile-processing and production sector is underdeveloped for a country that harvests 80,000 tonnes of cotton per year, say analysts. A neighbour plans to lend it a hand.
Uzbekistan, known worldwide for its fabrics and textiles, intends to help Afghanistan build its textile industry, which has been degraded greatly after years of conflict and violence spread by the Taliban and other extremists.
A delegation from Uztekstilprom, Uzbekistan's textile industry association, during a March 31 visit to Kabul reached agreement with Afghan colleagues to foster joint growth, the association said on its website.
Uzbekistan has reformed its textile industry in recent years, transforming itself from an exporter of raw materials into an exporter of finished goods. The country's policy is to develop high-tech textile production capabilities while creating jobs.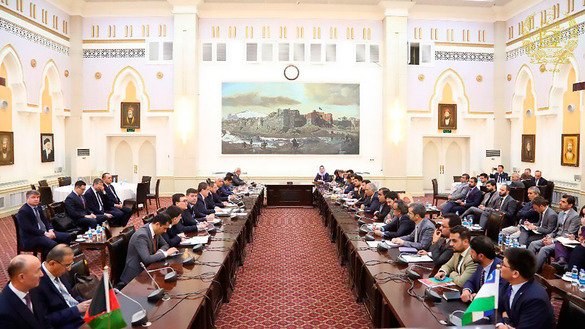 From 2015 to 2018, annual exports of raw cotton from Uzbekistan decreased from 500,000 tonnes to 115,000 tonnes, according to the Uzbek government. Uzbek companies used the unexported cotton to produce textiles.
Sharing experience, providing technical assistance
Uzbekistan has a wealth of experience in the textile industry that it can share with Afghanistan, Azamat Muzaffarov, a textile technologist with a company based in Tashkent, told Caravanserai.
"Afghanistan will undoubtedly gain many benefits from co-operating with Uzbekistan in the textile industry," Muzaffarov said. "Our country is deploying advanced technologies in textile production, and the [national] leadership intends to make the country a regional leader, competing with Bangladesh and Pakistan."
Uztekstilprom employees visited Afghanistan in early March to study the country's textile industry and to come up with recommendations, according to Uztekstilprom's press office.
The Uzbek specialists visited Afghan cotton-processing plants and textile mills.
On March 31 in Kabul, the Uzbek delegation signed a memorandum of co-operation with Afghan officials.
Uzbekistan will support Afghanistan with consultations and technical assistance, the parties agreed.
Uzbekistan has agreed to help develop business plans for Afghan companies and organise courses for Afghan specialists at an Uzbek university, among other measures, according to the statement from Uztekstilprom.
Uzbekistan is "actively developing" vertically integrated cotton clusters, in which cotton goes from raw crop to finished product in a single location, said Muzaffarov.
"This makes it possible to save money on logistics, which affects the price of a good and its competitiveness on the global market. This experience needs to be introduced to Afghanistan," said Muzaffarov.
Increasing trade, business co-operation
Uzbekistan is rendering assistance to Afghanistan in accordance with co-operation agreements previously reached by the two countries, according to Uztekstilprom.
Afghan and Uzbek officials in January 2017 in Kabul signed an economic "road map" between the two countries.
The parties agreed to increase annual trade to $1.5 billion. The countries' trade in the first 10 months of 2016 had been $429 million.
During Afghan President Ashraf Ghani's trip to Tashkent in December 2017, business leaders from the two countries signed agreements valued at $520 million.
Trade took off quickly after that pact. In January 2018, Uzbek-Afghan trade exceeded its January 2017 total by 30%, the Uzbekistan National News Agency (UzA) reported in March 2018.
A Uzbek shopping centre opened in Kabul in 2017 with a permanent exhibition called "Made in Uzbekistan", UzA also noted at the time.
In 2017 as well, Uzbekistan opened a logistics terminal and customs centre in Termez, which is helping increase Uzbek-Afghan trade.