NUR-SULTAN/TASHKENT -- Kazakhstan and Uzbekistan are taking steps to enhance co-operation with a focus on military collaboration and securing Central Asia.
Kazakh President Kassym-Jomart Tokayev made an official visit April 14-15 to Tashkent, signing a number of economic and military agreements with his Uzbek counterpart, Shavkat Mirziyoyev.
Tokayev's visit coincided with the kickoff of the Year of Kazakhstan in Uzbekistan -- Tashkent's friendly response after Kazakhstan declared 2018 to be the Year of Uzbekistan.
The official visit covered a number of strategic issues, including the creation of the International Centre for Trade and Economic Co-operation on their shared border, according to Tokayev's official site.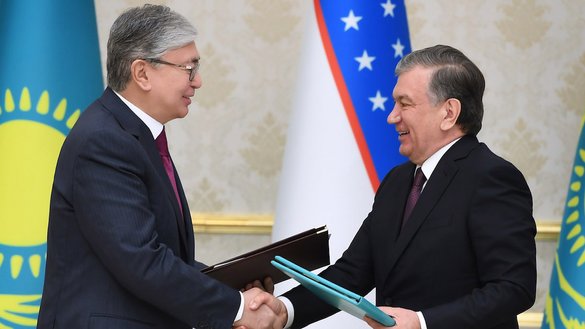 "In carrying out this project, we will be able to regulate cross-border trade, improve inspection and checkpoint infrastructure, and create a large trade and logistics hub in Central Asia," Tokayev said.
In addition, the two countries will bolster co-operation on hydrocarbon-derived electricity and hydro-electricity; import-export and transport; and expand cultural, humanitarian and youth exchanges.
The goal is to engage in annual trade worth $5 billion by the end of 2020, Tokayev said at a briefing April 15 in Tashkent. In 2018, trade between the two countries was worth more than $3 billion, according to the Uzbek government.
Security and stability
The two leaders during Tokayev's visit placed special emphasis on military co-operation.
In a joint statement, Tokayev and Mirziyoyev said that they would work together to tackle security challenges in Central Asia, including international terrorism, extremism, drug trafficking, cross-border organised crime and illegal migration, among other issues.
As part of the visit, Kazakhstan and Uzbekistan agreed to co-operate on air defence, the maintenance of military airfields, and the protection of warplanes on those airfields.
The two sides also inked a memorandum of co-operation between Kazakhstan's Ministry of Information and Social Development and Uzbekistan's Committee on Religious Affairs.
These agreements are the latest steps to establish a strategic agreement on security and the most recent sign of closer ties.
An Agreement on Military-Technical Co-operation between Uzbekistan and Kazakhstan, signed in September 2017 in Tashkent, entered into force in February 2018, according to the Uzbek Foreign Ministry.
Meanwhile, the two countries held their first-ever joint military exercises in Zhambyl Province, Kazakhstan, last July. During the exercises, Kazakh and Uzbek special forces practiced performing tasks related to nighttime combat using drones, warplanes and other military equipment.
Working together
Kazakhstan and Uzbekistan will be able to work in concert to combat threats to national and regional security, Georgy Dubovtsev, a military affairs analyst from Nur-Sultan and chief researcher at the Kazakhstan Institute for Strategic Studies, told Caravanserai.
"In the case of Afghanistan, it is a team effort opposing terrorism, religious extremism, drug trafficking, cross-border crime and illegal migration," he said.
To that end, the two leaders said that they would prioritise joining forces to rehabilitate Afghanistan, confirming their commitment to reviving the Afghan economy and to pursuing long-term, friendly co-operation with Afghanistan via large-scale transport, education and healthcare projects, among other efforts.
They also underscored the importance of initiatives such as the international conference on peace in Afghanistan hosted by Tashkent in March 2018.
Under the recent deals, Kazakh and Uzbek air defence units will hold joint exercises, and the agreement on guarding warplanes on airfields will guarantee a seamless deployment of troops from one country to the other, according to Dubovtsev.
"In the military and technical realm, there will be co-operation between defence-industry manufacturers, and this could involve the launch of the joint manufacture of weapons and military goods," Dubovtsev said.
Ensuring regional stability
Co-operation between Kazakhstan and Uzbekistan as the two most populous countries in Central Asia has always been crucial for the state of regional affairs, Farhad Tolipov, director of the Tashkent-based think-tank Caravan of Knowledge, told Caravanserai.
"Tashkent and Nur-Sultan can work together to develop initiatives to create a regional system of collective security in Central Asia in a five-state format [Kazakhstan, Kyrgyzstan, Uzbekistan, Tajikistan, Turkmenistan]," he said.
A pivot in Uzbekistan's foreign policy toward co-operation with its neighbours, which started under Mirziyoyev, has fundamentally shifted the balance of power in Central Asia, Tashkent political scientist Valerii Khan told Caravanserai in 2017.
Uzbekistan and Kazakhstan have the most powerful militaries in the region and the friendship between these countries is "a big step toward ensuring stability in the region", he told Caravanserai at the time.
"Without a doubt, the rapprochement between these two countries, which was initiated by the first president of Kazakhstan, Nursultan Nazarbayev, will be continued by his successors," he added recently.
"No matter what the results are of the coming elections in the country, Kazakhstan's foreign policy toward its neighbour won't change," Khan said, referring to the presidential elections scheduled for June.
[Maksim Yeniseyev from Tashkent contributed to this article.]