BISHKEK -- The return of Kyrgyzstan's ambassador to Afghanistan is a sign of growing co-operation between the two countries, according to observers.
Afghan Foreign Minister Salahuddin Rabbani made his first official visit to Kyrgyzstan on April 18, the Kyrgyz Foreign Ministry said in a statement.
Following the visit by the Afghan diplomat, Kyrgyz Foreign Minister Chingiz Aidarbekov announced that Kyrgyzstan's diplomatic mission in Afghanistan was resuming all operations, 24.kg reported.
For several years, the Kyrgyz embassy in Kabul functioned without an ambassador.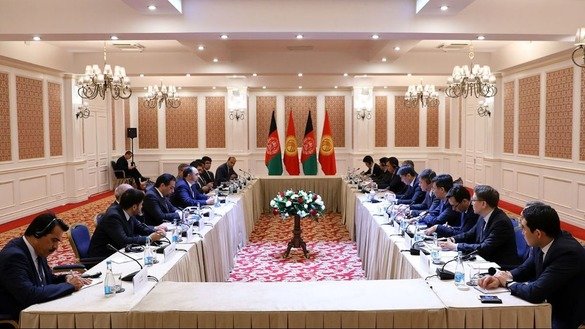 Maj. Gen. (ret.) Miroslav Niyazov, the former chairman of the country's Security Council, who had been ambassador to Tajikistan from July 2014 until last December, was appointed ambassador.
During his visit in Bishkek, Rabbani held talks with Kyrgyz Foreign Ministry officials. Kyrgyzstan is an "important partner in security and co-operation in the region", stressed Rabbani.
Diplomats from the two countries discussed political, economic, cultural and humanitarian co-operation, as well as co-operation within international and regional organisations.
More specifically, they discussed the possible export of electricity from Kyrgyzstan to Afghanistan and the construction of a railway from China that is expected to pass through Kyrgyzstan and Tajikistan.
The two sides also discussed aiding ethnic Kyrgyz who live in poverty in the mountainous Wakhan Corridor in Afghanistan.
Bolstering regional security
The renewal of Kyrgyzstan's diplomatic mission in Afghanistan is representative of improved security for Kyrgyz diplomats in that country and of greater co-operation between the two states, Kairat Osmonaliyev, a Bishkek specialist in international law, told Caravanserai.
"Our ambassador will be able to participate in events in Kabul that are related to regional policy, including in security," he said. "As a result, Kyrgyzstan can become a more active player in this geopolitical area."
Co-operation between Kyrgyzstan and Afghanistan will allow them to combat terrorist threats more effectively, Azat Ismailov, a Bishkek specialist in religious studies and in security, told Caravanserai.
"Islamic State" (IS) is active in northern Afghanistan, and periodic clashes break out on the Afghan border with Tajikistan, which in turn shares a border with Kyrgyzstan, he said, referring to Tajik border troops' battles with Afghan drug smugglers trying to enter Tajikistan illegally.
"For Bishkek, it's vital to get these relations up and running so the two countries' security agencies can co-operate closely and so that terrorist threats can be detected on time," he said.