TASHKENT -- The Uzbek government's efforts to ensure intellectual property (IP) protection will help spur job growth, attract foreign investment and foster a healthier economy, the US embassy said in a statement Friday (April 26).
On April 26, World Intellectual Property (IP) Day marked the importance of protecting ideas and inventions, which in turn spur innovation and growth, added the embassy.
Economic development and job growth will mean more opportunities for youth in Uzbekistan to find work. As of 2016, 45% of the population was under age 30, according to the Wilson Centre.
Progress that benefits such a large young cohort will help thwart extremist recruitment of the unemployed and disgruntled.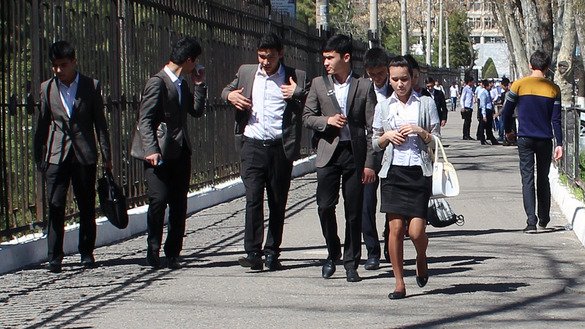 The United States is working closely with its partners in Uzbekistan to improve IP protection in that country, according to the embassy.
Last year the Uzbek government agreed to comply by three key IP treaties, which is a big step in protecting the IP of local and international companies, as well as in attracting foreign investment, said the embassy.
"Studies show a strong link between robust IP protection and increased technology transfer, scientific exchange, access to funding, job growth and foreign direct investment," it said.
Protecting the brand
This year's theme for World Intellectual Property Day was "Reach for the Gold: IP and Sport", aimed at spotlighting how strong IP protection encourages the development of sports.
Sports have become a multi-billion-dollar global industry, generating investment in facilities like the new Humo Arena in Tashkent and creating millions of jobs worldwide.
In the United States, the sports industry generates more than $70 billion (590 trillion UZS) per year for its economy, with 70% of that revenue coming from media rights, sponsorship, and merchandising, according to the US embassy.
Such economic growth requires strong IP protection to survive, it added.
The Harlem Globetrotters exhibition basketball team, which will be in Uzbekistan this week and again at the end of May, represents the success strong IP protection enables, the embassy said.
"The Globetrotters began with an idea," it said. "A man named Abe Saperstein envisioned a creative new way to promote basketball, and grew that vision from a small, family owned business into a multi-million-dollar enterprise recognised around the world."
"Thanks to strong IP protection of their brand, this group has been entertaining fans for almost a century," the embassy noted.
"Any country that wants to develop business based on innovation, unique brands, and creativity needs a strong, balanced system of IP protection," the statement said.
This framework, meant to protect innovators and creators, must include "strong enforcement measures, due process guarantees and a transparent judiciary", it said.
Such legal protection encourages the innovation and research that fuel job growth and investment, the embassy said.
"Thanks to comprehensive IP protection in the United States, IP-intensive industries account for more than 45 million US jobs -- nearly a third of the workforce, 50% of US exports and almost 40% of the gross domestic product," it added.
More opportunities for youth
The US-Uzbek joint efforts on IP protection are part of several areas where there two countries are partnering to expand ties, including in education.
For example, a growing number of Uzbek students are seeking higher-education opportunities in the United States.
In addition, the US embassy in Tashkent provides many opportunities for Uzbek youth to become familiar with the US educational system. A consulting centre called Education USA inside the embassy organises free informational sessions and individual consultations.