BISHKEK -- Kyrgyzstan's economy is too dependent on Russia and on remittances from its citizens who work abroad, say economists and analysts.
Remittances sent back to Kyrgyzstan in the first two months of 2019 amounted to $344.6 million (23 billion KGS), according to the National Bank of the Kyrgyz Republic. In 2018, Kyrgyz migrants sent home about $2.7 billion (188 billion KGS) in remittances.
That amount represents a substantial portion of Kyrgyzstan's economy. The Central Asian country has a population of 6.4 million. Its GDP in 2018 was $8 billion (559 billion KGS).
Socio-economic problems at home often force Kyrgyz citizens to accept working in Russia. Many of them leave their families at home so they can satisfy their relatives' basic needs for food and clothing by regularly sending them money.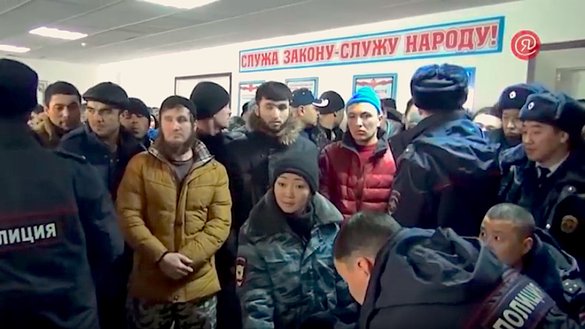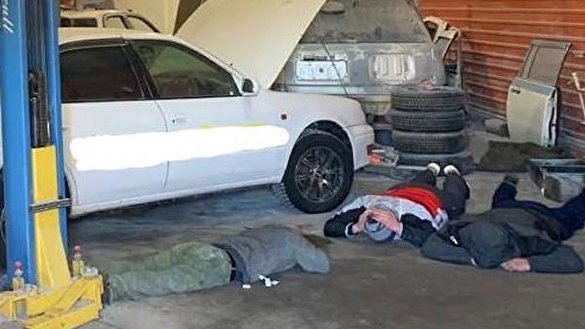 Mairambek Osmonov, 34, who returned to Sokuluk village from Moscow last year, told Caravanserai that he would prefer to earn less in his home country than make more in Russia.
"It would be better if our fellow citizens gave a boost to manufacturing here and exported Kyrgyz products, rather than sending back money they earn abroad," he said.
Economic risks
Kyrgyz authorities have expressed concern about the strengthening of economic ties with Russia and the economy's dependence on events there.
In January, the Kyrgyz Ministry of Finance indicated key risks that could hinder the country's GDP growth.
In its document outlining the 2019 government budget, the ministry said it was concerned that a potential curtailment of remittances could "lead to a decrease in gross output of construction and services".
Most of the money sent to Kyrgyzstan comes from migrants in Russia.
Although the remittances help support the Kyrgyz economy, they nevertheless have a negative effect, said Esen Kazybayev, an economist from Bishkek
The influx of money and an increase in consumption have led to a reduction in exports and to price increases, contributing to a decline in Kyrgyzstan's ability to compete in foreign markets, he told Caravanserai.
"Russia is hindering the development of Kyrgyz business, so it is not allowing [Kyrgyz products] into its market," Kazybayev said.
"At the same time, it is allowing our migrants to earn next to nothing through hard work," he said. "Why? Because Russia does not need a strong Kyrgyzstan. It needs a weak, controlled Kyrgyzstan."
In recent years, Russian law enforcement agencies have confiscated goods from Central Asian countries and prosecuted exporters in an attempt to squash foreign competitors and protect domestic suppliers.
The Kyrgyz Ministry of Finance has deemed the "deployment of measures to protect domestic markets by countries that are [our] main trading partners" a threat. Such actions "may trigger a drop in the competitive ability of [Kyrgyz] domestic goods and in the export of goods", the ministry said on its website.
In its budget document for 2019, the Finance Ministry made clear its concerns about the country's main trading partners, the largest one of which is Russia, potentially strengthening protectionist policies which would consequently damage the Kyrgyz economy.
Russian xenophobia
Such risks are exacerbated when Central Asian migrants in Russia, on whose income Kyrgyzstan has become dependent, face increasing xenophobia.
On March 27, Aisen Nikoloayev, head of the Sakha Republic (Yakutia) in eastern Russia, signed a decree banning job placements in 2019 for migrants in most of the vocations where Central Asians tend to work. It applied to jobs related to food and beverage, clothing production, education, health care, passenger transport and freight transport.
The move was part of a backlash that swept Sakha after police arrested three Kyrgyz men in connection with charges stemming from the March 17 rape of a woman in Yakutsk, Sakha Republic.
In Yakutsk, Sakha Republic, several beatings of Kyrgyz nationals working as public-transit bus drivers, market vendors and café servers have occurred. In addition, the Yakutsk police have begun to carry out random raids in public places to "verify" the permits and registration of Kyrgyz citizens.
Since Nikolayev's decree, working conditions in Sakha for Kyrgyz people have become significantly more difficult, and many have lost their jobs, Abdygany Shakirov, chair of the inter-regional NGO Kyrgyzskoe Edinenie (Kyrgyz Unity), said in an interview with radio station Govorit Moskva.
Migrants and their families who have already had a chance to establish themselves and adjust to Sakha have suffered the most, said Shakirov.
The ban on job placement conflicts with the provisions of the Eurasian Economic Union (EEU), to which Kyrgyzstan belongs, he said.
In Russia, the situation with migrants from Central Asia may be described as an intensification of violence and corruption, as well as an exploitation of the "modern" trend of fighting extremism and terrorism, Tolekan Ismailova of Bishkek, vice president of the Paris-based International Federation for Human Rights (FIDH), told Caravanserai.
"In the meantime, the Russian authorities continue to adopt anti-democratic laws pertaining to those who come looking for work," she said.
Questioning the EEU
The new legislative developments by Sakha authorities conflict with the conditions under which Kyrgyzstan joined the EEU, an integrated economic alliance co-ordinated by the Kremlin that comprises several post-Soviet countries: Russia, Kazakhstan, Kyrgyzstan, Belarus and Armenia.
Its rules call for free movement and job placement within the bloc for the citizens of any of the member states, as well as unhindered transport of goods and services among the member states.
However, despite optimistic declarations by Russian bureaucrats, in practice the EEU has proven to be an ineffective undertaking.
More than 600,000 Kyrgyz citizens, in accordance with EEU terms, are working in Russia. Some have complained about a recurrent violation of their rights not only by employers but also by police and immigration officials.
Entrepreneurs in EEU countries regularly complain about Russia's protectionist policies and artificial barriers put up by Russian authorities when foreign goods enter its market.
In practice the EEU is a political venture by Russia, which is trying to hold on to its diminishing influence over these countries, say independent analysts.