TARAZ, Kazakhstan -- Kazakh citizens across the country celebrated People's Unity Day May 1 to promote inter-ethnic harmony and peace in Kazakhstan.
Kazakhstan's diverse population, since the country gained independence in 1991, has avoided the kind of ethnic or inter-faith strife that extremists strive to exploit.
President Kassym-Jomart Tokayev paid tribute to his nation's diversity during a speech in Almaty's central square.
"Kazakhstan has become today a home for representatives of many ethnic groups. Thanks to mutual respect, solidarity and the creative work of representatives of all ethnic groups, we were able to strengthen our independence and achieve economic successes," Tokayev said in a statement released by the presidential press office.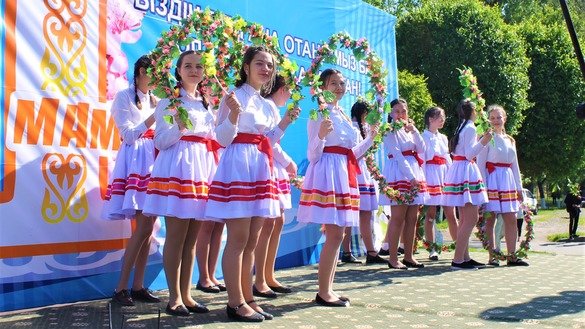 "Today, every Kazakh, regardless of his ethnicity, feels part of a single large family. Only together, through our diligence and perseverance, will we be able to build a strong and prosperous state," he said.
Kazakh cities organised festive events and ethno-cultural centres prepared performances and served ethnic food.
"Right now, Kazakhs, Uzbeks, Ukrainians, Tajiks, Turks and many others are celebrating here," Almaz Tolkanov, a 52-year-old resident of Taraz who is Kyrgyz by ethnicity, said while attending one of the festivals.
"We have no disputes; we live in one country," he told Caravanserai. "We feel like Kazakh people, but at the same time everyone considers himself a part of his ethnic group."
"We are all different, and this is good -- we have different traditions, rituals, cuisine and dialects," said Tolkanov.
"Every people has its own history in Kazakhstan," said Oleg Lehman, a 31-year-old resident of Zhambyl Province who is ethnically German, recalling the two mass internal exiles of Volga Germans ordered by Joseph Stalin. The Volga Germans had lived in Russia since Catherine the Great's reign.
The government "sent ethnic Germans here during the repressions by the Soviet Union in the 1930s", he told Caravanserai.
Another wave of ethnic Germans "was deported here during World War II", he said.
"In Kazakhstan, we have found a second home; we have lived here for several generations. Some of us left for Germany after the USSR collapsed and the Iron Curtain fell, while other Germans remained here, unable to imagine their lives without the southern sun and eastern hospitality," he said.