ALMATY -- The Kremlin's efforts to make it easier for Ukrainian separatists to obtain Russian citizenship is a warning for Central Asian countries looking to leave Moscow's sphere of influence, say observers.
Russian President Vladimir Putin signed a decree on April 24 setting up a simplified, three-month-long process to grant Russian citizenship to residents of the self-proclaimed, pro-Russian Donetsk People's Republic (DPR) and Luhansk People's Republic (LPR) in eastern Ukraine.
More than 2.2 million residents lived in the DPR and more than 1.4 million in the LPR, according to official statistics. Neither region has received diplomatic recognition by United Nations (UN) member states.
The move waives a Russian language examination, background check and requirement of five years' residency in Russia. Those seeking Russian citizenship from those areas need submit only an abbreviated list of basic documents, such as an application and proof of identity.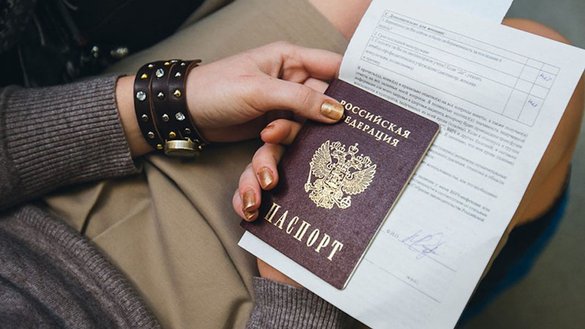 Days after that announcement, Putin said he was "thinking" about providing citizenship to "all citizens of Ukraine", and then on May 1, the Kremlin published a new decree adding several categories of Ukrainian nationals that would have the right to receive a Russian passport within three months of applying for one.
Pressure on Ukraine
Presidential aide Vladislav Surkov described Putin's decree as an "inevitable" step to protect Russian speakers in Ukraine.
Still, in Ukraine, Putin's decision has been viewed as an attempt to force the new Ukrainian government, particularly President-elect Volodymyr Zelenskyy, to grant special status to Donetsk and Luhansk.
Ukrainian analysts are drawing parallels between Russia's new citizenship policy toward Ukrainian citizens and events in the Russia-occupied Georgian regions, Abkhazia and South Ossetia.
In the 1990s, Moscow granted large numbers of residents in Abkhazia and South Ossetia Russian citizenship. In 2008, protection of Russian citizens was one Kremlin pretext, among several, for invading Georgia.
"Putin's decree on issuing passports in LDPR [Luhansk and Donetsk] is a direct message to Zelenskyy that the Kremlin is willing to follow the scenario in Ossetia and Abkhazia with all its ensuing consequences," said Kirill Molchanov, deputy director of the Ukrainian Institute of Analysis and Management of Policy in Kyiv, on his Facebook page.
A wake-up call for Central Asia
The Kremlin's intrusive actions in eastern Ukraine should be a wake-up call for Central Asia, say Central Asian analysts.
The risk of Russian intervention using this tactic mainly concerns Kazakhstan and Kyrgyzstan, which have a significant proportion of Russians or Russian speakers.
As of January 2019, 3.6 million ethnic Russians lived in Kazakhstan, or 20% of the population, and about 350,000 in Kyrgyzstan, or about 5.5% of its population, according to official statistics from each country.
"We remind the whole non-Russian world that we do not abandon our own people," said Pyotr Tolstoy, a State Duma deputy chairman and presenter on the pro-Kremlin Channel One, on April 28 while commenting on Russia's new policy.
The Kremlin already has invoked such rhetoric to justify the use of force on foreign soil.
In 2014, Russia added an item to its military doctrine on the option to use force in foreign countries for the purpose of defending its own citizens, Marat Yesekeyev, a historian from Nur-Sultan, told Caravanserai.
"In distributing Russian passports to the citizens of neighbouring countries, Moscow is ensuring in advance that it has a rationale for a potential invasion in a crisis," he said.
Risk in Kazakhstan
Kazakhstan faces many of the same conditions that Ukraine did before Russia's illegal annexation of Crimea, according to some observers.
The Georgian and Ukrainian scenarios could theoretically be repeated in Kazakhstan if a pro-Western politician takes power, the International Centre for Defence and Security, an Estonian think-tank, has noted.
In the northern Kazakh provinces that border Russia, ethnic Russians make up more than half of the population. That demographic concern was a key factor behind the 1998 move of the capital from Almaty in the south to Akmola (renamed Astana and then Nur-Sultan) in the north.
It was also the basis for a government programme to resettle residents of the predominantly Kazakh-speaking south to the north.
In recent years, Russia has eased requirements in granting citizenship to Kazakhs.
Many Kazakhs already hold two passports: a Kazakh one and a Russian one, Ulan Shamshet, a civic activist from Almaty and leader of the Antigeptil environmental movement, told Caravanserai.
"The majority of northerners [residents of Kazakhstan's northern regions] live in a Russian world ... You need to be prepared for any situation," he said of the thinking behind acquisition of two passports.
The Kazakh government "is under the Kremlin's influence", so it has not solved the problem, Shamshet said.
Russia preparing for 'crisis'
Meanwhile, Kyrgyz analysts also perceive a threat to their country's national security in Russia's passport policy.
Kyrgyzstan allows dual citizenship, and many Kyrgyz who work in Russia also hold Russian citizenship to make it easier to get a job. In May 2018, the state-run Moscow newspaper Rossiyskaya Gazeta reported that a tenth of Kyrgyz residents hold Russian citizenship.
Russia's passport policy is a modern-day Anschluss, when a country makes part of the population of another state its own, said Askat Dukenbayev, a Bishkek-based political analyst, citing the Nazi German annexation of Austria in 1938.
"[Kyrgyz] citizens obtain Russian citizenship of their own volition, yet this means that they are taking on definite commitments to the Russian government, including participating in foreign policy actions of the Putin regime," he added.
"In a crisis Russia can use the slogan 'we do not abandon our own people' with regard to Kyrgyzstan," he said.