BISHKEK -- Kyrgyzstan's Interior Ministry (MVD) said it has begun hiring for a pilot project that would establish a new police force in Bishkek.
The ministry May 6 announced a candidate-testing process for the new Department of Patrol Police (UPSM), which will give preference to civilians.
Testing will take place under the supervision of a specially created commission made up of civil society and MVD representatives.
The project is part of a traffic police reform initiated by President Sooronbay Jeenbekov and is a merger between the traffic police (Russian acronym, GUOBDD) and the Police Patrol and Checkpoint Service.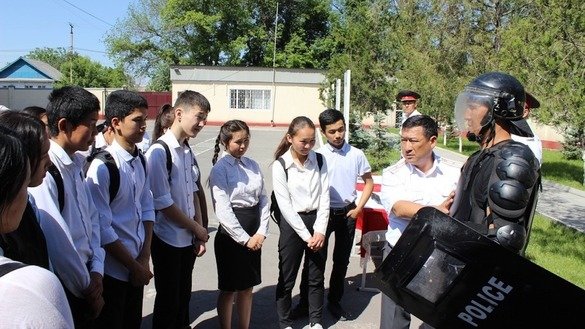 The force was first announced last November. It "will be responsible not only for safety on the roads but also public safety in general in its assigned territories", Tamerlan Ibraimov, director of the Bishkek-based Centre for Political and Legal Studies, said at the time.
If successful, the pilot programme could be expanded throughout the country.
Curbing corruption
One of the goals of the project is to reduce corruption among patrol officers.
To that end, members of the new force will receive higher wages and be equipped with modern technology, including cars, communications equipment and computers.
The recruits will also undergo three months of training on new work standards, with a focus on combating corruption, before serving on the new force.
The new force is part of reforms launched by Kyrgyz law enforcement agencies three years ago and the country's top leadership is monitoring its implementation, Bishkek reservist police Lt. Col. Kairat Osmonaliyev told Caravanserai.
The initiative should help authorities fight corruption, said Tursunbek Akun, co-ordinator of the Bishkek-based Congress on Human Rights in Central Asia.
"Civilians who have never worked in law enforcement agencies will be fresh blood in this system, which has always had problems with corruption," he told Caravanserai.
"This project will help clean up our police force," he said. "The important thing is to conduct a thorough, fair selection process."