NUR-SULTAN -- Preparations for monitoring Kazakhstan's upcoming presidential election are under way.
Observers from the Organisation for Security and Co-operation in Europe (OSCE) Mission of the Office for Democratic Institutions and Human Rights (ODIHR) are leading the way, along with other international counterparts.
Kazakhstan's Central Election Commission (CEC) Monday (May 13) accredited 22 long-term observers from the OSCE/ODIHR, according to a CEC statement.
To date, the CEC has accredited 67 international observers, the statement added. The special presidential election is scheduled for June 9.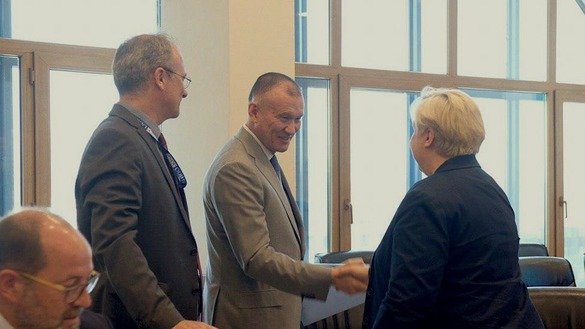 The OSCE/ODIHR observers began work Tuesday (May 14) in all regions of Kazakhstan. Another 300 short-term observers from OSCE member states are set to arrive a few days before the election.
On May 8 in Nur-Sultan, the head of the OSCE/ODIHR mission, Urszula Gacek, conferred with CEC Chairman Berik Imashev and discussed the election's stages and preparation for the election.
The monitors will evaluate the electoral process for compliance with OSCE commitments and with the international standards and requirements of democratic elections.
Gacek plans to meet with leaders of mass media organisations, presidential candidates and representatives of political parties and civil society, she told reporters that day.
The mission will publish its final report two months after the election ends, she added.
Citizens eye stability
The special presidential election involves seven hopefuls, including senate speaker Kassym-Jomart Tokayev, who has the support of long-time rule of Nursultan Nazarbayev, as well as the sole registered opposition candidate, Amirzhan Kosanov.
Political analysts generally expect Tokayev to win.
The real contest will be for second place, which will bolster the career of whoever ends up in that slot, Andrey Chebotarev, director of the Almaty-based think-tank Alternative, told Caravanserai.
Most citizens are interested in the upcoming election and will actively participate, according to Chebotarev.
"Some are most likely hoping for certain changes, while others want stability so that the transfer of power takes place without social and political upheavals," Chebotarev said.
Janna Ustemirova, a resident of Nur-Sultan, said she does not expect fundamental changes after the election, but she is okay with that.
"The standard of living in our country is the highest in Central Asia, and may it be so in the future," she told Caravanserai. "I want only one thing -- for us to not have disorder and anarchy, for us and our children to live in a calm, civilised country."
One issue that Kazakhstan is keeping an watchful eye on in the coming years is extremism. The country saw hundreds of radicalised citizens join the "Islamic State" (IS) in Syria and Iraq during IS's 2013-2014 heyday.