BISHKEK -- Kyrgyzstan is moving a step closer to reforming its religious education system as part of an effort both to better protect citizens' right to practice the religion of their choice and to rein in the teachings of destructive ideologies.
Kyrgyzstan's State Commission on Religious Affairs (GKDR) held a public discussion in Bishkek on April 30 on a draft law that regulates religious education and determines the policy for the country's religious education system going forward.
Participants included government officials; representatives of religious organisations, religious educational institutions, and NGOs; and independent analysts, according to a statement from the GKDR.
The participants voiced their approval of the draft law, which requires passage by parliament to become law.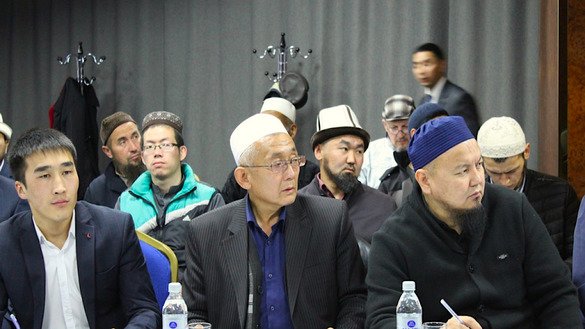 The proposed bill would set the country's religious education system on an official course as well as tighten oversight of such institutions, according to religious scholars.
Under the proposed law, only scholars with a religious education attained at official educational institutions would be allowed to teach. In addition, it would ban the private teaching of religion.
The draft law also states that citizens may receive a religious education only in secondary schools and universities whose curricula the GKDR has approved. The GKDR also would review materials to ensure they do not include information from destructive religious ideologies or extremist movements prohibited in Kyrgyzstan.
At the same time, only religious organisations registered in Kyrgyzstan would have the right to open educational institutions.
In addition to religious subjects, the curriculum of such institutions would be required to include general education subjects like the history of Kyrgyzstan, geography, and others, according to the GDKR.
'A matter of public safety'
The cabinet and parliament, since 2007, have periodically contemplated reforming religious education, said Galina Kolodzinskaya, a religious scholar from Bishkek and executive director of the Interfaith Council, a Kyrgyz NGO.
Planners constantly reworked and postponed reform proposals because of their inability to reconcile the conflicting demands of state and religion, she said.
"Considering that Kyrgyzstan's religious educational institutions are training future religious leaders who will later influence their followers' world-view and can use their 'social capital' to incite inter-faith discord or radicalise believers, this is a matter of public safety," Kolodzinskaya said.
"In terms of international law, intervention and restrictions by the state are permissible," she added.
At the same time, the government should create favourable conditions for religious activities to spur religious groups to register with the state, she said, citing the experience in the United States, where religious establishments that register with the government are exempt from taxes.
This policy will help curb radical teachings, Kolodzinskaya added.
"In this case, the religious communities themselves benefit by registering, so they do not need to be tracked," she said. "The government will have an accurate list of religious educational institutions and the persons engaged in teaching."
Today, the registration process is difficult, Kolodzinskaya said, adding that an organisation that wants official status must first register with the GKDR and then with the Ministry of Education.
Religion based on national values
A religious education policy that adheres to the values and culture of the country is key, stressed Denis Berdakov, a Bishkek resident and a member of the Expert Council on Strengthening National Unity and Religious Policy under the President of Kyrgyzstan.
"In the provinces, the mosque is becoming one of the main social institutions for religious education and a place for people to gather and socialise," he said.
The number of imams is growing and their role in society is rising, he said.
"The Kyrgyz authorities are pursuing a policy of supporting an Islam that will be based on the values, customs and spiritual roots of [Kyrgyz] national culture," he said, emphasising that all believers should consider themselves citizens of their own country above all.
"This is the correct, albeit difficult, path," he said. "First, the political nation, and then Islamic culture -- that's the motto of the leaders of many countries, including Islamic ones."