ALMATY -- Kazakhstan's government approved a military intelligence co-operation agreement with Kyrgyzstan, reflecting moves by Central Asian nations to solidify relations and strengthen regional security.
The document was first signed last July in Bishkek by Kyrgyz Chief of General Staff Maj. Gen. Rayimberdi Duishenbiyev and then-Kazakh Defence Minister Col. Gen. Saken Zhasuzakov. It was the first official visit by a Kazakh military delegation to Kyrgyzstan, according to KazTAG.
The Kazakh government approved the agreement on May 16.
Under the agreement, the two countries will exchange military intelligence and specialist assessments on vital topics, as well as information about terrorist and other organisations posing a security threat, KazTAG reported.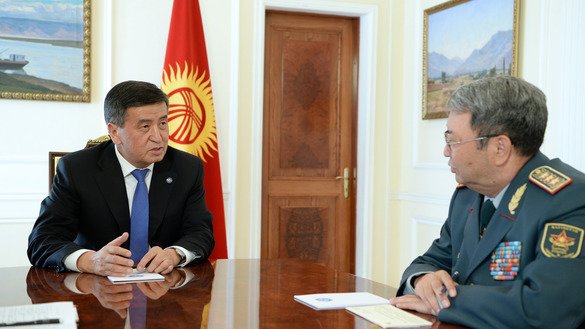 The document also covers joint activities to counter current challenges and threats.
The terms of co-operation specify that the two countries will protect the shared military intelligence, not use information to the detriment of the other and not pass data to third parties without consent, according to the report.
The agreement is set to run for an initial five years, and will automatically renew for subsequent five-year periods unless one of the countries gives notice of its intention to terminate the agreement.
Bolstering regional security
The defence ministries and security agencies of the two countries have co-operated before, including in countering terrorism, said Dauren Ospanov, a retired army major from Almaty.
"The conclusion of a high-level agreement indicates that the relationship has been made official in order for the co-operation to have a legal foundation governing every condition," he said.
The threats of terrorism and extremism are becoming increasingly urgent to Kyrgyzstan and Kazakhstan, according to Edil Osmonbetov, a Bishkek-based analyst of politics and security.
The danger is coming from not only Afghanistan, where defeated "Islamic State" (IS) forces who fled Syria and Iraq are trying to regroup but also from within Central Asian countries, where radicalisation of residents is a problem, he said.
The military intelligence agreement between Kazakhstan and Kyrgyzstan represents an important step toward closer co-operation taken by Central Asian countries, said Osmonbetov.
"This is our chance to create a unified geopolitical region and form a common agenda on regional security," he said.