NUR-SULTAN -- Following Kazakhstan's latest operation to repatriate its citizens from Syria, many observers are calling for leniency and mercy, especially for the children of 'Islamic State' (IS) fighters.
Kazakhstan has repatriated more than 200 of its nationals from Syria as part of an ongoing operation to evacuate the family members of militants who travelled there to fight with IS.
The most recent evacuation, part of an operation called "Jusan" (Bitter Wormwood), resulted in the removal of 231 Kazakh citizens, including 156 children, on May 7 and 9, Kazakh President Kassym-Jomart Tokayev said in a statement.
The move followed a similar effort in January, when Kazakhstan extracted 47 Kazakh nationals from Syria.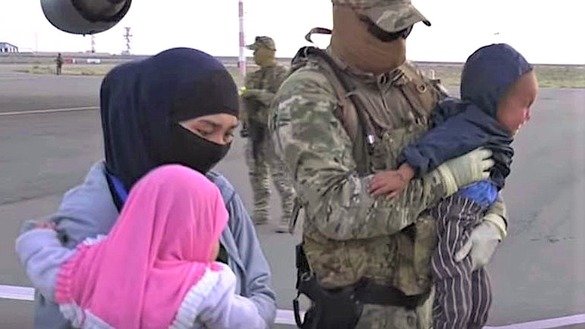 Kazakhstan will continue the fight against terrorism but will not turn away from its own citizens, he said, adding Jusan will continue.
Kazakh Deputy Foreign Minister Yerzhan Ashikbayev and Bakytbek Rakhimberdiyev, a department chief at the National Security Committee (KNB), held a joint news conference on May 13 in Nur-Sultan on the details of Jusan-2.
"We managed to evacuate 231 Kazakhs from conflict zones, including 16 men, 59 women and 156 children," the Foreign Ministry said on its website after the press conference.
"The humanitarian operation has been carried out with the logistical support of the United States," it added. "The Syrian Democratic Forces has also played an important role in this project."
Some of the evacuated Kazakhs had lost their passports and most of the children were born on territory previously controlled by IS, said the ministry.
"There are still more than 200 Kazakh citizens on Syrian territory, most of whom are children of preschool age," it said. "The Jusan operation will continue."
'The children are not to blame'
The KNB on May 18 released a video on Jusan-2 on its YouTube channel showing how the Kazakh military helped its compatriots return home.
The video footage shows Kazakh women, exhausted by years of war and deprivation, holding close their frightened children.
Other shots show an ill, hijab-wearing Kazakh woman on a stretcher being put on the plane, while a former IS fighter who lost a leg hobbles along on crutches, escorted by special forces.
"The women who arrived from Syria experienced post-traumatic stress. They constantly cried and were depressed. They had a very high level of anxiety," Lola Shakimova, a psychologist at the KNB Academy, said in the video.
The women have no confidence about what the next day will bring and fear everything, she said.
"In Syria, they were persecuted, intimidated," Shakimova said.
"Sometime after their return, we saw the first joy in the children's eyes, happiness that they had returned and are in completely different conditions," she said in the video. "Some of them saw toys for the first time. The children are not to blame. They must not be responsible for the actions of their parents."
One of the returnees said that IS imprisoned her and her husband because of their desire to return to Kazakhstan and threatened to shoot them, Shakimova said.
"Many tried to escape, but land mines are everywhere there," a tearful woman said on camera about Kazakhs who dreamed of returning to their homeland. "They were blown up by mines. Some were shot by snipers."
Only after returning to Kazakhstan did she feel safe, she said, adding that she is "very sorry" that she went to Syria.
"We were in prison for four months," said a Kazakh boy whose parents were incarcerated in Syria for belonging to IS. "Then the Kazakhs came for us, and here we are."
The evacuees in the video include pregnant women and newborn children as young as 3-7 days.
Both women and children 8-9 years old were found to have suffered from gunshot wounds at some point, according to doctors in the video.
Many of the children have chronic illnesses, which is a consequence of unfavourable living conditions and from stress during their mothers' pregnancy, the doctors added.
Additionally, many of the children cannot read and write, cannot name colours and have psychiatric disorders, they said.
Kazakh clergy call for mercy
Kazakhs have actively commented on this event online, with many condemning those who joined IS terrorists.
On May 11, the Spiritual Directorate of Muslims of Kazakhstan (DUMK) appealed to Kazakhs for mercy toward those who found themselves in Syria because of their husbands' or parents' choices.
Among the 156 preschool children rescued, 18 are orphans, according to the DUMK.
The Kazakhs who returned from Syria in January have been placed in jobs and have gone back to their relatives, while children are attending kindergarten and schools, "as a result of social and rehabilitation activities", said the DUMK.
However, authorities will prosecute returnees who stand accused of joining IS.
"We do not wish death on our brothers and sisters," the DUMK said in the statement.
"We call for leniency to be shown them," it added. "Their [the returning adults'] innocent children should not suffer in a foreign country for the mistakes they have made."
"The DUMK calls on Kazakhs, especially young people, not to succumb to the incitements of destructive and extremist movements, not to listen to questionable sermons by foreigners on social networks, to be vigilant on religious issues, and not provide material assistance to false preachers," the group said.