MOSCOW -- Strategic competition in Central Asia is likely to divide Russia and China despite a seemingly sunny display of co-operation between the two countries this week.
Chinese President Xi Jinping was treated as the guest of honour at Russia's showcase economic forum on Friday (June 7) as the two neighbours presented a united front in the face of shared troubles and friction.
Xi arrived at Vnukovo airport on Wednesday (June 5) and was received with full honours for the three-day visit with Russian President Vladimir Putin. He later described the Russian leader as his "best friend" during a cosy meeting at the Kremlin.
Xi's visit has already seen the signing of dozens of commercial contracts in e-commerce, telecoms, gas and other areas.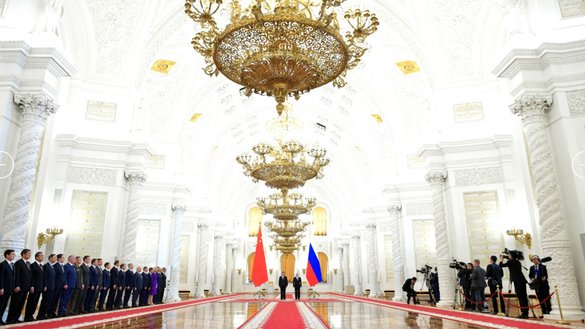 The leaders' smiles and promises come against a backdrop of repeated Russian and Chinese support at the United Nations for repressive dictatorships in Iran, Syria and Venezuela.
Diverging interests
Even as the leaders from both countries swap compliments, announce business deals and speak of future co-operation, they are unlikely to strike a long-term strategic alliance as their interests in Central Asia diverge.
That's because previous assumptions about the interests of Russia and China in the region -- a kind of gentleman's agreement in which Moscow protects while Beijing invests -- are being overturned, analysts say.
"China and Russia are competitors in Central Asia," said Yuri Poyta, head of the Asia-Pacific Section of the Centre for Army, Conversion and Disarmament Studies in Kyiv, Ukraine, in March.
China has no desire to see its investment projects -- a vital tool of "soft power" -- depend on Russian willingness to protect them, he added.
China's power as the second-largest economy in the world has had Central Asian countries reaching out for closer ties. Stagnant Russia's economy ranks 12th worldwide.
For its part, Beijing has backed projects and made large-scale investments in the region.
That pattern poses a threat to Russia's influence in Central Asia, which Moscow has long viewed as its "backyard," Poyta said.
"Moscow understands that, with the exception of the [military] force it can bring to bear, it has very little to offer to the region economically and has no desire to watch Beijing gather strength and draw the Central Asian republics into its embrace," he said.
Recent Russian actions have not endeared Moscow to citizens across Central Asia. They are becoming increasingly worried about the Kremlin's intentions as Russia kicked off its largest ever war games last September.
The Vostok-2018 exercises simulated large-scale warfare with some 300,000 soldiers, 36,000 military vehicles, 1,000 planes and 80 warships involved.
At the same time, Russia's occupation of territory in Georgia and Ukraine and its backing of Bashar al-Assad's government in the Syrian war have fueled concern among Central Asian countries about the Kremlin's malign-influence efforts worldwide.
Georgia last year marked the 10th year of Russian occupation of South Ossetia. Russian forces have held Abkhazia since 1993.
The 'lesser of two evils'
The official proclamations of eternal friendship by the two countries also belie Russia's own growing dependence on a former foe.
Border tensions dating back to an 1869 treaty imposed by tsarist Russia on a much weaker China long dominated relations between the two. Those never-resolved tensions led to an undeclared shooting war in 1969 that left hundreds of troops dead.
The dispute did not formally end until the countries signed another treaty in 2004. Russians, aware that they have only 8.3 million inhabitants in the resource-rich Russian Far East facing 90 million Chinese in three provinces bordering that region, wonder if China has truly put the bitter past behind it.
In addition, Russians across Siberia and the Far East have decried rapacious Chinese logging that is denuding their forests.
Still, the fallout from recent Russia aggression has pushed Moscow to turn toward its neighbour to the east.
After emerging from recession in 2017, Russia's economy -- rocked by Western sanctions -- ticked up by only 0.5% in the first quarter of this year.
While Russia may have had unrealistic expectations from its pivot to the east following Western sanctions over Ukraine, China's share in Russian foreign trade has nearly doubled since then, said Alexander Gabuev, who heads the Asia programme at the Carnegie Moscow Centre.
"The pivot really is happening," he said, adding that even with the rocky relationship, Russia has been dependent on China's economic power.
The partnership is yielding increasing trade, which climbed 25% in 2018 to reached a record $108 billion, according to the Kremlin.
Putin's foreign policy aide, Yuri Ushakov, has called China "Russia's most important economic partner".
Co-operation with China is seen by Moscow as "the lesser of two evils" to stimulate economic growth, Gabuev said -- the alternative being deep internal reforms and reconciliation with the West.