BISHKEK -- The US embassy in Kyrgyzstan on June 13 announced the six Kyrgyz finalists for the TechGirls programme, which seeks to encourage girls from Central Asia, the Middle East and North Africa to join science, technology, engineering and mathematics (STEM) fields.
Residents of Bishkek, Batken, Jalal-Abad, Osh and Karakol are among the finalists, according to the embassy.
From July 5-31, 24 high-school girls from Kazakhstan, Kyrgyzstan, Tajikistan and Uzbekistan will travel to the United States to participate in the intensive technology programme at Virginia Tech University.
The annual TechGirls programme is an initiative of the US State Department administered by the non-governmental organisation Legacy International.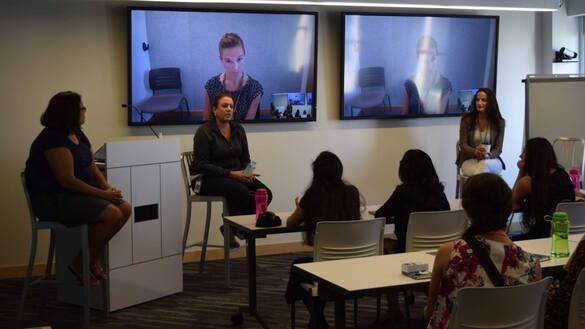 The girls participating in the programme will gain new experiences at interactive laboratories and visit technology companies in Washington, DC. They will also take part in leadership clinics, action planning seminars and cultural events, according to the US embassy in Kazakhstan.
The TechGirls programme is aimed at helping the girls master essential knowledge and skills and enable them to build a career in the STEM fields.
It is important for girls living in remote areas dominated by a man-centred culture to gain new experiences and realise their potential in information technology (IT), said Nazira Sultanova, mother of 17-year-old finalist Mairam Sultanova from Osh city.
"The TechGirls programme is what our girls need because they get a chance to reveal their potential and to find the motivation to keep up with the times," she said.
Educating women is also one avenue to creating a society that rejects extremism.
The world has a shortage of female IT specialists, even though IT is no longer a purely male domain, said Bishkek resident Yelena Chigibayeva, an IT consultant and a 2018 fellow with TechWomen, a similar programme for women who have graduated from college.
"Our initiative is called on to form a community of girls and women in IT and STEM, tell them about the opportunities in these areas and create a culture of mentoring and support among female IT and STEM professionals and the next generation," Chigibayeva said.