NUR-SULTAN -- Kazakh citizens who participated in conflicts abroad and have since returned home face stiff punishment, say government officials.
The Kazakh government on May 28-31 evacuated 67 women and 171 children from Syria as the final stage of Operation "Jusan" (Bitter Wormwood), which is aimed at bringing home the family members of militants who travelled there to fight with "Islamic State" (IS).
The evacuation was the third since the start of the year. In total, 524 Kazakhs -- 137 women, 357 children and 30 men -- have been repatriated.
The operation was carried out with logistical support from the United States and the participation of the US-backed Syrian Democratic Forces, according to the Kazakh Foreign Ministry.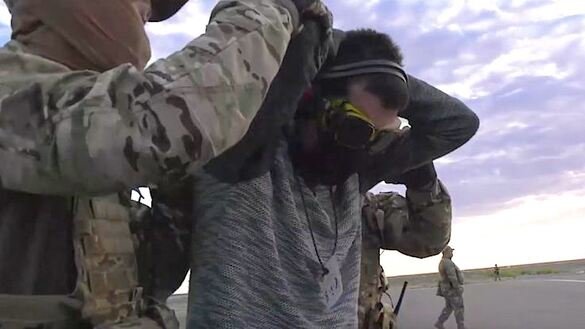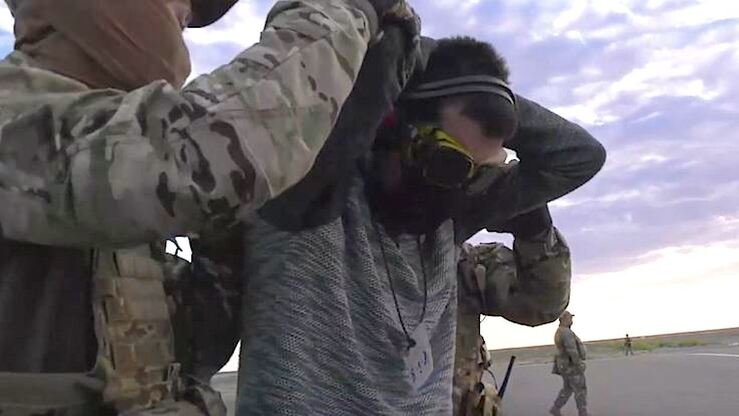 Kazakh aircraft used an American airfield in the Middle East to bring citizens home during the operation, according to Kazanalytics, a Kazakh website that employs former Kazakh diplomats and intelligence personnel.
Facing justice
Though many of those returning are the wives and children of militants, some Kazakhs who fought in the Syrian war also came home in the evacuation -- and face long prison sentences.
Two men who returned in January as part of Jusan-1 have already been sentenced to eight years in prison, according to the National Security Committee (KNB).
"Upon arrival in the Republic of Kazakhstan, 16 men and four women were detained on suspicion of involvement in terrorist activity and were transferred to jails in Nur-Sultan, Atyrau, Uralsk, Aktobe, Karaganda and Shymkent," Bakhytbek Rakhymberdiyev, chief of the KNB's counter-terrorism department, told journalists on May 13 in Nur-Sultan.
Those detained "voluntarily decided to return to their homeland, and some are willing to receive criminal punishment for their deeds abroad," Rakhymberdiyev added.
The suspects face charges of participating in foreign armed conflicts and in terrorist activity, both of which carry sentences of 5 to 12 years and the confiscation of property, according to Aidos Otorbekov, a lawyer based in Zhambyl Province.
Kazakhs who have gone to fight alongside pro-Russian separatists in Ukraine also face prison sentences, he noted.
"There aren't a lot of them, but they do exist. In the last few years, a few Kazakhs have been convicted for this crime -- they're arrested right after they return to the country," Otorbekov said.
A Kazakh citizen was convicted on May 30 of fighting alongside Russia-backed separatists in Ukraine.
Return to a peaceful life
Meanwhile, women with children who have returned from Syria are at a rehabilitation centre in Mangystau Province, where psychologists and theologians are working with them.
"There have already been positive changes: a decrease in ... fanaticism, and a rejection of black clothing and the ideology for which they went to Syria," said Gulnaz Razdykova, director of the Pavlodar Centre for Analysis and Development of Interfaith Relations.
"The women's attitudes had changed, and they were closed off [to other ideas]," said Razdykova, who is also a psychologist handling the rehabilitation of the women. "They were experiencing a binary way of thinking, deep religious immersion, and fanaticism."
Specialists assessed each woman's psychological state and personality and then developed plans for the women's rehabilitation and eventual return to a peaceful life, she said.
"We're working with the psychological traumas that the women and children they experienced during this war. We run group trainings, individual counselling and other activities such as singing traditional Kazakh songs," Razdykova said.
The amount of time needed for rehabilitation depends on the individual's personality, according to Razdykova. A few women have already returned home, while work on their re-socialisation will continue where they live.
"They're truly showing repentance for their actions and want to make everything right," she said.