NUR-SULTAN -- Kazakhstan has launched a training centre for specialists who will work with former militants recently returned from Syria.
The Kazakh government on May 28-31 evacuated 67 women and 171 children from Syria as the final stage of Operation "Jusan" (Bitter Wormwood), which is aimed at bringing home the family members of militants who travelled there to fight with "Islamic State" (IS).
The evacuation was the third since the start of the year. In total, 524 Kazakhs -- 137 women, 357 children and 30 men -- have been repatriated.
Authorities investigated for terrorism almost all the men and a few of the women brought home by the operation. Many of them were convicted.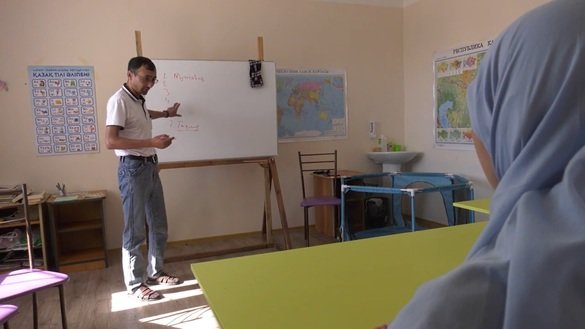 The new "Jusan" centre was opened in Kostanay to train psychologists, police and penal workers for theological and rehabilitation work with convicted members of radical movements, the Kazakh news website Informburo reported on June 18.
The educational institution will operate as part of the Kostanay Interior Ministry (MVD) Academy, which trains future police officers.
Learning to tolerate a secular state
The workers attending courses at the centre will spend two weeks, or 72 hours, learning how to help extremist prisoners become a part of society again. One of the courses for radicalised inmates will focus on how to inculcate in them a tolerant attitude toward the secular foundations of the state.
Kazakh prisons hold about 600 inmates convicted of terrorism and extremism, Bekbolat Shakirov, chairman of the MVD Penal Committee, said at a Nur-Sultan news conference June 18.
At present, imams are responsible for theological dialogues with them, he said.
Every war has combatants and their supporters in the rear echelon, said Amanjol Urazbayev, a legal scholar who heads the Nur-Sultan-based non-governmental organisation (NGO) Counter-Terrorism Committee of Kazakhstan.
"The government brought back its citizens to Kazakhstan and set out to determine the degree of guilt of everyone -- who's who," said Urazbayev.
"They could have lived a peaceful life, freely professed a religion, raised their children, but they succumbed to the propaganda of terrorists… This is a lesson for all of us," said Ruslan Seksenbayev, a political scientist from Taraz and director of the NGO Beibit Aspan (Peaceful Sky), earlier in June.