TASHKENT -- The US Commerce Department this month sent its first certified trade mission to Uzbekistan amid growing interest by the United States in the Central Asian country.
The trade mission, which included representatives from major American companies such as Procter & Gamble, General Electric, Caterpillar, John Deere and others, arrived in Tashkent on June 18.
US Commerce Secretary Wilbur Ross and Uzbek President Shavkat Mirziyoyev last October in Tashkent agreed to arrange the mission.
Seeking contacts and setting priorities
During the visit, the trade mission met with Uzbek Minister of Investments and Foreign Trade Sardor Umurzakov; the energy, transport and health ministers; and members of the Uzbek business community.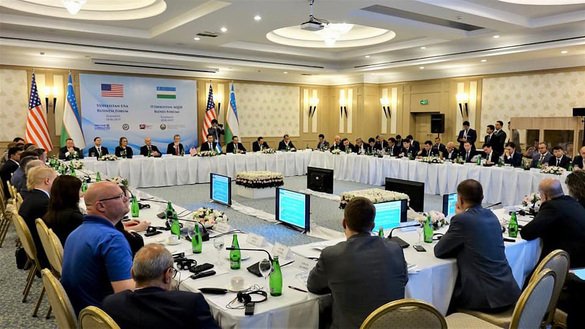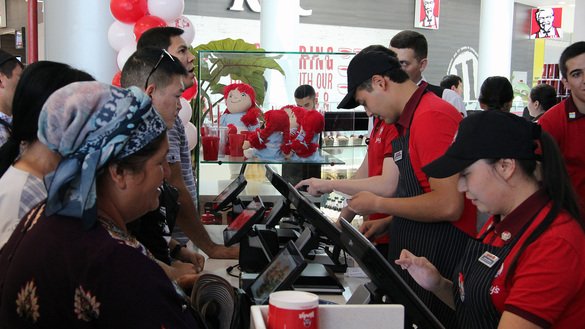 The Uzbek side presented the country's investment potential, and both sides discussed potential projects and co-operation.
During the meeting, US Ambassador to Uzbekistan Daniel Rosenblum noted the increasing number of American companies looking into the potential of the Uzbek market.
The United States is encouraging deep, broad contacts between Uzbek and American businesspeople, he said.
The United States is a strategic partner for Uzbekistan, said Umurzakov during a joint briefing with Rosenblum.
The main priorities for a US-Uzbek partnership are energy, chemicals and petrochemicals, mining, building materials, light industry, agriculture and logistics, Umurzakov said, according to the ministry press office.
At the end of the meeting, the parties agreed to co-operate closely to attract US investment and to entice trade partners to conduct business in Uzbekistan.
Increasing trade with other countries is an avenue to the shared prosperity and exchange of ideas that help counter extremism's appeal.
Burgeoning US interest
Major American businesses have been expressing their interest in the Uzbek market since 2017, when Uzbekistan began adopting a number of wide-ranging economic reforms.
In the first four months of 2018, 28% of foreign investments came from the United States, according to the Central Bank of Uzbekistan. Chinese investments made up 10% of the total, while Russian investments made up 6%.
No analogous statistics for 2019 have been released yet.
Uzbek President Shavkat Mirziyoyev and US President Donald Trump signed contracts worth $4.8 billion (41.1 trillion UZS) during a historic meeting in Washington in May 2018. However, the volume of trade is still relatively small, which leaves US businesses in Uzbekistan with considerable room to grow.
In 2018, the United States bought only 0.1% of Uzbekistan's exports. US products and services totaled only 2.3% of what Uzbekistan imported.
"The apprehensions of American businesspeople coming to Uzbekistan are understandable," said Shukurullo Mavlonov, a Tashkent-based Uzbek economist.
"On the one hand, Uzbekistan is a market with 33 million people that almost completely lacks products and services that are common in the rest of the world," he said.
"On the other hand, for many years, Uzbekistan had problems with currency conversion, the repatriation of profits and protection of property rights," said Mavlonov.
"Investors are seeing the pace of the reforms, and their visits with the trade mission indicate that the time is ripe for interest to translate into concrete projects," he said.
Leading US companies continue entering Uzbek market
In one sign of growing US interest in the Uzbek market, Wendy's, a US fast food chain, held a ceremony on June 18 in Tashkent for the opening of its first two outlets in Uzbekistan.
Wendy's is the third US restaurant chain to venture into Uzbekistan, after KFC and Baskin-Robbins, both of which opened in 2018. Dunkin Donuts is expected to open in Uzbekistan in the near future.
Uzbeks turned out to sample the burgers. The restaurant chain has more than 6,700 restaurants worldwide.
"Uzbekistan is a dynamic market with enormous potential for the Wendy's brand," Samson Pkhakadze, an Uzbekistan-based Wendy's executive, said at the opening ceremony in Tashkent.
"Along with our local partners, we believe that our signature menu... will really appeal to Uzbek customers, who are looking for more choices and higher-quality foods," he said.
"I'm happy things are coming to Uzbekistan that are common in the rest of the world," said Marat Abdulkhalikov, one of the first customers of Wendy's in Tashkent.
"When restaurants by world-famous brands from the United States or other countries open here, I feel like we're no longer such a closed country and that something is truly changing," he said.