SUGHD PROVINCE, Tajikistan -- Nodira Usmonova, a 31-year-old Tajik woman who joined a terrorist movement with her husband and ended up in an Afghan prison, took the first opportunity to return home after the disastrous experience.
She and her three children, aged 1, 8 and 10, were all brought home from Afghanistan in early June by Tajik diplomats and security officials, who have been working closely with Afghan authorities.
Usmonova started a new life in her hometown of Isfizor in Bobojon Ghafurov District, Sughd Province, on June 9.
'We were simply deceived'
"There, in a foreign land, we were in constant fear of being bombed or killed by a stray bullet," Usmonova said. "You don't know who is fighting whom or why. There wasn't enough food or any of the promised rewards. We were simply deceived."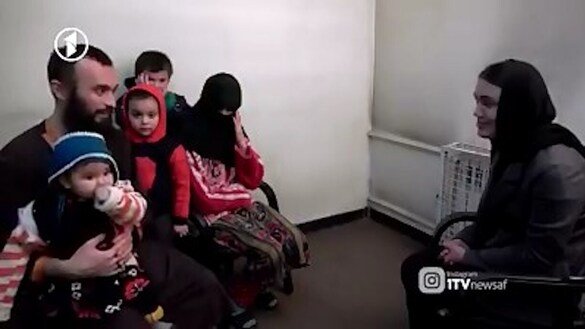 "Islamic State" (IS) recruiters first lured her husband, Farkhod Usmonov; then Usmonova established contact with the terrorist organisation after she arrived in Afghan territory held by IS's Khorasan branch.
Last August 1 the Taliban captured them and held them for five months in a village in Badghis Province. In early January, Afghan government troops who took back the village from the militants transferred the couple to Prison No. 501 in Kabul.
She admitted she violated the laws of Tajikistan by joining IS, but her voluntary return to her homeland and sincere regret about her deed gave her a chance to expunge her record. In accordance with amendments made to the Tajik criminal code, prosecutors may terminate a criminal case related to fighting in a foreign war.
Her husband, still incarcerated in Kabul, may face a prison term in Afghanistan or Tajikistan, depending on what an Afghan court or the two countries' governments decide.
So begins the story of many
The fate of Usmonov is similar to that of many labour migrants who found themselves fighting in Syria, Iraq and Afghanistan rather than working peacefully elsewhere.
He is among those whom extremists brainwashed online and then recruited.
No one expected that Usmonov, a young man with secular interests, would succumb to the influence of extremist ideology, according to his father, Islom, and mother, Uguloy.
In the early 2000s, thousands of residents from the village of Isfizor -- as well as from many other large settlements afflicted with unemployment in Tajikistan -- pursued employment abroad.
Usmonov was one of those who established contacts with employers in Moscow. Every year he travelled to Russia in the spring and returned to his homeland in the winter.
In 2008, he got married and started building his house. He had big plans.
All seemed to be going well, and Usmonov's parents said they did not perceive a change in his views. They saw his attending the mosque, praying and reading the Koran as a good deed.
Further details of how Usmonov was brainwashed to join the terrorists are known only to him. An Afghan court is waiting to hear his story.
[In Part 2, to be published June 28, Caravanserai will reveal how the Usmonov family ended up in Afghanistan and what Tajik authorities, clerics and NGOs are doing to prevent radicalisation.]