ASHGABAT -- The new US ambassador to Turkmenistan is stirring optimism among the country's citizens.
Matthew S. Klimow, previously a senior adviser in the Office of the Under Secretary of State for Management, was nominated as the US ambassador to Turkmenistan in March. He was sworn in on June 13 and presented his credentials in Ashgabat June 26.
Klimow is an experienced diplomat and a military specialist. His previous assignments included serving as a special adviser on military affairs to Vice President Dick Cheney and as assistant to the chairman of the US Joint Chiefs of Staff.
Klimow spoke about Turkmenistan during his confirmation hearing on May 16 to the US Senate Foreign Relations Committee.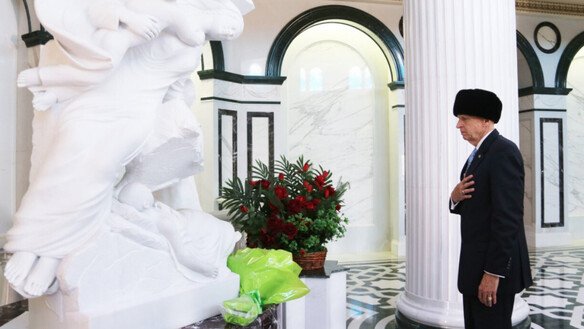 "We have an opportunity to act as a counterweight and positive alternative to Russia and China's unrelenting push to further their economic and political objectives at the expense of the Turkmen people," Klimow said at the hearing.
Klimow emphasised the geo-political importance of Turkmenistan, which has "long borders with Afghanistan and Iran ... possesses some of the world's largest natural-gas reserves and ... serves as a bridge between the Caucasus, Central Asia, and the regions beyond."
Turkmen citizens picked up on his comments either through Azatlyk Radio (Radio Free Europe/Radio Liberty's Turkmen service) or through word of mouth.
"I heard people sharing with each other his words about the priorities of ... the US ambassador, and interestingly, many of them were optimistic about this encouraging statement," said Takhyr Nurberdyyev, a retiree from Mary.
The new US ambassador "will do a great thing if he expands the presence or participation of distant but economically strong America in implementing projects developed in Turkmenistan", Nurberdyyev said.
"The favourable geo-political location of Turkmenistan will be of considerable importance to the United States itself," he added.
Benefits for economy
"Both China and Russia exert enormous economic and political pressure on the government in Ashgabat," said Klimow at his hearing.
Residents of Mary Province, where the bulk of Turkmen gas is produced, consider this assessment fair.
The Turkmen market has been flooded by low-quality consumer goods from China and Russia, and gas that Turkmenistan exports to China -- more than 34 billion cubic metres per year -- does not earn enough foreign currency, they said.
Turkmen citizens can see the potential of the United States through US products and machinery such as Boeing aircraft operated by Turkmenistan Airlines, Case and John Deere harvesters, and Caterpillar's earth movers.
"All these machines have proven themselves very well under Turkmen conditions," said a citizen who asked not to be named.
"American aircraft, harvesters and excavators are very reliable. And there is so much more that we do not know yet!" said an employee at the Mary airport who wished to remain anonymous.
"That's why I really want the new US ambassador to promote trade and economic co-operation between our countries," he said.
Representatives of private business and local financial institutions are hoping that the new ambassador will contribute to the inflow of US investments.
"Our country is fourth in the world in explored gas reserves," said Nargul M., chief of the lending department at a regional office of Senagat Bank. "There are great prospects for the construction of new gas pipelines to South Asia and Europe -- our president launched an initiative to create North-South and East-West transport-transit corridors."
"The United States, I think, should not stay away from these attractive projects," she said.
Hope for successful co-operation
"If everything he [Klimow] said in the Senate is followed by real deeds, then he will have his hands full in Turkmenistan," said a department director at the Ministry of Finance and Economy who asked to remain anonymous.
Turkmenistan has helped and continues to help stabilise Afghanistan, providing humanitarian and economic assistance to residents of that country, according to the ministry official.
"If the efforts of our government to develop the economy of Afghanistan or to bring Turkmen energy resources to world markets and many other initiatives find support in the person representing ... the United States, then success in all these areas will be even more visible," the official added.
"I really hope that the new American ambassador will pay attention to the problems faced by representatives of civil society in Turkmenistan," said S., a civil society activist from Ashgabat who asked not to give his full name.
He said he was encouraged by Klimow's confidence that "progress in those areas is possible through consistent ... dialogue."
"His confidence gives us high hopes," he added.