BISHKEK -- About 200 migrant labourers gathered in Bishkek on June 25 in a "flash mob" to protest their work conditions in Russia, citing dangerous working environments and abuse by law enforcement agencies in the country.
Protesters at the impromptu event, which they called "Voice of the Migrant," held placards with messages such as "We are one-third of Kyrgyzstan's GDP," "Migration destroyed my family" and "I'm a migrant to feed my family," Akipress reported.
Socio-economic problems at home often force Kyrgyz citizens to work in Russia. Many of them leave their families at home so they can satisfy their relatives' basic needs for food and clothing by regularly sending them money.
Remittances sent back to Kyrgyzstan in the first two months of 2019 amounted to $344.6 million (23 billion KGS), according to the National Bank of the Kyrgyz Republic. In 2018, Kyrgyz migrants sent home about $2.7 billion (188 billion KGS) in remittances.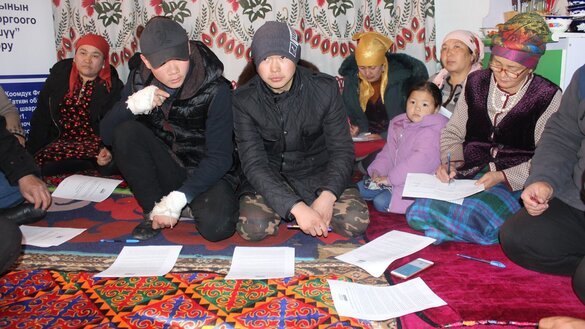 That amount represents a substantial portion of Kyrgyzstan's economy. Its GDP in 2018 was $8 billion (559 billion KGS).
According to the Kyrgyz government, 640,000 Kyrgyz citizens were working in Russia in 2018. The government puts Kyrgyzstan's total population at 6.3 million.
'Large-scale violations' of human rights
An increase in the abuse of foreign labour migrants in Russia by law enforcement has occurred, said Tolekan Ismailova of Bishkek, vice president of the Paris-based International Federation for Human Rights (FIDH).
"We're talking about large-scale violations of fundamental human rights and freedoms in Russia," Ismailova said.
The violation of the rights of Kyrgyz living in Russia is standard practice, said Bolot Orozov, a migrant worker from Tokmak, Chui Province.
"We work in buildings where fire safety conventions aren't observed. The management on construction sites doesn't take essential safety measures," he said.
Gulipa Abdiyeva, an 86-year-old Bishkek resident whose daughter died in Russia four years ago from carbon monoxide poisoning, said her family could not afford to bring the body back to Kyrgyzstan. Her daughter initially was buried in Russia.
"Last year some caring citizens helped us out financially so we could finally bury my daughter in her homeland," Abdiyeva said in an interview with Bishkek-based television station NTS.
Along with lax work safety, labourers in Russia also face the threat of being attacked by so-called skinheads, or neo-Nazis, who are on the lookout for anyone with non-Slavic features, Orozov said.
"There have been incidents where they've beaten people to death just because their skin is a different colour and their eyes are a different shape," he added.
According to Kyrgyz governmental statistics, 184 Kyrgyz migrant workers died in Russia in 2016 and 136 in 2017.
Life insurance for labour migrants
Because of the work conditions, labourers in Russia should receive life insurance, said migrants at the protest in Bishkek.
They proposed creating a special fund to which every migrant worker would contribute a small sum. The money would enable relatives of the deceased to meet the expenses of transporting a deceased migrant's body from Russia to Kyrgyzstan.
Forty thousand citizens signed the letter outlining this initiative, which went to Kyrgyzstan's parliament.
When parliament returns to work from its recess later this year, it is vital to make resolving this issue a priority, said Almambet Shykmamatov, a member of parliament, in an interview with NTS.