MOSCOW -- The death of 14 Russian seamen in a fire on a deep submersible earlier this week is the latest in a string of disasters and accidents to hit the country's navy and underscores growing concerns over Russia's military hardware.
The tragedy in the far north has echoes of the sinking of the Kursk submarine in 2000 that claimed the lives of 118 personnel and shook the first year of Vladimir Putin's presidency.
"On July 1 [Monday], a fire broke out during biometric measurements on a scientific research deep-sea submersible," the Russian Defence Ministry said.
Fourteen crew died as a result of poisoning from the fumes of the fire in Russia's territorial waters, a ministry spokeswoman confirmed to AFP.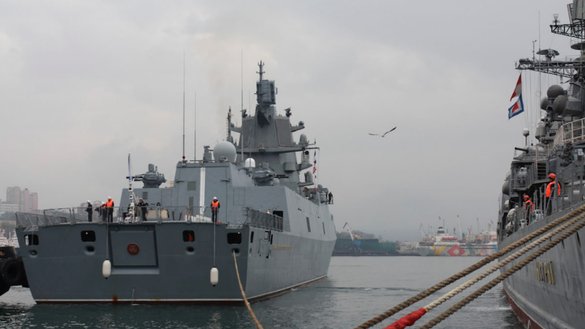 Bogus claims of 'research'
A military analyst, speaking to AFP on condition of anonymity, dismissed claims that the fire happened during scientific research.
"Usually it's a cover for different type of work conducted on the seabed" like laying cables, the expert said.
Of the 14 victims, seven were high ranking naval officers, suggesting that it was not an ordinary assignment. It is unknown how many seamen were on board the sub.
The Novaya Gazeta newspaper cited sources as saying that the accident took place on a nuclear mini-submarine AS-12, also known as Losharik, which is capable of going to extreme depths. Little is known about the AS-12, which was launched in 2003 and is designated for research, rescue and special military operations.
Norway's radiation authority said Tuesday (July 2) that Moscow informed it there had been a gas explosion onboard the Russian sub.
"There has been a gas explosion, confirmed by the Russian authorities", Per Strand, director of the Norwegian Radiation Protection Authority (NRPA), told AFP.
"We are waiting for information from the Russian side about whether there was a reactor onboard the submarine," he said, adding that NRPA had not noticed an increase in radiation levels.
Long history of disasters
Russia has seen a number of such accidents in the post-Soviet period.
In August 2000, the Kursk submarine sunk in the Barents Sea with the loss of all 118 aboard.
An inquiry found that a torpedo had exploded, detonating all the others.
Putin, who stayed on holiday for several days after the disaster, was severely criticised for his response.
Moscow controversially turned down foreign offers of assistance for the rescue effort.
In another accident in 2008, 20 Russians -- three naval officers and 17 civilians -- were killed by poison gas after a vessel's fire-extinguishing system was accidentally activated during trials in the Sea of Japan.
In 2011, one of Russia's biggest nuclear submarines, the Yekaterinburg, caught fire while undergoing repairs in dock in the northern Murmansk region.
Later it was reported the sub was armed with long-range nuclear missiles when it caught fire.
In March of this year, the deadly crash of a Russian-built Mi-8 helicopter in Kazakhstan killed all 13 troops on board.
'Museum pieces'
Central Asian countries, which have long historical and political ties to Russia, find themselves owning hand-me-down military equipment from the Kremlin.
"Kyrgyzstan, Tajikistan, Uzbekistan and Turkmenistan mainly use old Soviet equipment, which today looks like museum pieces," said Ruslan Nazarov, an international relations analyst based in Nur-Sultan.
The outdated weapons that Russia has delivered to Central Asian countries are unlikely to help them in a national emergency, warned Yuri Poyta, head of the Asia-Pacific Section of the Centre for Army, Conversion and Disarmament Studies in Kyiv, Ukraine.
"Such weapons can be used more or less effectively in limited, medium-intensity combat against the armed forces of weak states or against illegal armed groups," Poyta said.
However, Western countries have the advantage in modern-day military criteria, said Poyta, citing the need for "modern [systems of] intelligence assets, command-and-control, target illumination, unmanned robotised ensembles and high-precision weaponry".
To cover for its deficiencies, the Russian military often relies on hyperbolic claims of greatness.
One such instance was when Putin boasted last year in his state of the nation address that Russia had developed a new generation of "invincible" weapons.