NUR-SULTAN -- A Kazakh woman who travelled to Syria and has now returned to her homeland described to the United Nations (UN) the horrors she experienced while living among members of "Islamic State" (IS).
The video testimony by Aida Sarina was prepared for a June 28-29 UN retreat in New York on "Synergies among Developing Countries for Achieving a World Free of Terrorism and Agenda 2030" organised by the Kazakh mission to the UN and by the UN Office of Counter-Terrorism.
The event was attended by more than 100 representatives from 50 states and international organisations associated with the UN, according to the Kazakh Foreign Ministry.
"The main purpose of the retreat was to discuss mechanisms for co-ordinating joint efforts to effectively combat terrorism at the national, regional and global levels," the ministry said.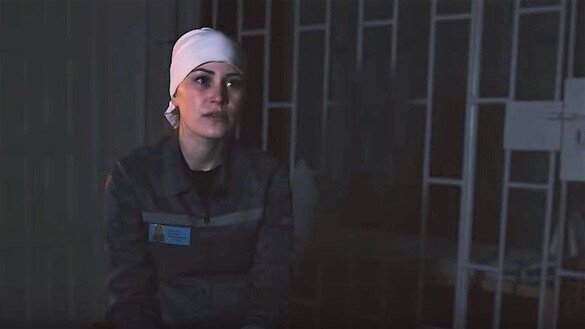 Sarina, 25, was among those evacuated by the Kazakh government from Syria as part of Operation "Jusan" (Bitter Wormwood), which brought back about 600 Kazakh citizens, mostly children and women.
Sarina spoke of war, hunger and cold during her time in Syria.
"Addressing the UN is a great chance to speak out loud about the war in Syria and the fraud caliphate that the terrorists built there," she said, according to a transcript of the video.
'Total fear'
"In the summer of 2015, I, my husband and my son went to Istanbul. My husband suggested we spend a vacation in Turkey. But a few days later, he said that we would not go back to Kazakhstan, and would live in Syria," Sarina said.
She found herself among the ranks of IS.
"We lived in total fear and did not confide in anyone. And after the death of my husband, I just fought for survival," said Sarina.
"IS militants scared us by saying that if we were imprisoned, they would rape and kill us. Falling asleep at night, I didn't know if I and my child would wake up in the morning," she said.
"I couldn't see a way out. We were trapped. We slept on the damp ground under an open sky. Everyday, children died in the arms of their mothers who were unable to help."
"My acquaintance was digging a grave for her child with her hands, since cats and dogs had already begun to eat the body," she said.
"When I saw rescuers from Kazakhstan with my own eyes, I realised that we were not abandoned," Sarina said, referring to those with the operation that brought her home.
"Next to me were women from France, Germany and other countries. I remember them looking enviously at us. They asked to find out if Kazakhstan could also take them, pleading to at least take their children from Syria."
"I could not help these women. But I decided to help and save an orphan boy from Kazakhstan. He is 7 years old. His name is Musa," she said. "I found him in the camp and took him with me."
Sarina said in the video that she was ready to fight against terrorism and make her own contribution.
"Yes, I am a victim of terrorism. But now I want to become a fighter against terrorism, to contribute and be a part of this great purpose. I want to be the voice of all female victims of terrorism," she said.
"Please help other women and children who were also deceived. Perhaps they will also be of service to their country, as I am today," Sarina added.
'Flowers in chains'
Sarina's testimony came after Kazakhstan's National Security Committee (KNB) released a documentary titled "Flowers in Chains" on June 26.
The film tells the story of women convicted of terrorism and extremism and their deception by IS recruiters and militants. Psychologists, theologians, KNB employees and specialists provided their opinions for the documentary.
According to the KNB, 662 Kazakh citizens, including 14 women, have been convicted of crimes associated with terrorism and extremism and are serving their sentences.
"Among the supporters of radical Islamist movements, there are a growing number of women, who are forming women's 'jamaats,'" said the film.
"These women are largely not receptive to preventive measures, since they are under the influence of their convicted husbands," it added. "The radicalisation of women is also influenced by propaganda from ... IS and other foreign preachers of takfirism [accusing other Muslims of apostasy] and jihadism on the internet."
One woman in the film, Yelizaveta Grishina, was sentenced in 2016 to eight years in prison for sharing terrorist propaganda. Her husband introduced her to radical ideology.
"I heard the sermons of radical extremists but didn't realise then that they are radical," said Grishina. "I began to consider everybody -- including relatives -- unbelievers, kafirs [infidels] and enemies."
Grishina planned to leave for Syria and join IS, urged her brother to become a terrorist and suicide bomber and published extremist content on social networks.
"Women who have fallen into a difficult life situation -- without a husband, without means to exist, without work, with young children -- easily come under the influence of extremists," Sanjar Suleimenov, a Taraz-based theologian, said in an interview.
After the women are recruited, supporters of terrorist organisations marry them and "force them to leave for Syria, join IS and sacrifice themselves", said Suleimanov.
"The entire recruitment is built on deceit and manipulation," he said.
"The disillusionment comes very quickly, but at that point nobody will let them leave the terrorists' hideouts. If the husband dies, the woman is given to another man, then to another," Suleimenov added.
"To survive or at least save the lives of their children, these women are willing to do everything," he said.